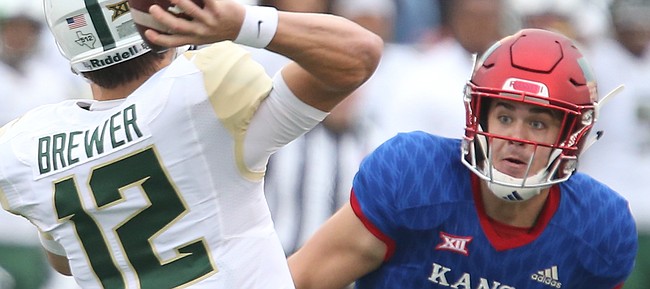 — Kansas (2-1) at Baylor (2-1) • 2:30 p.m. kickoff at McLane Stadium, in Waco, Texas • Game-time forecast: 79 degrees, cloudy, 47% chance of rain • TV: FOX Sports 1 • Radio: KLWN, FM 101.7 / AM 1320
— Log on to KUsports.com for our live game blog and follow our coverage team on Twitter: @KUSports, @BentonASmith, @TomKeeganLJW and @SJacksonLJW
Keys for Kansas
1. Understand Baylor is better than past 3 foes
Sure, Baylor remains in the early stages of a massive rebuild, finished ninth in the Big 12 in 2017 and was picked in the preseason poll to again land next to last (also known as one spot better than KU). Nevertheless, the Bears (2-1) are easily the best team Kansas has faced this season.
Just because the Jayhawks rolled against Central Michigan and Rutgers doesn't mean they will be able to do so again at BU.
KU's defensive players in particular know interceptions won't come as easily this week. Baylor sophomore quarterback Charlie Brewer last season, in his first career start no less, picked apart a KU defense that featured many of the same players who will be on the field Saturday. Winless at the time, BU cruised to a 38-9 victory in Lawrence in 2017 as Brewer threw for 315 yards on 23-of-29 passing, with three touchdowns.
Podcast episode
After the Kansas football team's 2-1 run through nonconference play, beat reporter Benton Smith and Lawrence Journal-World sports editor Tom Keegan discuss how much of the Jayhawks' recent success can carry over into Big 12 play. Topics include, of course, Pooka Williams and the KU defense's takeaways, as well as ...
Asked to describe what looks different about this Baylor offense than the offenses KU faced during nonconference play, redshirt senior linebacker Joe Dineen first pointed to how BU tries to spread defenders all over the field.
"They've got a lot of speed on the outside, which is a little bit different than what we've faced. They've really got a lot of athletes that can hurt you in a lot of different ways and their quarterback's mobile and he can throw it too," Dineen said of Brewer.
But KU will have to contend with graduate transfer Jalan McClendon at QB, too. The Bears have used both Brewer and McClendon this season and the duo has Baylor averaging 328 passing yards per game, the 15th-best average in the nation.
Four Bears have more than 100 yards receiving, led by former Tennessee running back Jalen Hurd's 251 yards (fifth, Big 12) on 18 receptions.
"It'll be a good challenge for us," Dineen said. "Honestly it's kind of what we're going to see in the Big 12 all year."
2. Win the turnover margin again
The Jayhawks (2-1) have looked so stellar in consecutive wins by dominating in one category: turnover margin.
KU leads the nation in both takeaways (13) and turnover margin (+12). While it's highly unlikely Kansas can once again pull off a six-takeaway Saturday like it did against both CMU and RU, just a few takeaways would carry real value in the conference opener.
The Bears open Big 12 play tied for 101st in turnover margin. In a 40-27 home loss to Duke this past week, Baylor fumbled three times, losing one, and McClendon was picked off on one of his 16 passes.
"You take Saturday's game for us," BU head coach Matt Rhule said at his weekly press conference, "if we don't turn the football over, that's a much closer game."
Through three games, Baylor has lost two fumbles and had two passes intercepted (one apiece for QBs Brewer and McClendon).
About to face a KU offense that has lost just one turnover, a Peyton Bender fumble against Nicholls State, to date, Baylor has picked off two passes and recovered two fumbles.
"So, we are not yet forcing turnovers," Rhule said. "My hope is we'll get there this week. We'll need to. And we'll need to protect the football. Part of that comes from running the ball. We have to find a way to run the ball better (172 yards per game). And that falls on me. That's my area of what I should be able to get done. And we have to get it done this week versus this (KU) defense. They give you a ton of different looks. They changed their defense from last year. They've gone to more of a three-down package, and their kids are fast and athletic and they'll be ready and excited to play."
Added the second-year BU coach: "Until we win the turnover battle we're not going to win."
3. Find a reliable receiver
KU quarterbacks Bender and Miles Kendrick have completed passes to 10 different receivers or tight ends through three games.
But no passing target, including senior Steven Sims Jr., has yet emerged as this KU team's surefire threat.
At some point, likely as soon as the first half against Baylor, an opposing defense is going to stack the box so heavily that it forces KU to make plays in the passing game. When that happens, who will be the play-maker in the receiving corps to help the Jayhawks survive?
So far, Sims and senior Kerr Johnson lead the team with 10 receptions each. Johnson has 147 receiving yards and two touchdowns, making him the most productive receiver in nonconference play. Sims made one touchdown catch and registered 81 receiving yards combined the past three weeks.
KU could use a breakout showing from one of its receivers to make sure the offense has a way to complement running backs Pooka Williams, Khalil Herbert and Dom Williams.
Sims, who currently ranks third in program history with 171 catches, is the most likely candidate. But it doesn't matter if it's the senior or someone else. The Jayhawks just need a player to prove he can fill that role.
Mega Matchup
Pooka Williams and KU run game vs. Baylor run defense
Averaging 225.7 rushing yards per game (32nd nationally) and 5.4 yards per carry, the Jayhawks know the word is out.
Opponents have seen freshman Pooka Williams explode for 125 yards and two TDs at CMU and another 163 and a TD versus Rutgers. KU's offensive strength is pretty obvious (see also: KU's 161 passing yards per game; 116th nationally).
"I mean, it's no secret," KU head coach David Beaty said of the offense's bread and butter, "what people are going to be working on and how they're going to — what they're going to be doing to try to stop it. It's something that we're going to have to solve as we show up each week. But having a plan for it and understanding it's really more about us and our execution is critical."
Rule said Baylor's 4-3 defense didn't at any point during nonconference play show the type of run-stuffing ability he hoped it would. The Bears have surrendered 5.6 yards per carry and 181 yards per game (89th nationally) against Abilene Christian, Texas-San Antonio and Duke.
Pooka Williams (8.7 yards per rush), Herbert (6.7) and Dom Williams (4.2) provide KU with the depth to stay fresh and further challenge opposing fronts. So projected BU starters sophomore defensive end James Lynch, junior nose tackle Bravvion Roy, senior defensive tackle Ira Lewis, senior edge rusher Greg Roberts, and junior linebackers, Jordan Williams, Clay Johnston and Henry Black could have their hands full. Sophomore defensive end B.J. Thompson, whom Rhule called one of the team's better players, also is expected to return to the lineup versus KU.
Continued success within the running game will be a must for Kansas every week this season, so proving that it can hold up against Big 12 competition at BU would benefit the team's mettle, too.
Jayhawk Pulse
In-season morale for the players never has been higher during Beaty's three-plus years at KU than it is right now. Back-to-back wins, an opportunistic defense and a star freshman running back in Pooka Williams all have contributed to the Jayhawks' growing confidence.
Unlike each of the past three seasons, when KU began Big 12 play by losing by 25 points or more, Beaty's current team appears capable of at least putting up a fight at Baylor — if not leaving with a victory.
The schedule only gets more challenging as the season goes on, so if the Jayhawks want to become the first KU team to win more than three games in the post-Mark Mangino era and the first to win a conference game on the road since 2008, time is of the essence. The oddsmakers in Las Vegas only consider BU a 7.5-point favorite as of Friday, and the Bears could be beatable.
Tale of the Tape
KU ….. BU
√ KU run D vs. BU run game
KU pass D vs. BU pass game √
√ KU run game vs. BU run D
KU pass game vs. BU pass D √
Special teams √
Prediction
Baylor 31, Kansas 27