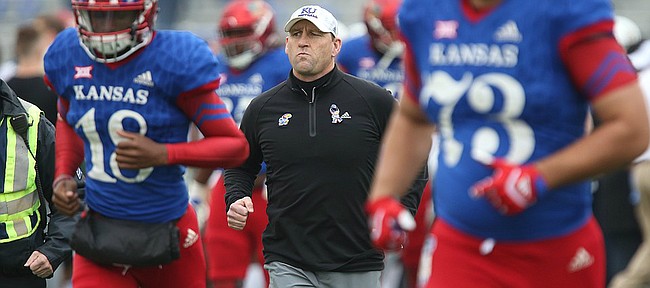 Waco, Texas — Embracing the safe, logical path of predicting the favorite to defeat the visitor in Saturday's 2:30 p.m. kickoff at McLane Stadium easily can be defended.
For one thing, one of the loudest unwritten rules of predicting sporting contests advises to never pick against a long streak. Well, Baylor has won the past eight games of the series and Kansas hasn't won a Big 12 road game since 2008. In recent years, Baylor repeatedly has taken huge early leads, deciding the outcome in the first half.
Then there is the matchup itself. Kansas has not faced a quarterback anywhere close to as dangerous as either Baylor sophomore starter Charlie Brewer, who torched the Jayhawks in the first start of his career, or his backup, North Carolina State graduate transfer Jalan McClendon. Both the 6-foot-1 Brewer and 6-5 McClendon are tough to contend with when throwing and running.
Then there is the issue of Baylor's deep stable of receivers. They're way bigger, far faster than anyone KU has seen this season. Worse, Kansas has no way of simulating that size and speed in practice, because if quarterback isn't the position at which the team is least impressive, then receiver is.
Baylor has 19 passing plays of 20 or more yards, KU just four.
And don't forget the Waco factor. McLane is a beautiful stadium located on the north bank of the Brazos River and born in 2014. It can provide an intimate homefield advantage.
But the Bears are coming off a 40-27 home loss to Duke in a stadium that fell nearly 5,000 seats shy of a sellout. It's not a stretch to wonder whether a fan base not too far removed from the on-field dominance of the Art Briles years, a fan base that exhibited patience last season when new coach Matt Rhule played so many true freshmen, doesn't have the stomach to stay enthusiastic through another losing season.
How many will show up and how loudly will they be heard? Toss in a forecast that calls for 70 percent chance of rain and it's easy to envision many empty seats.
As for which team heavy rain would favor, that's a tough call. The first thought that comes to mind is that a wet football is more difficult to throw and catch so it would favor Kansas, the running team that has a knack for interceptions. But doesn't a receiver who knows where he's going have a better chance of keeping traction than a defensive back who has to react quickly? So if rain gives KU an edge, it's probably just a slight one.
A bigger factor in Saturday's game lies in the recruiting approaches taken by the head coaches in the offseason. Because Beaty loaded up on players able to help this season and Rhule stayed for the most part with a long-term recruiting approach, with some key graduate transfers sprinkled in, KU's personnel made a much bigger one-year leap than Baylor's.
The Bears lost more and gained less than Kansas. Seven starters from last season's 38-9 Baylor victory in Lawrence are no longer in the program. For KU, only Dorance Armstrong, Ben Johnson and Mesa Ribordy are gone.
Players still on the roster who started last season's Baylor game but not last week's vs. Rutgers include quarterback Carter Stanley, offensive linemen Chris Hughes and Clyde McCauley, receiver Tyler Patrick, defensive end KeyShaun Simmons, cornerback Hasan Defense and safety Tyrone Miller.
Newcomers armed with more talent and in some cases more experience have supplanted them. Seven first-year KU players started last week's game: Kevin Feder, Stephon Robinson, Dwayne Wallace and Pooka Williams on offense; Azur Kamara, Corione Harris and Ricky Thomas on defense. Kyron Johnson and Malik Clark, who played sparingly for KU last season, also started vs. Rutgers.
Kansas still has an anemic passing game, but its greatest offensive strength does match up well with Baylor's most glaring defensive weakness. KU busts long runs, including three for touchdowns of longer than 50 yards vs. Rutgers. On the season, Kansas is tied for second nationally with 11 rushing plays of 20 yards or longer. Baylor has allowed eight such plays, which places it in a tie for 116th in the nation in defending long runs.
So there are tangible reasons to believe KU has a better shot of competing in the Baylor game this time. Yet, the intangible factors appear even stronger.
In back-to-back weeks, KU busted a pair of long losing streaks, winning on the road for the first time since 2009 in clobbering Central Michigan and won a second game in a row for the first time since 2011. There was no giddiness after the road victory, which fueled confidence to just the right degree, which was obvious by how well the Jayhawks prepared for Rutgers. Kansas likes how winning feels, wants to keep it going and has a roster stocked full of players who have been through so much losing and are running out of chances to reverse the trend because they're seniors.
Baylor plays a lot of sophomores and some of them might be frustrated that they don't feel much different than when they were freshmen.
A victory would do more for Kansas than for Baylor, which is why the visiting team is bound to start the game with a lot of fire.
Kansas 31, Baylor 28.