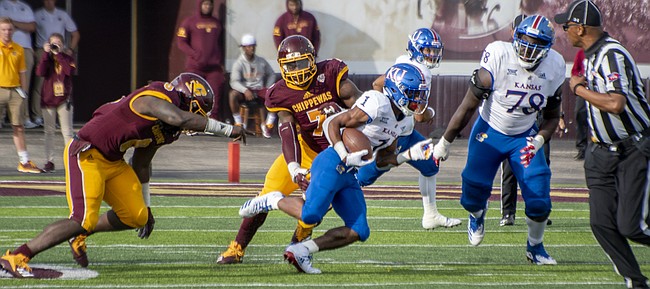 Counting sacks as negative rushing yards qualifies as one of the sillier statistical practices of college football.
So, for the purpose of this exercise, let's count sack yardage against the Kansas passing game, not against the rushing numbers.
Given that adaptation, KU is averaging 5.57 yards per rush attempt and 5.15 yards per pass attempt. Not many programs in the country average more yards per run than pass.
Army and Navy, for example, so seldom pass that when they do, big plays can result. Army has thrown just 39 passes and averages 10.8 yards per pass attempt.
Navy has thrown just 33 passes and averages 8.5 yards per attempt. Both schools have completion percentages under 50 percent, which makes their average yards per attempt even more impressive.
Meanwhile, Kansas has a more balanced attack, but still runs (126) more than it passes (89).
So you have to wonder, if KU implemented a flexbone offense, a la Army and Navy, would that improve both the running game and the passing game?
As long as we're in the realm of fantasy, let's look ahead a year and picture a personnel grouping that could make the triple option work at Kansas.
The flexbone requires having four backs who can run the football. One lines up at quarterback, with the fullback directly behind him. A slot back lines up on each side of the quarterback.
There are four athletes playing football in Lawrence this fall who could form a lethal flexbone backfield next season.

Freshman running back Pooka Williams Jr. took a fair share of direct snaps in high school and reads defenses the way Evelyn Wood read text books, so there's no reason to think he couldn't be the quarterback, the position at which a flexbone team's leading rusher often can be found. Khalil Herbert and Dom Williams are well-suited for the slot back roles.
Fullback? The ideal fullback is playing high school football at the moment.
Uncommitted senior Jax Dineen is the featured running back and most active linebacker for a Free State High team that has opened its season with three consecutive shutouts. (Free State graduates, by the way, are the three leading tacklers for KU).
To envision how Pooka might handle quarterback, look at Navy's 5-foot-9, 180-pound quarterback Malcolm Perry. He ranks third in the nation with 497 rushing yards and is tied for second with six rushing touchdowns.
Last season, Perry played nine games as a starting slot back, three as the starting quarterback. He totaled two passes (one touchdown, one interception) in those three starts, and has completed 5 of 15 this season.
No reason Pooka couldn't match or exceed Perry's production as trigger man in the flexbone. With that lineup of running threats, there would be no need to pass more than a few times a game.
Fourth-year Kansas coach David Beaty marvels at Pooka's high football IQ, and the freshman from Louisiana makes such great decisions on when and where to cut.
That high football IQ plays well into the decision-making that a flexbone quarterback has to make reading defenses and deciding when to hand off to the fullback, pitch to a slot or keep it and turn upfield.
Six games into his career at quarterback for Navy, Perry has rushed for 200 or more yards three times and exceeded 100 yards every time.
It's also easier to recruit and develop an offensive line that seldom has to worry about pass protection.
Plus, such a radical departure from the normal way of doing business in the Big 12 would drive opposing defensive coordinators nuts.
Those who fear change would consider this a ludicrous proposition. Visionaries don't fear change. And you can bet Pooka wouldn't fear changing from running back to quarterback. He doesn't seem to fear anything on a football field and he would be the one deciding who gets to run the football on each play.