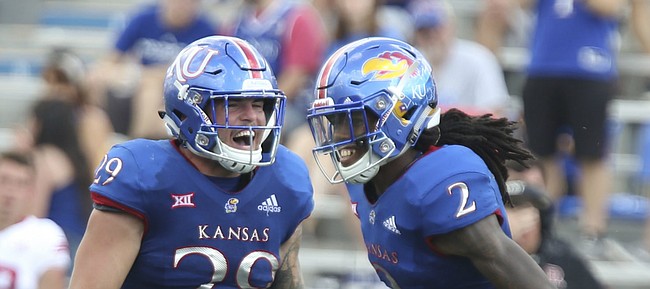 Not long after the Kansas football team's defense spent its second straight Saturday repeatedly heisting the ball from a nonconference opponent, someone asked redshirt senior Daniel Wise what's different about the group this season.
The stalwart defensive tackle and captain began his response with two words: "Nothing, really."
How could that be? In 2017, the Jayhawks ranked 100th or worse in the FBS in nine defensive categories. And KU enters its Big 12 opener Saturday at Baylor ranked in the top 15 in eight defensive categories, most of them turnover-related.
Well, Wise elaborated, the primary distinction between how the defense operated last season compared to now is that this improved version of the unit doesn't get ruffled.
"We've got the same guys as last year," Wise said of the group, which includes returning starters KeyShaun Simmons and J.J. Holmes on the defensive line; Joe Dineen and Keith Loneker Jr. at linebacker; and Bryce Torneden, Mike Lee and Shak Taylor in the secondary.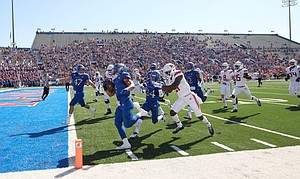 "Guys are playing more confident and more relaxed and listening to (defensive coordinator Clint Bowen), and obviously applying it," Wise said. "And you see what happens when you do that."
The most eye-popping upshot, through three nonconference games at least, has been the defense's ability to turn opponent mistakes into punishing takeaways.
Among 129 FBS teams, the Jayhawks (2-1) rank first in turnover margin (plus-4.0 per game), turnovers gained (13) and are tied for first in defensive touchdowns (three). KU also is tied for second nationally in both interceptions (seven) and fumbles recovered (six) — North Texas leads the nation with nine picks and Arkansas ranks first with seven fumble recoveries.
Redshirt senior Dineen, junior Torneden, junior Lee, senior Taylor, freshman cornerback Corione Harris, sophomore safety Ricky Thomas and junior safety Jeremiah McCullough each have contributed one interception.
Lee, Taylor and sophomore hybrid defensive end and linebacker Kyron Johnson all have been credited with a forced fumble.
Torneden already has recovered two fumbles, and Dineen, Johnson, junior linebacker Denzel Feaster and junior defensive end Willie McCaleb own one apiece.
All those takeaways, of course, only fuel the defense's growing confidence.
According to fourth-year head coach David Beaty, Bowen deserves "a ton" of credit for the turnaround.
"I've talked about it for a long, long time — how much I believe in this guy, how hard he works, how smart he is, how much those kids believe in him, how he gets the best out of players and just his resiliency," Beaty said of Bowen, who also serves as KU's cornerbacks coach. "He's a guy that really helped me over these last three to four years with his steady approach. He's a guy that kind of motivates you and inspires you a little bit as you come in to work each day."
Bowen galvanized KU's defenders this past offseason, in part, by implementing a strategy senior analyst Buddy Wyatt picked up at an NFL camp. Coaches further encourage players to rip balls from opponents' hands and tip or intercept passes by keeping track of how many times each player creates such an opportunity and giving out a weekly "swarm master" award. During practices, defensive players even have to try and scoop and possess incomplete passes.
"It plays a huge role in the mentality of there's never a dead ball," Wise said. "If you see a ball on the ground, pick it up like it's alive. If it's in the air, try to pick it off. It's that ball hawk mentality."
Sophomore Johnson (fumble recovery versus Nicholls State), senior cornerback Taylor (forced fumble and interception return for a touchdown at Central Michigan) and junior nickelback Torneden (interception return for a TD and fumble recovery vs. Rutgers) are the three "swarm masters" to date.
As much joy as the takeaways bring the defense, which also got a pick-six out of junior safety Lee against Rutgers, the Jayhawks understand it's not realistic to count on six takeaways each game, even though they just pulled off that exact feat in back-to-back wins against CMU and Rutgers.
Ranked 15th nationally in total defense (294.3 yards allowed per game), KU has done enough when it's not taking the ball away to lead defenders to think they can sustain their success when the interceptions and fumble recoveries dry up.
"I don't know the statistics necessarily, but we've been getting a lot of three-and-outs for sure," redshirt senior linebacker Dineen said.
Nicholls went three-and-out on four of 15 possessions against KU, while Central Michigan had six on its 16 possessions and RU five on 16 possessions.
"That, with the takeaways, is making us a pretty damn good defense to be honest with you," Dineen said.
The success hasn't gone unnoticed by the KU offense. Sophomore quarterback Miles Kendrick credited both Dineen and Wise for their leadership and helping the Jayhawks recover from their Week 1 home loss to FCS foe Nicholls (1-2).
"Those guys really have been harping on bouncing back and getting that swagger back for our defense," Kendrick said. "Those guys have done a great job just taking the ball away and giving great opportunities and great field position for the offense."
Wise insists the defense's confident, steady approach led to its hot start. And he foresees those characteristics carrying over into Big 12 play, even if all of those takeaways don't.
"Coach Beaty always says you can't eat an elephant whole. You've got to take one bite at a time," Wise said. "And that's kind of what we're doing with this defense. We're just making routine plays after routine plays and those things (turnovers) are turning up along with it."
KU plays at Baylor (2-1) at 2:30 p.m. on Saturday. The Bears have lost two fumbles and thrown two interceptions through three games.
KU's national rankings in defensive categories
Turnover margin: 1st, +4.0 per game
Turnovers gained: 1st, 13
Defensive TDs: tied-1st, 3 (same as Alabama, Akron, Ohio State and Fresno State)
4th down defense: tied-1st, 0 percent conversion by opponents (0 for 2; tied with 15 other teams)
Pass efficiency defense: 2nd, 81.05
Interceptions: tied-2nd, 7
Fumbles recovered: tied-2nd, 6
Total defense: 15th, 294.3 yards allowed per game
1st downs defense: 24th, 43 opponent 1st downs
Scoring defense: 25th, 15.7 points allowed per game
Red zone defense: tied-47th, opponents scoring on 80 percent of red zone trips (3 TDs and 1 FG on 5 trips)
Rushing defense: tied-64th, 146.7 yards allowed per game
3rd down defense: tied-66th, 37 percent conversion by opponents
Sacks: tied-119th, 0.67 per game
Tackles for loss: tied-107th, 4.3 per game