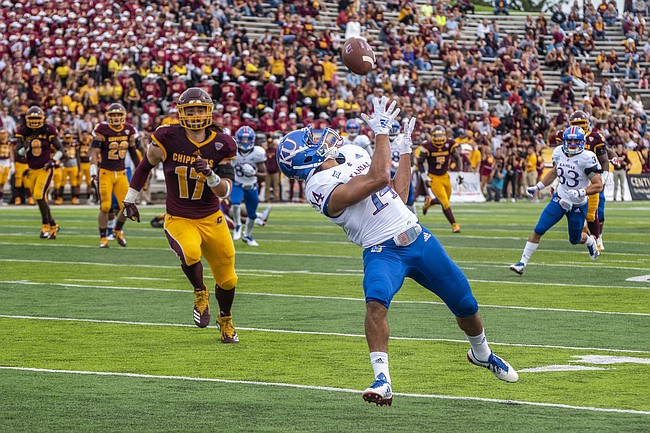 The streak is over.
After an overtime loss in the season opener, the University of Kansas football team ended its infamous losing skid on the road with 31-7 victory at Central Michigan Saturday. The Jayhawks (1-1) had dropped the previous 46 straight road games, which was the longest such streak in college football.
Prior to Saturday, the last time Kansas won away from home was a 34-7 victory over UTEP on Sept. 12, 2009.
The Jayhawks got on the board first, as senior quarterback Peyton Bender hit senior receiver Kerr Johnson Jr. for a 31-yard touchdown connection with 5:11 in the first half. It marked the first time Kansas had a lead at halftime since the season opener of last season.
Freshman Pooka Williams, who made his debut against the Chippewas, fueled the monumental win with a pair of rushing touchdown in the third quarter. After missing the first week of the season because of a "non-disciplinary" issue, Williams recorded his first career touchdown on a 20-yard run with 10:13 left in the third quarter.
Williams, a four-star recruit, added a 41-yard score at the 8:58 mark for good measure. He finished with 14 carries for 125 yards in his first collegiate action. Senior cornerback Shakial Taylor answered Central Michigan's lone score with a 55-yard interception return for a score.
Kansas will play host to Rutgers at 11 a.m. Saturday.