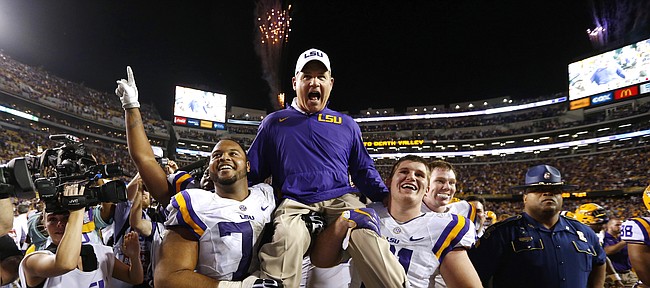 The early scouting report that I received on first-year Kansas athletic director Jeff Long included high marks for hiring football coaches in stealth fashion, so don't necessarily take his decision not to fire David Beaty after the coach's egregious mismanagement of the overtime loss to Nicholls State as inaction on the AD's part.
For all we know, Long's people could be talking to Les Miles' people as you're sipping your coffee and grousing about the rain.
Such talks take time to hammer out details, such as salary and buyout terms. Coaches aim for high pay. The school tries to negotiate a high buyout figure in the event the coach wants to bolt.
Consider what Long already has done in regards to the football mess before wondering why he hasn't done more. In his first move, Long hired Mike Vollmar to oversee the football program.
Vollmar has worked for the football programs of Tennessee, Michigan (twice), Alabama, Michigan State and Syracuse.
Vollmar worked for Michigan as recently as 2012, but it was the timing of his first stretch in Ann Arbor that gives the Miles-to-Kansas angle a flicker of credibility. Vollmar worked in recruiting and administration from 1988 through 1990 under Michigan head coaches Bo Schembechler and Gary Moeller. Miles coached the Wolverines' offensive line from 1987 through 1994. Not only that, Long and Miles have known each other for the same length of time. Long was assistant athletic director at Michigan from 1988-98.
Do the math. Miles has known Long and Vollmar for 30 years. Ask yourself this question: If it's to the benefit of you and someone you have known for 30 years to keep a secret, do you think you would have any problem doing so?
It's more than a little surprising that Miles remains without a coaching job. The victim of one of the least deserving pink slips in recent memory, Miles has not coached since getting fired with a 2-2 record at LSU in 2016.
So getting Miles to talk about his interest level in coaching Kansas is not a problem, but would he want to take on the challenge of flipping a program that hasn't had a winning season since 2008, has just 25 players on scholarship who have two or more years of eligibility remaining after this season, and has just an estimated 15 scholarships available for next season?
At 64, does that sort of long-term rebuilding project excite a coach who won a national title for LSU in 2007 and went 13-1 and lost in the BCS title game in 2011?
Or would he rather take over a program on more solid footing, perhaps even one with a shot of gaining inclusion in the College Football Playoff in the foreseeable future? Or maybe even wait to see if Michigan, his alma mater, is foolish enough to dump Jim Harbaugh if this season doesn't go well.
There are ways for third parties on the lookout for Miles to find out what opportunities could pop up after the season, but if Kansas is the first job to come open, the bird in hand might give the underdog a shot.
Miles last coached in the Big 12 for Oklahoma State (2001-04), his springboard to 11-plus seasons at LSU.
Obviously, Miles checks the two most important boxes: He's a good football coach and a proven recruiter.
The downside: He would have to assemble a staff from scratch and might not stay long.
Hiring an existing head coach from an impressive pool of Group of Five potential candidates — Jason Candle at Toledo, Tulane's Willie Fritz, Wyoming's Craig Bohl, to name a few — comes with the advantage of the coach already having a staff in place, one that could be ready to get to work on recruiting from Day 1.
I'm told Seth Littrell of North Texas — the logical choice for Texas Tech if things don't go well this season — is not interested in coming to Kansas, where he was a graduate assistant on Mark Mangino's staff from 2002-04, back when Dave Doeren was a defensive coach for the Jayhawks.
Doeren went 23-4 as head coach at Northern Illinois and is 35-30 at North Carolina State, including a 9-4 mark that ended with a three-touchdown victory vs. Arizona State in the Sun Bowl.
Doeren is from Shawnee, played at Bishop Miege High School and always has had an eye on returning to the area. But why do so without a hefty raise? Doeren's making $3 million a year and his buyout after this season is $4.5 million.
For now, Beaty is KU's football coach and will try to soften the blow of last week's loss to Nicholls State by scoring an upset Saturday to break the program's 46-game road losing streak at Central Michigan.