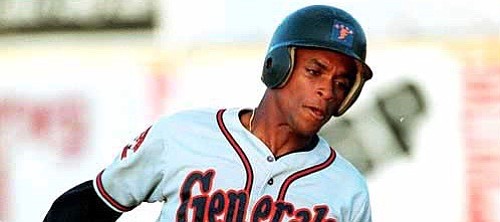 Former Lawrence High football and baseball standout Darryl Monroe has a long history of competing for the winning side.
Monroe was a key member of a Lawrence High state champion in football, a Lions baseball team that finished third in the state and the only University of Kansas baseball squad to make it to the College World Series.
Given his on-field success as an athlete, it shouldn't come as too much of a surprise, then, that Monroe has been employed the past 11 years by the winningest franchise in the history of Major League Baseball.
A regional scout for the New York Yankees based out of Atlanta, Monroe is back in Lawrence for a speaking engagement Friday morning at the Doubletree.
Monroe is speaking at a fundraiser breakfast for the Lawrence Schools Foundation, which describes itself as an organization that "works to supplement Lawrence Public Schools by raising money that can be used to enrich students' educational experiences and to remove barriers so every child arrives at school every day happy, healthy, ready to learn," per spokesman Mike Strauss.
Doors open at 7:15 a.m. and the program starts at 7:45. Tickets can be purchased at the door for $40.
Monroe, 46, will touch on his time at LHS and KU and discuss how what scouting for a Major League Baseball team entails.
Monroe was drafted by the Montreal Expos in the 21st round in 1993, but returned to school and was taken by the Detroit Tigers in the ninth round of the 1994 draft. He earned a degree in Human Biology from KU and spent two years in the Tigers' system and played two seasons of Independent League baseball.
Monroe launched his scouting career in 1998 with the Expos and also scouted for the Braves before landing with the Yankees.
He played football for the late Bill Freeman at LHS.
"It was fun, it was entertaining and it was challenging," he said. "They had high expectations. We were in the midst of a really good run of playing deep into the postseason, so they expected a lot. There was a lot of talent running through Lawrence High and they tried to get the most out of the players. Practices were tough. The coaches really had a good idea of how to motivate and challenge players. They knew how to coach winning football."
Monroe played baseball for Lynn Harrod at LHS and for Dave Bingham at KU.
"I did well in school, but the most memorable moments are from playing baseball and playing football during my junior and senior years," he said of his high school experience. "I'm grateful for the impact my teachers and coaches had on me. They took the time to make sure I was doing things the right way."