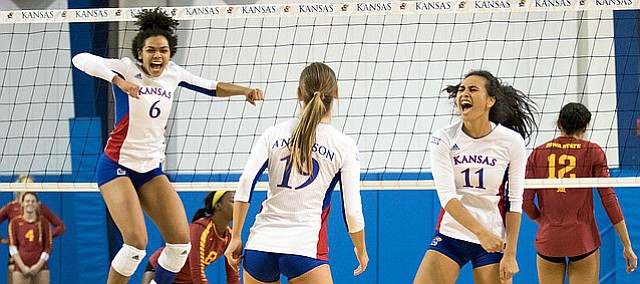 As the Creighton volleyball team rushed the court at Horejsi Family Athletics center in 2016, it finally sank in that Maggie Anderson had served in her final match.
Following the match, the University of Kansas volleyball coach Ray Bechard started to tell a story with a shaky voice and straight face. Taking pauses, he started to recall a time when assistant coach Bird (Laura Kuhn) had questioned Maggie about what the letters on her "K" ring meant, as she shied away from the traditional initials and jersey number.
"MDCT?" Kuhn said.
Maggie's response: "Yeah, my dream came true."
Two years later, Maggie wishes she could change a few things about that interaction.
She is now married to Casey Bowen, a former All-American pole vaulter for the University of Kansas track and field program. Kuhn has become the head coach of Texas A&M;, leaving the position at Kansas this past December.
And after numerous coaches had applied, the one who eventually stepped into Kuhn's shoes as an assistant for the season is none other than – Maggie Bowen.
"My dream came true, but, I guess I didn't know my dream could be this big," Bowen said.
Searching near and far
Assistant coach Billy Ebel knew at the age of 14 how he wanted his life to play out: Play volleyball in college, have a successful career in the sport and then find a way to give back as a coach.
Volunteering as a manager, by his senior year, Ebel was given a court and clipboard to run drills on. The girls respected him as if he was a coach, and Ebel went on to play for Ball State, graduated in 2010 and was hired not much later as a volunteer assistant at UMKC under former Kansas assistant Christi Posey.
"We all started at that age," Ebel said. "I was younger when I started my first coaching job at 23."
Unlike Ebel, though, Bowen first had thoughts of joining the tight-knit volleyball coaching community, as Kansas was in the midst of looking for replacements for Kuhn, as well as for former assistant Todd Chamberlin.
"I thought, 'How would I approach this if I were to apply for this right now?'" Bowen said.
When Bowen had the conversation with Bechard, he wasn't opposed. Stay with the program for two or three more years as the director of operations to let her get more acclimated to the program, and maybe something may come up again.

Five months later, and for the third time in the offseason, there was an opening on Bechard's staff. In May, Kelly Files, a former assistant at Oklahoma, decided to return to Norman to be with family.
The position was posted nationally on the NCAA's job board, with a significant amount of attention, as well. Only, there were a few unavoidable hurdles. If someone externally was hired, they wouldn't be able to get fully used to the program in just the two weeks of practice prior to the season.
Typically, volleyball coaching hires are made in December or January. Eight months of offseason workouts to get used to how things are run in the gym, having an eye just in time for the crucial recruiting stage in club tournaments.
There was only one applicant who was there for both.
"I told her, 'Just be yourself. You made everybody around you better when you were a teammate, now you can make people around you better as a coach,'" Bechard said.
Over and over, Bowen had to convince herself that she could handle being a full-time assistant coach, even without any real coaching experience under her belt.
She found confidence as she thought about the former Huskers of her hometown of Lincoln, Neb., Kayla Banwarth and Dani Busboom, both of whom were hired on John Cook's staff right after they graduated.
"Instantly, I was more nervous, it seemed like, than (Bechard) was," Bowen said. "He reassured me that you're going to be great because you can relate to the kids."
Relating to athletes
At first, outside hitter Patricia Montero thought it'd be "weird" to return to the court and be coached by one of her former teammates. Montero and juniors Allie Nelson and Jacqui Mostrom all won a Big 12 Championship together.
It was an adjustment Bowen was able to make rather quickly, and she's already shown that the biggest thing that sets her apart from the surface is what will make her stand out as a coach.
"It's been amazing," Montero said. "Maggie was a high-impact teammate when she was on the team. She was our voice. She was our leader."
Despite once carrying the titles of serving specialist and backup setter in college, Bowen has continued to be someone approachable for constructive criticism.
"She brings the insight to the program where the girls go to her and ask her, 'You've been through this, so you know what to expect,'" Ebel said.
Bowen says that the 2015 and 2016 seasons are talked about a lot in the gym. With it being such a fun time for the program, she will be more than glad to talk about her experience raising the Big 12 pennant for the first time in program history.
She also makes sure she talks about the other half of her time in Lawrence during her first two years with the program.
"I was telling the girls, there was a time in Kansas volleyball history where we would approach a game and not know what the outcome was going to be," Bowen said.
AVCA All-Americans Kelsie Payne, Ainise Havili and Madison Rigdon burst onto the scene in Bowen's third year, though, and Bowen felt that the gym's work ethic changed significantly.
"We kind of lost sight of the process of just going out and competing," Bowen. "We were more confident in our ability."
An experienced coach who has never coached before
Seeing and understanding so many stages of Kansas volleyball, it becomes clear why it would have been hard for Bechard not to hire Bowen. With the departure of setter Havili, the Jayhawks' all-time assist leader, Bowen is using her time from the sideline for the better improvement of the program.
"I think we bring in a lot of new ideas, especially where I come from," Ebel said. "Maggie has a lot of ideas that she saw while she was here that maybe she thought we needed to work on."
Bowen never had the most polished coaching resume, national team experience or a prolific legacy with the Jayhawks on the court. In the end, none of that prevented Bechard from selecting Bowen for a prominent position.
"It's so broad, and there's so many levels to coaching, but we're all trying to do the same thing," Bowen said. "I think what Kansas volleyball promotes is, we're trying to teach life skills and everything we do in the weight room can somehow implement in the classroom."