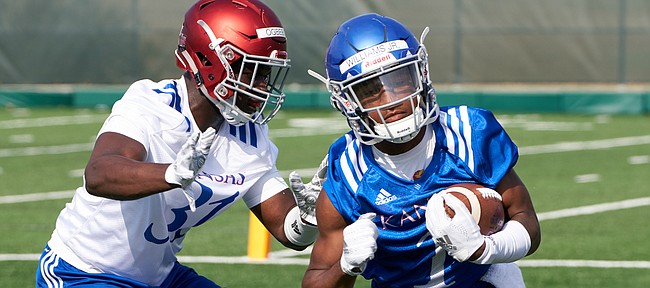 University of Kansas football coach David Beaty didn't provide many particulars when the team on Saturday kept ballyhooed freshman running back Pooka Williams out of the lineup for the season opener due to a "non-disciplinary matter."
Two days later, Beaty didn't have much of an update, either, during his weekly "Hawk Talk" radio show, other than to say the coaching staff hopes there "might be" an update this week on Williams' status.
"We think that it might get resolved. But once again, it's not on our timeline," Beaty said, "and we really can't say too much other than that. So I won't have much to say about it."
Rated a four-star all-purpose back by Rivals after a stellar career at Hahnville High, in Louisiana, Williams projected as one of three primary running backs for KU this season. The 5-foot-10, 170-pound true freshman even was listed as a potential starter on the team's published Week 1 depth chart.
Williams could be seen prior to the Jayhawks' home loss to Nicholls warming up on the field, but he had to watch the game from KU's bench, wearing a jersey and no pads.
Beaty said he was "very impressed" with Williams on the sideline during the game.
"Some of the things that he was able to bring to the table as he was watching over there, for a freshman, was pretty impressive. Just some of the things that he was communicating to the running backs that he was seeing were things that you don't typically hear freshmen say," Beaty related. "He loves the game and he thinks about it in ways I don't think a lot of young guys do."
In the freshman's absence, junior Khalil Herbert averaged 5.1 yards on 12 carries and sophomore Dom Williams averaged 5.8 yards a rush on just six attempts.
Penalty misidentification
During the fourth quarter of KU's home overtime loss to Nicholls State, a facemask penalty was called on linebacker Joe Dineen Jr. on the drive that led to the Colonels' game-tying field goal.
The official stat book from the game identified the offending player as Dineen, and Beaty even referenced the redshirt senior linebacker, who finished the opener with 16 total tackles, as the one who committed the penalty during the coach's postgame press conference.
The infraction actually should have gone against linebacker Kyron Johnson, Beaty pointed out Monday night.
"On that one, (Nicholls running back Kendall Bussey's) facemask just got in the way and (Johnson) let go, but the damage was done," Beaty said. "He played hard and that's why that happened. At times, you get unlucky. We can take those. The good thing was, we didn't feel like we had any bonehead penalties, like guys were just doing something selfish."
In total, KU was flagged seven times for 54 yards.
Lassiter at punt returner
Although senior receiver Steven Sims Jr. looked to be KU's possible punt returner this season, it was sophomore receiver Kwamie Lassiter II who handled those responsibilities and excelled doing so in the Week 1 loss.
Lassiter delivered a 21-yard punt return in the third quarter and a 5-yard return in the fourth.
In 2017, KU had just 13 punt returns all season, totaling 81 yards.
Beaty said the Jayhawks tried "all types of different guys" while giving various players open work on punt returns during the preseason.
"He's emerged as the most trustworthy guy back there," Beaty added of Lassiter.