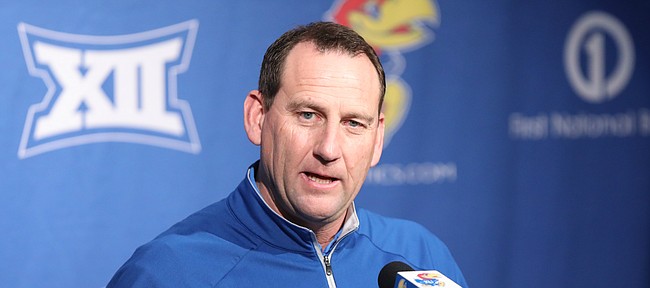 As the sun was setting on his tenure as University of Kansas head football coach, David Beaty was talking about the next morning's sunrise. Somehow, that seemed fitting.
For the record, the sun is still in the process of setting on the coach's run as head of the KU program and hasn't put him into the ranks of ex-coach just yet. But Beaty talking about the next day's sunrise after a 26-23 overtime loss to Nicholls, a scrappy FCS opponent that made a pair of bad mistakes that KU turned into 10 late points, might be remembered as a signature moment of his career.
It was a colossal disconnect that won't die easily from the memory banks of Kansas football fans who haven't been rewarded for their loyalty to the program in nearly a decade.
Beaty was as far from connecting to the pulse of the customers at that moment as he has been in walking the walk of his talk throughout his time here.
He talked about building the program the right way, avoiding the quick-fix recruiting method that put the scholarship numbers he inherited from Charlie Weis in bad shape. And then, instead of following the recruiting blueprint that Mark Mangino used to build the 12-1 Orange Bowl champions, Beaty took a sharp turn down Weis Way. Transfers from junior colleges and four-year schools help fill in the blanks, but taking too many makes it impossible to keep the roster at close to the maximum allowable 85 scholarship athletes.
It happened with Weis, and don't kid yourself, it's happening with Beaty. (Two of the 22 starters on offense and defense in the Orange Bowl were transfers, the rest high school recruits.)
The next coach should be transparent about scholarship numbers. That way, if he's tempted to mortgage the future of the program, he'll think twice, knowing that everyone will know what he's doing. Beaty fooled many, as recently as at the end of last season, by claiming he avoided the quick fix.
I pored over Beaty's four rosters and, with help from a couple of people who have worked in the athletic department, made a list that breaks Beaty's recruits into three categories: high school signees, transfers from junior college transfers and four-year transfers. Student-athletes who came as walk-ons and then were awarded scholarships, such as Baker University transfer Keith Loneker Jr. and high school walk-on Mesa Ribordy were not included, just those who arrived on scholarship.
Some on the list are educated guesses on my part. Therefore, I would say that there is a margin of error of about plus or minus 3 percent.
My findings: Beaty has given 55 scholarships to high school signees, 42 to recruits from junior colleges and 13 to transfers from four-year schools. So that's 50 percent to transfers and 50 percent to high school players. My research on Weis' recruiting revealed that he gave 58 percent of his scholarships to transfers and 42 percent to high schools.
High school recruits, 55: Hakeem Adeniji, Dorance Armstrong, Shola Ayinde, Kenny Bastida, Isaiah Bean, Jeremiah Booker, Earl Bostick, Julian Chandler, Malik Clark, Mac Copeland, Jay Dineen, Cam Durley, Evan Fairs, Denzel Feaster, Antione Frazier, Aaron Garza, Joey Gilbertson, Quan Hampton, Chase Harrell, Corione Harris, Hunter Harris, Khalil Herbert, Chris Hughes, Larry Hughes, Kyron Johnson, Liam Jones, Travis Jordan, Mike Lee, Maciah Long, Jacobi Lott, Ryan Malbrough, Taylor Martin, Kyle Mayberry, Clyde McCauley, Tyrone Miller, Emmanuel Moore, Osaze Ogbebor, Ian Peterson, Dru Prox, Shaq Richmond, Jalan Robinson, Steven Sims, Carter Stanley, Tyriek Starks, Jace Sternberger, Kenyon Tabor, Kyle Thompson, Robert Topps, Bryce Torneden, Dom Williams, Nick Williams, Pooka Williams, Takulve Williams, Ryan Willis.
Junior college transfers, 42: D'Andre Banks, Bazi Bates, Peyton Bender, Jelani Brown, Antonio Cole, Codey Cole, DeeIsaac Davis, Hasan Defense, Jacky Dezir, Foster Dixson, Davon Ferguson, Deondre Ford, Drew Harvey, Elmore Hempstead, Isi Holani, J.J. Holmes, Kerr Johnson, KeyShaun Johnson, Elijah Jones, Azur Kamara, Miles Kendrick, Ke'aun Kinner, Reuben Lewis, Adagio Lopeti, Jack Luavasa, Api Mane, Octavius Matthews, Willie McCaleb, Darrius Moragne, Marnez Ogletree, Jayson Rhodes, Stephan Robinson, Stephon Robinson, KeyShaun Simmons, Will Smith, James Sosinski, Najee Stevens-McKenzie, Brandon Stewart, Shakial Taylor, Ricky Thomas, Andru Tovi, Justin Williams,

Four-year transfers 13: Charles Baldwin, Daylon Charlot, Kevin Feder, Alex Fontana, LaQuvionte Gonzalez, Zach Hannon, Corey King, Brian Lipscomb, Quincy Perdue, Keaton Perry, Mavin Saunders, Joshua Stanford, Dwayne Wallace.
So what's the problem with taking so many transfers? Well, it's going to take a great deal of use of redshirting players, which should be easier to do than in the past because players can appear in up to four games and still not qualify for a redshirt season, for the next coach to balance the classes.
Plus, by counting so many scholarships toward the next class after reaching the one-year maximum of 25, which Beaty did every year, that will eat into the Class of 2019 scholarships, meaning a third consecutive year of a small freshman class.
Also, it's easier to evaluate and develop the talent you have when you have it for four or five years instead of one for two or three years. It's also easier to build chemistry and to cover material in practice when not relying on so many players who are brand-new to the program.
Plenty of competent football coaches will want the job when it comes open, but they all have their eyes wide-open to what a steep challenge awaits.