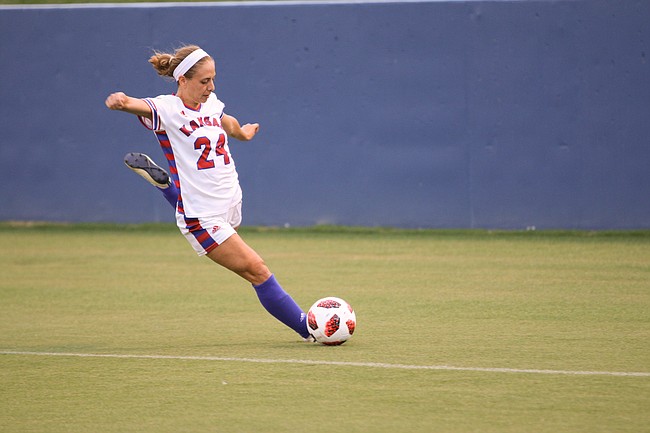 After circumnavigating the field for 61 minutes, University of Kansas sophomore midfielder Ceri Holland went airborne. Butler's Paige Monaghan drew a yellow card after tallying the team's sixth foul of the match Sunday night at Rock Chalk Park.
With Holland standing up, appearing exhausted and worn out, coach Mark Francis didn't even think to get a substitute ready. And with each additional foul as the second half rolled on with the Jayhawks and Bulldogs in a defensive showdown, Holland got right back up and started running at full speed.
"She is a brute," defender Elise Reina said. "Ceri on the field, like, you want her on your team; off the field, she's the sweetest person ever. She's taking any ball for anyone, taking down anyone for anyone. Someone messes up, Ceri's coming in to clean it up."
With each team getting few chances on the night, it was No. 19 Kansas' backline that kept No. 25 Butler scoreless after 90 minutes. With the help of a late game corner kick, Kansas came away with the 1-0 win, and remains unbeaten after six games with a 5-0-1 record on the season.
On the offensive side, Holland tallied a team-leading three shots against what might have seemed like an impenetrable Bulldog defense. As one of the Jayhawks' most aggressive players on both sides of the ball, there weren't many others who would have been able to step up and take the chance on 2-on-1 situations.
"If you ask our team, you can probably ask all 29 of them, 'Who's the most physical, combative player that we have?' I would guarantee you all 29 would say Ceri," Francis said. "In a game like that, as long as she can still keep running, we need to keep her in there."
Freshman Sarah Peters, who leads the conference with a goals-against average of 0.31, picked up her fourth shutout of the season. Through six games, Peters has allowed just two goals and neither has come from a ranked opponent.
"You can't put a value on confidence in an athlete," Francis said. "No matter what you do as a coach, if a kid is not confident, it's really hard to get that kid confident. Sarah is so confident in her own ability, that's why she performs the way she does."
Reina got the last piece of the game-winning corner-kick goal in the 84th minute, which was Kansas' second set piece goal of the season. Freshman midfielder Bri Amos and forward Katie McClure both were credited with assists on the goal, with McClure sending the kick and Amos getting the first touch.
McClure picked up her fifth point of the weekend after her pair of goals Friday night, which leads the conference in points (13) after three weeks. Players are awarded two points for a goal and one point for an assist.
"We talked about scoring off of set pieces more this season," Reina said. "We're going to try and score off of at least 20 percent of our set pieces this season, because we weren't so great at that last season.
Kansas travels to Cincinnati at 6 p.m. Thursday.