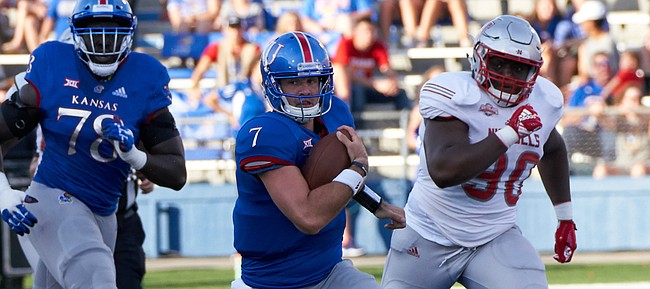 Try to slide into Peyton Bender's shoulder pads and wonder what the past couple of weeks must have done to his chances of developing the swagger any team's starting quarterback needs.
Coach David Beaty announces you as starting quarterback and, a week later, says you have "done a terrific job of taking command." Then, the very next day, the coach says that Miles Kendrick also will play in every game.
The season opener finally arrives and you come out dealing, making some people watching think, "No wonder Mike Leach wanted this guy." You even run up the middle for gains of 14 and 15 yards.
A few plays into the second quarter, you throw a beauty to Steven Sims in the end zone. He drops it. You have to avoid the temptation of thinking, "When your best receiver can't catch a pass, I guess I'll never catch a break."
If Sims catches that 37-yard strike, here are your passing numbers to that point in the game: 10 for 15, 108 yards, two touchdowns. But he didn't catch it. He dropped it. That happens.
What doesn't happen is that a quarterback with a hot hand does not get to take the field for the next series, giving way to Kendrick. He leads the team to one first down, then KU punts, and Kendrick doesn't come back in the game until KU's final offensive play from scrimmage of the overtime period.
After the 26-23 loss to Nicholls, Beaty is asked if inserting Kendrick into the game in the second quarter might have broken Bender's rhythm.
"We didn't think so," Beaty said. "I mean, we thought there were some things that he did pretty well. I don't think that that necessarily disrupted it. You know, I'll look at the tape and maybe see it a little bit different."
Bender was sacked six times. Afterward, Beaty said he could have thrown it away instead of taking the sack on a couple of them. Three of the sacks came on safety blitzes.
"Nicholls did a good job of blitzing," Bender said. "They blitzed a lot more than they showed on film. We need to prepare better for that."
And adjust better during the game. Maybe bring in a blocking back to pick up the blitz? Insert a tight end into the game instead of a fourth receiver? Something.
Bender also was the victim of wayward snaps from center Alex Fontana.
"That wasn't happening throughout all of camp," Bender said. "Alex has been pretty consistent. I don't know if it was just his hand was wet, or I don't know what was going on, but it's unacceptable. We have to fix that. I know Alex knows that. He was disappointed in himself."
Bender was disappointed he didn't get to play on KU's final play from scrimmage of the overtime period.
On third and 6, Kendrick was dumped for a 3-yard loss on a designed run play. KU settled for Gabriel Rui's 41-yard field goal.
"I want to be out there, but you know, it's a coach's decision," Bender said. "It was a good play call and it was just they played harder than us and they blew it up."
And with it, blew up KU's season. Too early to say that? I suppose so, but it sure had a similar feel to other recent seasons that didn't start or end impressively and were particularly unsightly in the middle.