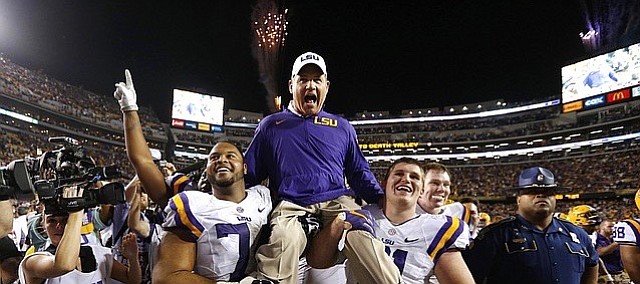 Free agent football coach Les Miles' age seems to be a concern for some who wonder if it's a reason for Kansas to pass on hiring him.
I assume they mean that he's too young because fans have had it to here with watching KU get hammered by football coaches older than theirs.
Miles turns 65 Saturday.
Ohio coach Frank Solich blasted Kansas in consecutive years recently by a combined score of 79-51 at the ages of 72 and 73.
Bill Snyder puts his nine-game winning streak vs. Kansas on the line Saturday in Manhattan at Bill Snyder Family Stadium. Snyder was 70 when the streak started.
In the wake of Mark Mangino's forced resignation, KU has hired a succession of youngsters, at least compared to the coaches feasting on the Jayhawks.
Turner Gill was 47 when he explained why he took the Kansas job after going 20-30 at Buffalo.
"I'm not coming here to use it as a stepping stone to a football dynasty, but rather to create a football dynasty here at KU," Gill said. "I hope to be here 15 or 20 years, because if I'm here 15 or 20 years, that will mean we have done well."
His dynastic ambitions fell 13 or 18 years short, and he was fired with a 5-19 record.
Next, Kansas turned to Charlie Weis, 10 years younger than Miles turns Saturday.
"I really wasn't concerned with being a head coach to be honest with you," Weis said at his introductory press conference. "I wasn't concerned with it one bit."
Then, when a contract guaranteeing him $12.5 million over five years was tossed at him, he liked the idea. He alluded to another possible motivation for taking the job. His grand plan was to turn Kansas into a winner, and then after about five years, turn the program over to a less expensive coach, his son Charlie Jr. (He now is the youngest offensive coordinator in the FBS, working for Lane Kiffin at Florida Atlantic).
Zenger said he talked to "multiple" people about Weis before hiring him, estimating the number to be, "five to 10," the latter estimate twice as high as the first. Zenger also said something that day that revealed how little he knew the coach.
"In meeting coach Weis, just from today, I I sat down with him and I found someone I didn't expect to see. And that was a little humbling for me, as well. I've enjoyed him, and I think you'll enjoy him, too."
I did enjoy Weis, although I'm certain the feeling wasn't mutual. He gave great press conferences.
Current Kansas AD Jeff Long knows Miles better than Zenger knew Weis. Long and Miles worked together at Michigan for 10 years.
He lasted two games shy of halfway through his contract and was canned with a 6-22 record.
Kansas went even younger, hiring David Beaty, then 44.
At his introductory news conference, Beaty misused a word in saying, "My condolences to the selection committee." Weis coached at Notre Dame, but it's Beaty who is a modern-day Nostradamus.
Beaty, liked by his players, was told Sunday that his job will end when the season does. He's 6-39. The younger the coach in the post-Mangino era, the worse the winning percentage.
Since turning 65, Rocky Long's record at San Diego State is 49-11.
Sure, Miles is two years and 11 days younger than college football's best coach, Nick Saban, but that's no reason not to hire him.
Miles has coached 15 full seasons and one partial one. His only one with a losing record was his first at Oklahoma State (2001). He won a national title for LSU in 2007, and in 2011, suffered his first loss in the BCS Championship game.
Miles was fired after going 19-10 in his final two-and-a-third seasons, marred by substandard quarterback play. Miles is far from the only candidate with experience as a head coach who would upgrade the KU football program in a major way.
Tulane's Willie Fritz, 58, Seth Littrell, 40, of North Texas, and Toledo's Jason Candle, 38, all are equipped to upgrade the Kansas football program in a major way, and I can't think of anything more irrelevant than their ages.