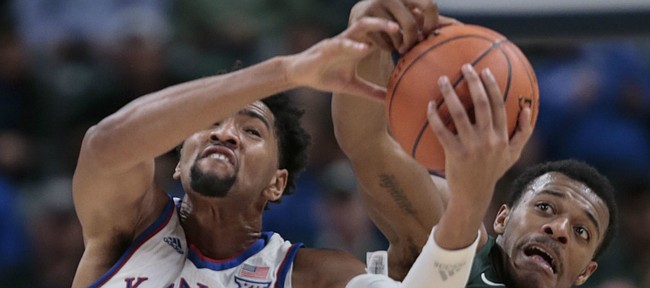 Indianapolis — In his much-anticipated Kansas debut Tuesday night in Bankers Life Fieldhouse, fourth-year junior Dedric Lawson forced a couple of bad shots, shot just 27.8 percent from the field, ran the floor with that borderline awkward gait of his and still showed why he easily represents his team's best shot at making it back to the Final Four.
Most of Lawson's shots didn't stay down. Even the ones that looked pure kept popping back out. He made just 5 of 18 field goals. For most players, that would mean it just wasn't his night. For Lawson, it meant another double-double. He had 19 of those two years ago in his sophomore season at Memphis.
He'll have games where it just isn't his shooting night, but it's doubtful he'll have any where it just isn't his night, period. He does too many things, attracts too much attention, to ever do more harm than good to the nation's top-ranked college basketball team.
Lawson ho-hummed his way to 20 points, 14 rebounds, six assists, two steals and two blocked shots in leading Kansas past No. 10 Michigan State, 92-87, in the first game of the Champions Classic doubleheader, yet his poor shooting totals were the source of most questions about his night.
At the offensive end, he worked well from the point, the post and everywhere in between.
Photo Gallery
KU basketball vs. Michigan State in Champions Classic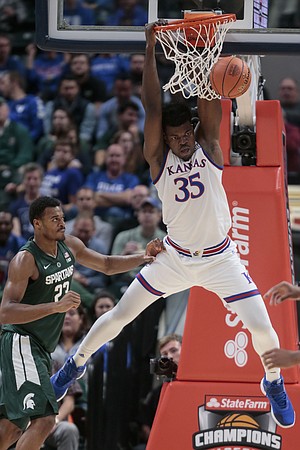 In their first game of the regular season, the Kansas Jayhawks faced off against the Michigan State Spartans in the Champions Classic on Tuesday, Nov. 6, 2018, in Indianapolis.
"He passed the ball well," Self said. "He's a good post feeder. He made his free throws. But, offensively, I thought that the physicality bothered him a little bit. They were really good bodying up on him on his shots, knocking him off balance."
But a bad night? No, Self wasn't buying that.
"You shouldn't say he played poorly just because he missed shots," Self said. "There is so much more to the game than that. Six assists, 14 rebounds and he made his free throws down the stretch. Those are all good things."
Michigan State coach Tom Izzo bemoaned his team ceding "every loose rebound to Kansas" in the first half and wasn't happy with the Spartans' inability to stay out of foul trouble.
Lawson was the biggest factor in both areas. He drew a game-high nine fouls and hit 10 of 12 free throws. Many of Lawson's 11 first-half rebounds came on balls he chased down from the perimeter. That's when he looks his quickest — when closing in on a loose ball.
As a basketball player, Lawson has more physical flaws than mental ones. He's not very fast getting up and down the floor, and doesn't slide his feet particularly well defensively. He isn't KU's best NBA prospect.
Grimes, who scored 20 points in his college debut, showed in one night that he will be the first Kansas player taken in the 2019 NBA draft. But Lawson's offensive versatility, rebounding and defense near the goal make him a rare college basketball player in the one-and-done age.
His soft passes from the perimeter to Udoka Azubuike will bring out the best in the junior center, who had 17 points, just three rebounds and four blocked shots. That much was obvious.
But it didn't stop there.
"He can make the game easy for everybody out there on the court, and when you need a bucket, you can go to him," freshman guard Devon Dotson said.
They went to him, he drew fouls and made the free throws, and the player who missed 13 of his 18 shots was the MVP of the game.