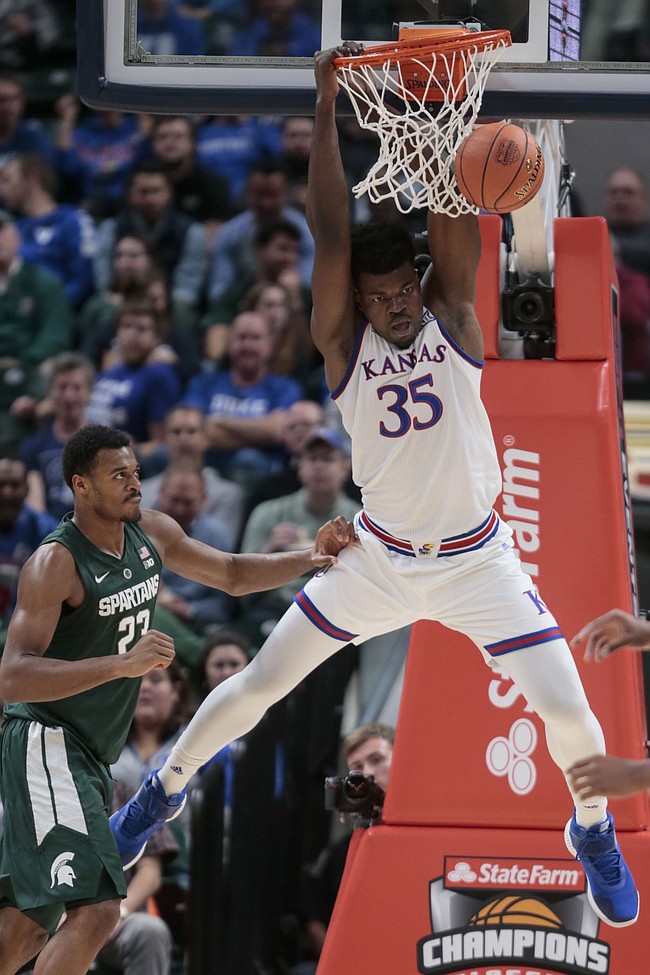 Indianapolis — It took until a Big 12 Conference game after the first of the year last season for Kansas coach Bill Self to be faced with the kind of dilemma he saw in Game 1 of the 2018-19 season on Tuesday night.
With No. 1 Kansas clinging to a single-digit lead that was dwindling against No. 10 Michigan State in the Champions Classic at Bankers Life Fieldhouse, the Spartans purposely started fouling Kansas junior Udoka Azubuike, a notoriously poor free-throw shooter.
The strategy worked — at least in theory — and Azubuike missed three of the four foul shots he attempted in the final minutes of KU's 92-87 victory.
Photo Gallery
KU basketball vs. Michigan State in Champions Classic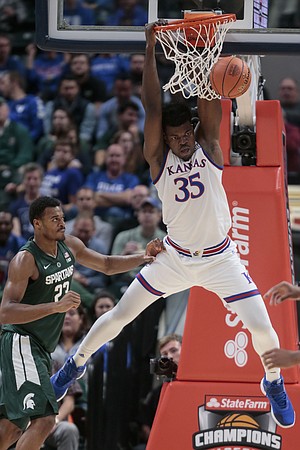 In their first game of the regular season, the Kansas Jayhawks faced off against the Michigan State Spartans in the Champions Classic on Tuesday, Nov. 6, 2018, in Indianapolis.
But the decision by MSU coach Tom Izzo to employ the popular Hack-A-Dok strategy gave Self an opportunity to show his hand early in the season and the KU coach does not plan on changing things any time soon.
"We're going to keep going with him," Self said. "If you watched him last year, they had no chance. Tonight's actually had a chance. They were pretty soft and he shot them in pressure moments. He'll continue to get better at that and we're not going to sub for him very often in that situation."
Asked about the decision to leave Azubuike on the floor late, Self reiterated that he never has been a fan of taking his best players out of the game. And he was pleased with the way KU executed its offense to get the ball to Azubuike in those clutch moments.
"Even though he missed both free throws late, you run the clock down, you get it to four seconds and you get fouled," Self said. "You can't run better offense than that."
Azubuike did come out after a pair of misses that allowed Michigan State to cut the Kansas lead to one possession (90-87) with 35 seconds to play. But Self said that was more about defensive assignments.
"I only took him out because we were switching ball screens," Self said. "It didn't have anything to do with free throws."
Ochai redshirts
Kansas freshman Ochai Agbaji, who Self revealed Monday plans to redshirt the season, was in Indianapolis and participated in KU's walk-through early Tuesday, but did not suit up for Tuesday's game.
He was joined in street clothes by sophomore forward Silvio De Sousa, who remains out while KU awaits word on his status in the wake of the recent college basketball corruption trial.
Agbaji, a talented guard from Kansas City, Mo., appears to be a victim of KU's perimeter depth and freshman point guard Devon Dotson said he thought Agbaji made a quality decision.
"I'm excited," Dotson said. "He's a great kid and he'll be OK with anything that happens. He's just that kind of a kid, a hard worker and a great teammate."
Starting five
The Jayhawks opened the regular season the same way they opened exhibition play on Oct. 25, with veterans Lagerald Vick, Dedric Lawson and Azubuike starting alongside freshmen guards Dotson and Quentin Grimes.
Four of those five topped 30 minutes, with only Azubuike playing 20 minutes. Sophomores Marcus Garrett (14) and Charlie Moore (10) led KU's bench in minutes played.
Faces in the crowd
In addition to the usual suspects who support Kansas basketball at home, on the road and wherever else the Jayhawks may roam, there were a few notable faces in the Bankers Life Fieldhouse crowd on Tuesday night.
Former KU players Tyler Self, Niko Roberts and Eric Chenowith sat with the KU crowd to support this year's squad. And former Jayhawk Joel Embiid, who, now in his third season playing with the Philadelphia 76ers is among the most popular players in the NBA, sat courtside across the team benches.
Dotson, who had not met Embiid before Tuesday night, said Embiid spoke to the team after the victory.
"He came to the locker room, spoke a few words to us," Dotson said. "He's a social media icon, funny guy, charismatic, so it was cool. He was saying he was going to follow us throughout the season and offer support whenever we need any advice or encouragement."
New Kansas Athletic Director Jeff Long, who has his hands full with the start of a KU football coaching search at the moment, also made the trip north to Indianapolis for his first official game with Kansas basketball.
Vitale begins 40th year
ESPN broadcaster Dick Vitale, who called Tuesday's KU-Michigan State game at Bankers Life Fieldhouse, now officially has kicked off his 40th season as a broadcaster.
Vitale, the booming and boisterous former coach who is among the biggest ambassadors of college basketball, was busy hyping up both his first game of Year 40 and the official start of the 2018-19 college basketball season throughout the past few days on Twitter.
There was a little symmetry involved with Vitale's call on Tuesday night. His first broadcast for ESPN, which he called "ESPN's first big game," came on Dec. 5, 1979, and featured No. 1 DePaul vs. Wisconsin, just like another No. 1, Kansas, took on a team from the Big Ten team on Tuesday night.
Champions Classic extended
KU's win on Tuesday night improved the Jayhawks' record to 4-4 in the early-season showcase, and it appears there is still plenty of time ahead to improve upon that record.
Reports Monday indicated that the Champions Classic has been extended through at least 2022, and the event will remain in the three cities it has most recently called home.
Next season, KU will return to New York to face Duke and the Jayhawks and Blue Devils will return to Indianapolis in 2022 to face each other. In between those dates, KU will play Kentucky in Chicago in 2020 and Michigan State in New York in 2021.
This and that ...
KU now has won three consecutive games in the Champions Classic, evening its overall record in the event at 4-4. ... Tuesday's victory was the first in the event against Michigan State. ... Kansas is 1-0 for the 15th time in Self's 16 seasons in charge. ... KU is now 22-10 all-time as the No. 1 team in The Associated Press' Top 25 poll and 12-3 in the top spot since 2010. ... Self is now 448-96 all-time at Kansas, 655-201 in his career and 7-7 against Michigan State. ... The win pushed KU's all-time record to 2,249-849.