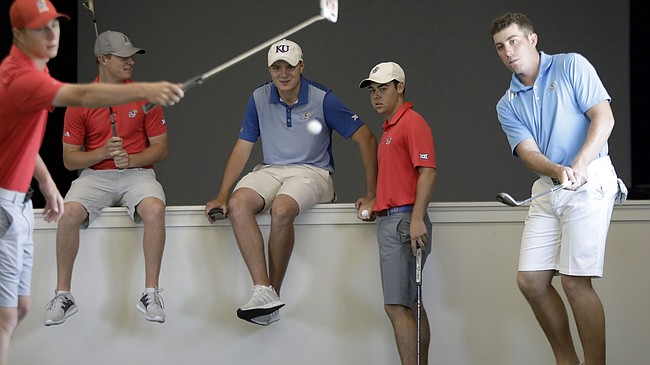 The five Kansas golfers who won the NCAA Pacific Regional last week and delivered the university in the NCAA finals for the first time since 2000, gathered Tuesday at the new practice facility at Jayhawk Club to field about the upcoming tournament at Karsten Creek in Stillwater, Okla., which starts Friday.
They also talked with pride about the practice facility that opened in late January.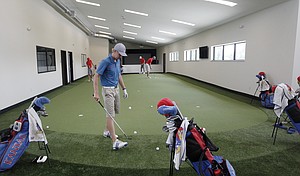 "We've had a few recruits come in and say it's right up there with Oklahoma State, which is obviously No. 1 in the country right now," junior Charlie Hillier said, looking around the room. "I think that's a pretty good compliment. I think we're pretty lucky."
Six heated hitting bays enable players to drive from indoors to outdoors in the dead of winter. Players can play on a virtual basis 15 different courses on a simulator that tracks information such as launch angle, etc., on each of their swings. The floor of the facility's main room has artificial turf with undulations and several cups so that players can practice chipping and putting. The state-of-the-art locker room won't hurt recruiting, either.
This is where the players sharpen their games. The facility will help in sixth-year head coach Jamie Bermel's quest to bring in better players every year. His assistant coach, Chris Wilson, helps in that regard, as well.
Bermel recruited well enough to assemble a team that won the Pacific Regional with a freshman (Harry Hillier), a sophomore (Andy Spencer), a junior (Charlie Hillier) and two seniors (Daniel Hudson and Daniel Spencer) competing.
"Coach has done so much to get us back into the spotlight," said Spencer, the team's No. 1 player. "The biggest credit goes to coach Bermel's first couple of recruiting classes. Those guys paved the way for us. What we're doing now is from what coach Bermel preaches every day: The little things, being mentally tough. Sometimes things aren't going to go your way and you have to battle back, and that's helped us throughout the year."
Charlie Hillier explained one aspect of Bermel's no-nonsense approach: "Coach Bermel preaches the same things every day: Clean-shaven, clothes nice, clean shoes."
At the same time, the players enjoy Bermel's barbs and seem to enjoy playing for him, in part because they feel themselves steadily improving.
Bermel shared a quick scouting report on each of his five golfers competing in the NCAA finals:
Spencer: "Andy doesn't really have any weaknesses to his game. I felt last year he was a little emotional on the golf course, let bad shots effect his play, and now he's over that. I think his weapon is his driver. He hits it pretty far, usually pretty straight."
Charlie Hillier: "His short game is really good. He can chip the ball really, really well. Sand game is good."
Sutton: "Probably drives the ball as straight as anyone in college golf. He's in the fairway, 70, 80, 90 percent a lot of times. It's impressive."
Hudson: "He got in the lineup the spring of his freshman year and has stayed in it. He's a senior, he's played a lot of rounds and he's played in a couple of U.S. Amateurs."
Harry Hillier: "Hits it top 10, 15 percent in driving distance in college golf right now. He can move it."
Kansas showed no signs of wilting under the pressure at the regional.
"Honestly, there wasn't much pressure," Hudson said. "If you're comfortable with the golf course and comfortable with where you're game is at, it's hard to put any pressure on yourself because you're walking out to the first tee thinking you're going to win and be the best anyway."
That sort of confidence will come in handy competing on Oklahoma State's spectacular home course during the NCAA finals, which include three days of team scoring (the top four golfers' scores count) before a cut reduces the field from 30 to 15 teams. A fourth day trims the field from 15 to eight. At that point, the format switches to match play with the field seeded from 1 through 8. Five matches take place and once a team wins its third match, it advances in the bracket.
The coach from the lower seeded team starts by saying which player he'll use in the No. 1 match, and the higher seeded coach responds with his No. 1 and they go back and forth picking through match No. 5.
"It's like the Ryder Cup," Bermel said. "If I'm the eighth seed, I go first, then the coach from the first seed goes. ... It'd be a great problem to have, trying to figure out that strategy."