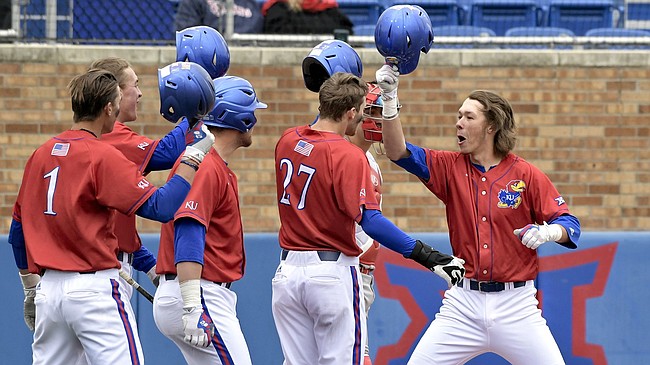 The players in the Kansas baseball dugout just couldn't help themselves while Skyler Messinger trotted around the bases.
When Messinger crossed home plate, he was surrounded by his teammates on the field. He chest-bumped catcher Jaxx Groshans and handed out as many high fives as he could.
His three-run homer in the bottom of the seventh inning proved to be the difference in KU's 6-5 win over No. 20 St. John's on Sunday at Hoglund Ballpark.
"It was great to see a young man that's invested, that's working hard every day, clutch up and help his team win," KU baseball coach Ritch Price said.

Messinger's towering smash to left—which broke a 3-3 tie—was also the first homer of the freshman infielder's career.
"I was just trying to be loose and trust myself," said Messinger, who entered the game in the sixth inning and replaced David Kyriacou at third base. "I was looking for a good pitch to hit and just reacted to it."
Price said he's been trying to slowly work Messinger into the lineup. Messinger entered the day 7 for 30 at the plate on the season.
"We've been bringing him along slowly because he's been having some tough at-bats," Price said. "But, man, I'll tell you what. He railed that 3-2 fastball into left field. Obviously, the biggest hit of his college career so far."
Before the homer, KU had a 3-2 lead after five innings in a game in which Ryan Zeferjahn started. Zeferjahn, who has gotten off to a dominant start this season, was forced to work a little harder on Sunday against St. John's.
After holding the Red Storm scoreless for the first four innings, Zeferjahn had to buckle down after he allowed two runs in the fifth, including a solo homer to St. John's left fielder Matt Woods.

St. John's threatened again in the sixth after two batters reached base with one out in the inning. With Zeferjahn nearing 100 pitches, and reliever Ryan Cyr warming up in the bullpen, his start appeared to be heading to an early exit.

Pitching coach Ryan Graves then paid Zeferjahn a visit at the mound, but he decided to let the righty attempt to finish the inning.

That decision proved to be the right one for the Jayhawks.
"(Graves) asked me if I wanted the ball, and I said, 'Yeah, I want the ball. I'm going to get a ground ball here,'" Zeferjahn said. "That's what I did."

Zeferjahn forced the next batter, Wyatt Mascarella, to hit into a double play to escape the threat without any damage.
"I got a nice 6-4-3 double play, and that really helped us," said Zeferjahn, who struck out five in six innings. "It was awesome."
Later in the ninth, KU had to fight off another surge from. St. John's. The Red Storm put pressure on closer Zack Leban and threatened to tie the game after scoring two early runs in the inning.
But Leban, with a runner on third and one out, retired the next two Red Storm batters to record his seventh save of the season.

With the win, KU (11-4) secured a series sweep of St. John's (8-4), its first sweep over a ranked opponent since 2014.
"We have a saying here, 'It's all about Sunday,'" said Messinger, referencing one of Price's mantras for his team. "These games are obviously really big. They're a good team. It was a dogfight today, and we're fortunate enough to come away with the win today."
St. John's 000 020 102 — 5 13 1
Kansas 100 110 30x — 6 9 0
W — Ryan Cyr (2-1). L — Jeff Belge (0-2). S — Leban (7).
2B — Woods (2), St. John's; Jamie Galazin, St. John's; Mascarella, St. John's; Groshans, KU; Owen Taylor, KU. 3B — John Valente, St. Johns. HR — Woods, St. John's; Messinger, KU.
KU highlights — Zeferjahn, 6 IP, 6 H, 2 R, 2 BB, 5 K; Messinger, 1 for 1, R, 3 RBI; Groshans, 2 for 4, 2 R; Devin Foyle, 2 for 3, R, RBI, walk; Brett Vosik, 1 for 3, R, RBI, walk.