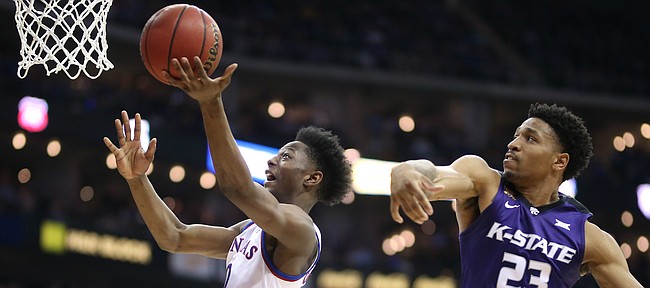 Kansas City, Mo. — What promised to be an electric semifinal showdown between Sunflower State rivals on Friday night at Sprint Center turned into a slow and sluggish slap contest that featured as many mistakes as memorable highlights.
And then Kansas freshman Marcus Garrett made one of those signature Marcus Garrett plays and pumped enough life back into the top-seeded Jayhawks to run past No. 4 seed Kansas State, 83-67, and into Saturday's Big 12 tournament championship game, where they will face No. 3 seed West Virginia, a 66-63 winner over No. 2 seed Texas Tech on Friday night.
Kansas coach Bill Self compared the play to one made by former KU point guard — and national champion — Russell Robinson.
"Russell was an average ball handler," Self began. "Average at best. He was our point guard. And people would steal the ball from him. But you knew as soon as they'd steal it that he'd go steal it back and we'd get a layup out of it. That's where he was most dangerous. We don't have enough of that."
Photo Gallery
Kansas basketball v. Kansas State (Big 12 Tournament)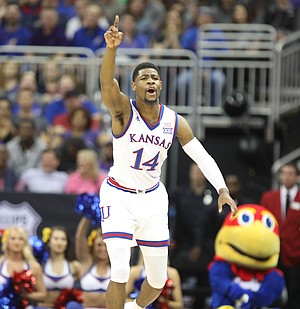 View a gallery of images from Friday's semifinal game of the Big 12 Tournament between the Jayhawks and Wildcats at Sprint Center.
With Kansas leading by just two points and the Wildcats riding a wave of momentum from a 33-foot alley-oop pass from Cartier Diarra to Xavier Sneed that trimmed KU's lead to a single possession, Garrett misfired on a wide-open 3-point attempt and appeared to give the ball to the Wildcats with a chance to take their first lead since early in the first half.
But instead of loafing back on defense, Garrett faked back and then darted into the passing lane for a momentum-changing steal and layup under the bucket. The play sparked a 9-2 Kansas run that put the Jayhawks back in front by nine and brought a calm to the KU sideline and a sense of concession to the K-State huddle.
"Marcus is a competitive dude," Self said after the victory. "He shoots an airball and then goes, 'Oh, boy, I've got to go make a play.' I wish we would have more of that. I know that we had no momentum and that was something that at least gave us a little bit."
According to Garrett's teammates, the momentum that came from that sequence was the difference in the game.
"That was huge," said senior Svi Mykhailiuk, who finished with 12 points on 4-of-8 shooting from 3-point range. "That let us calm down. He never gives up and that was huge because if they would've scored, I don't know how the game would've ended up."
Podcast episode
Kansas basketball coach Bill Self and starting guards Devonte' Graham and Malik Newman discuss the Jayhawks' 83-67 victory over rival Kansas State in the Big 12 tournament semifinal round.
Self had an idea: probably a lot like the way it had been played up until that point.
With the Wildcats (22-11) playing without their top two scorers — Dean Wade was held out because of a foot injury, and Barry Brown Jr. left the game and did not return after suffering a nasty poke in his right eye in the game's opening minutes — the Jayhawks played from a position of power for most of the night. The Jayhawks led for 35:28 and trailed for less than three minutes, but they might have had a much tougher task had it not been for Garrett's big play.
Despite delivering one of the game-saving moments of the night, Garrett was a lot less pleased with the team's performance overall than he was proud of his own contribution.
"I don't feel like we played at a high tempo," said Garrett, who finished 3 of 7 from the floor for eight points, five rebounds and that one steal in 22 minutes. "With the two players gone, we just relaxed and went as the game went. We've got to come out with the mindset that we're playing for March Madness. We've got to play like every game is for the national championship and I don't feel like we did that tonight."
It's not as if the ninth-ranked Jayhawks (26-7) were terrible. Kansas shot 48.3 percent from the floor, 39 percent from 3-point range and 82 percent from the free-throw line. KU also outrebounded KSU by seven and swiped seven steals during a game it led by double digits for a good chunk of the way.
But it was the team's method, not its measurables, that left the Jayhawks shaking their heads after the victory, their third of the season over their in-state rivals.
"That was not a jubilant locker room afterward," Self said. "This is the time of year that everybody in America plays with energy and enthusiasm and the game's more alive and we didn't play like that tonight. … What was disappointing to me was we played the second half like it mattered more to them than it did to us and we were just trying to get through it rather than trying to play."
Timely shooting — Kansas made 11 of 28 3-pointers — and enough plays like Garrett's, though none quite as good as that one, helped the Jayhawks hold off the undermanned Wildcats and sent KU to its 13th Big 12 tournament championship game in 22 years.
Although Self said he was not complaining about the result, it was crystal clear, both through his words and those of the Kansas players scattered throughout the KU locker room, that a similar showing on Saturday would not lead to the same result.
"We're happy we won. There were some good things that happened, but we're going to have to be a heck of a lot better (Saturday) night," Self said.
Added Garrett, speaking about Self's postgame message: "He was telling us that the teams we play tomorrow, if we come out like that, they'll definitely beat us by 15. We know we've got to go home, get some rest and come back with a different mindset tomorrow night. Because if we come back with the mindset we came out (with) tonight, we'll be losing tomorrow."