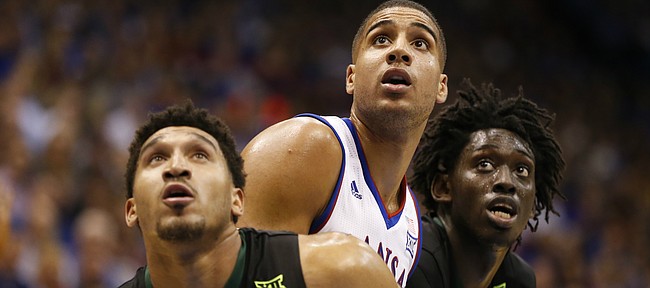 Though his first foray into professional basketball came with an inopportune season-shortening injury, former University of Kansas center Landen Lucas entered this summer recovered and eager to find his next opportunity.
After going undrafted a year ago, Lucas began his 2017-18 season in Tokyo, Japan, playing for Toyota Alvark. The 6-foot-10 big man known for his defensive IQ and ability to fit in as a complementary role player during his time with the Jayhawks only appeared in 18 games as a rookie in Japan's B. League.
"Ended up, unfortunately, getting hurt pretty early in the season, so didn't play a ton," Lucas said of a foot impairment. "But my team ended up winning the whole thing. It was fun while I was over there."
Lucas averaged 6.6 points and 4.7 rebounds while playing 13.8 minutes a game off the bench. Upon returning to the U.S. to begin preparing for Year 2, Lucas set up shop in Los Angeles, where he has been living and training since.
"I was rehabbing and then started getting ready for summer league and the whole process this summer," he shared recently, while visiting Lawrence to participate in various charity events. "So that's a good area to go to. Good competition, good trainers."
After months of doing all he could to stay fit while his foot healed, Lucas just started playing basketball in live five-on-five situations again earlier this month, and went to Oklahoma City for a workout with the Thunder. He hopes to grab a spot on some NBA team's summer league roster, and anticipated being back at 100 percent in time for the July exhibitions, which tip off next week.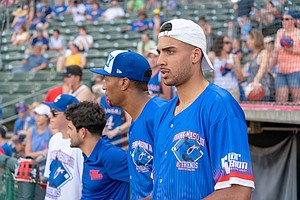 In the summer of 2017, Lucas joined Boston's summer team but only played 12 minutes a game, averaging 3.7 points and 3.4 rebounds. He said his strategy this year would be to seek out a team that wouldn't necessarily have a wealth of recently-drafted big men.

"Try to find an opportunity where I can play," Lucas said, "and have a chance to earn a spot."
His recent return to Lawrence coincided with the Rock Chalk Roundball Classic, which teamed with his Landen Lucas Foundation and other charities to raise funds for children in the community. His foundation provides opportunities for less privileged youth to participate in sports.
"We're just trying to get the word out, get awareness out and be a part of it," Lucas said of giving back. "I'm definitely happy about what's to come."