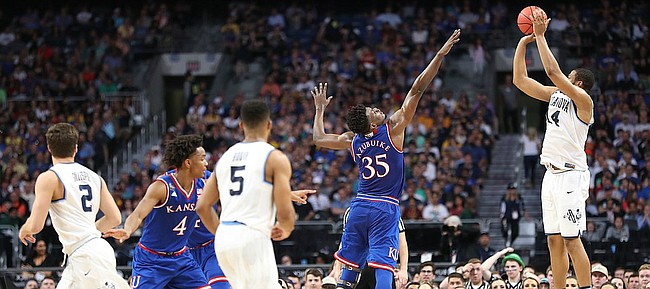 As always seems to be the case, the Kansas men's basketball team will tackle another tough non-conference schedule during the 2018-19 season.
Six teams on KU's non-conference schedule — released Friday afternoon — competed in the 2018 NCAA Tournament. National champion Villanova, Kentucky, Michigan State, Arizona State, Tennessee (possible opponent in the Preseason NIT) and New Mexico State are all slated to square off with the Jayhawks this coming season.
"This is definitely a tremendous non-conference schedule and for a young team it's a lot to try to conquer, especially so early in the season when we have so many guys who will be playing pivotal roles," head coach Bill Self said in a team release. "Hopefully it will be great preparation for once again playing in one of the best leagues, if not the best league, in the country. It's going to be tough. I know our players will enjoy the challenge and I know our fans will enjoy watching them enjoy the challenge."
To start the regular season, the Jayhawks will travel to Indianapolis for the Champions Classic on Tuesday, Nov. 6. This season, Kansas is slated to face Michigan State, which won the Big Ten title last season. The Jayhawks have won their last two games in the Champions Classic, defeating Duke in New York City in 2016 and Kentucky in Chicago in 2017, following their loss to the Spartans in 2015.
In addition, Kansas is slated to welcome defending national champion Villanova — the team that knocked the Jayhawks out of the 2018 Final Four — to Allen Fieldhouse on Saturday, Dec. 15, and will travel to Kentucky for the Big 12/SEC Challenge on Saturday, Jan. 26, 2019. Villanova won the title last season, beating Kansas in the Final Four during a 36-4 campaign.
"We always play a great schedule," Self said, "but next year's, certainly, has an opportunity to probably be most talked about going into the season because we're hosting the reigning national champions. We saw what Villanova did to us in the Final Four, so that will be an exciting game for all our fans. We play Michigan State in the Champions Classic to start the season. Those are marquee names, and that doesn't include hosting Stanford, or going to Arizona State, or the preseason NIT, in which we're guaranteed to play two of these teams — Louisville, Tennessee or Marquette."
For the last nine seasons, Kansas has ranked no lower than fifth nationally in the final Ratings Percentage Index (RPI), which is one of the tools the NCAA Men's Basketball Committee uses in selecting the NCAA Championship field. In three different seasons (2010, 2011 and 2016) the Jayhawks boasted the nation's No. 1 RPI.
Kansas men's basketball 2018-19 non-conference schedule
(home games in ALL CAPS)
Oct. 25 (Thursday): EMPORIA STATE (EXHIBITION)
Nov. 1 (Thursday): WASHBURN (EXHIBITION)
Nov. 6 (Tuesday): Michigan State (Indianapolis, Champions Classic)
Nov. 12 (Monday): VERMONT (NIT home contest)
Nov. 16 (Friday): LOUISIANA (NIT home contest)
Nov. 21 (Wednesday): TBD (Brooklyn, N.Y., NIT semifinals)
Nov. 23 (Friday): TBD (Brooklyn, N.Y., NIT finals)
Dec. 1 (Saturday): STANFORD
Dec. 4 (Tuesday): WOFFORD
Dec. 8 (Saturday): NEW MEXICO STATE (Kansas City, Mo., Jayhawk Shootout)
Dec. 15 (Saturday): VILLANOVA
Dec. 18 (Tuesday): SOUTH DAKOTA
Dec. 22 (Saturday): at Arizona State
Dec. 29 (Saturday): EASTERN MICHIGAN
Jan. 26 (Saturday): at Kentucky (SEC/Big 12 Challenge)
March 13-16: Big 12 Championship (Kansas City, Mo.)