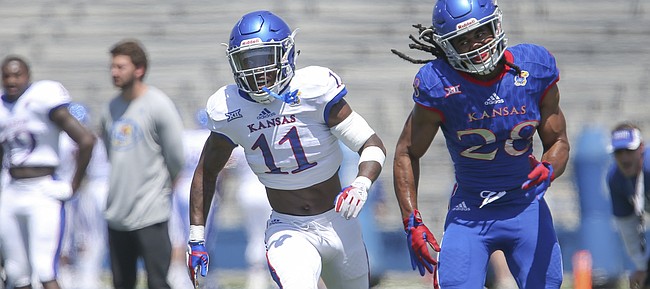 Entering his junior season as a safety at the University of Kansas, Mike Lee, with his 21 games of experience, 16 career starts and numerous highlight hits, qualifies as the preeminent Louisiana native on the roster.
So who better to provide some insight on the newest "Louisianimal" to join the Jayhawks?
Running back Anthony "Pooka" Williams Jr. arrived on campus this summer, and Lee, a New Orleans native, already has witnessed enough out of the four-star freshman from Boutte, La., to be impressed.
"Oh, man, this guy is talented," Lee shared earlier this week, during an appearance on 1320 KLWN's "Rock Chalk Sports Talk," with Nick Schwerdt.
In his senior season at Hahnville High, Williams led his team to the Louisiana Class 5A state title game, and finished his final year at the prep level rushing for 3,118 yards and 37 touchdowns.
The speed of the 5-foot-10, 170-pound back grabbed the attention of his new KU teammates during the past few weeks.
"I think he's the fastest guy, to me. I don't think nobody can outrun him," Lee said of Williams. "He's got great feet. He will not let one person tackle him. And he's just a competitive guy, and he wants to win."
Lee helping freshman Harris along
Lee knows KU's other four-star freshman from Louisiana, cornerback Corione Harris, even better than Williams.
Both Lee and Harris graduated from Landry-Walker High School, in New Orleans. Since Harris got to Lawrence in January, Lee has made sure to take on a leadership role with the young corner.
"Coe, he's a really good player. Talented. He pays attention," Lee said of some of Harris' qualities. "He likes to learn new things, so the coverages we play now in college, it's different from what he was playing in high school. So we had to sit down and talk about what's different and what's not different, so he could know the game more and he could just be out there competing."
Just a couple years ago, Lee was the true freshman trying to grasp all that goes into playing defensive back in the Big 12. Now, he is using his two seasons of experience to dispense advice to Harris.
"If you listen more, things are going to come to you faster," Lee has told Harris.
If not?
"Things are going to fly by your face and your ears. You're not going to get it," Lee said.
Lee said he can tell Harris, like Williams, is driven by the desire to win.
Evolving work ethic in program
In his time at KU, junior nickelback Bryce Torneden has noticed an improvement in the players' overall dedication.
Although putting in extra work is nothing new this offseason, Torneden said he feels naive looking back now on the amount of time he spent doing so as an underclassman and thinking it was enough.
According to the 5-10 defensive back from Lawrence, all the Jayhawks have embraced the idea of improving their work ethic even further since the end of last season.
This summer, for example, Torneden said at least 75 percent of the team sticks around after scheduled strength and conditioning sessions to get in extra reps of some sort.
"Little things day in and day out," Torneden said. "We understand if we continue to do that, it's going to pay off in the long run."
Veteran leaders at each position, he added, such as defensive lineman Daniel Wise, receiver Jeremiah Booker and linebacker Joe Dineen, have spearheaded the team's trend toward both extra video study and workouts.
Instead of leading by example, Torneden said, they actively seek out teammates to join them when they do intend to put in extra work.