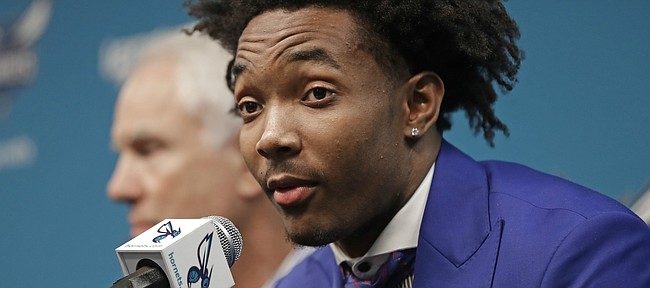 Devonte' Graham's summer with Charlotte got cut short this week when the rookie point guard from the University of Kansas suffered a right knee injury.
The Hornets announced Wednesday night Graham, a second-round draft pick, was diagnosed with a "condylar lesion," ending his availability at the NBA's Las Vegas Summer League and keeping him away from regular basketball activities for an undetermined amount of time, according to a report from The Charlotte Observer's Rick Bonnell.
Graham got to play in three summer exhibitions for the Hornets before hurting his knee. The No. 34 overall pick in the 2018 draft averaged 10 points, 6.0 assists and 2.7 rebounds in 26.0 minutes per game. He shot 37 percent from the field, making 11 of 30 attempts.
Wednesday night Graham tweeted out a couple of comments that seemed to reference the injury. First: "Minor setback. Major comeback." Later he also wrote: "My spirit (too) high to ever come down. Positive energy and vibes no matter the situation or circumstances."
The Hornets said Graham would return to Charlotte for further medical examinations.