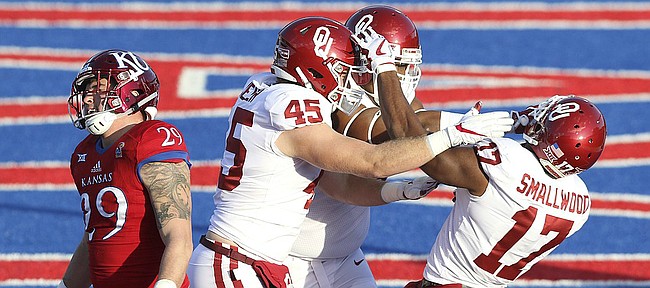 The Big 12 unveiled its preseason media football poll Thursday afternoon and the 2018 version closely resembles its predecessors from recent summers in that Kansas can be found at the very bottom of the list.
As has been the case every year since the conference got rid of divisions following the 2010 season, KU football landed in last place in the annual standings projections.
The Jayhawks' unwelcome streak hit eight years with the latest poll.
The preseason predictions have come true in six of the past seven seasons. During its rut of a run KU outperformed its forecast only in 2014, when the Jayhawks (1-8 in the Big 12) finished not 10th, but ninth, one game ahead of Iowa State, which went winless.
In its' six 10th-place seasons over the course of the past seven years, KU went 0-9 in the Big 12 in 2011, 2012, 2015 and 2017, and 1-8 in 2013 and 2016.
As so often is the case in the conference, Oklahoma sat atop the estimated Big 12 standings, with 46 of the 52 first-place votes.
Second-place West Virginia (two first-place votes) is projected as the regular-season runner-up.
Third-place TCU and fourth-place Texas each received one first-place vote, while KU's rival, Kansas State, garnered two first-place votes to go with its spot at sixth, behind No. 5 Oklahoma State.
Iowa State saw a streak of seven consecutive years as the projected ninth-place team come to an end, as the Cyclones landed at seventh this time around.
KU finished 73 points behind ninth-place Baylor in the preseason poll.
This year marks the sixth since 2011 in which the Sooners led the preseason rankings. Oklahoma owns a Big 12-record 11 league titles, including each of the last three.
The top two finishers in the league standings will compete in the Big 12 Football Championship Game on Saturday, Dec. 1 to determine the Conference title.
2018 Big 12 Football Media Preseason Poll
(first-place votes in parentheses)
No. 1 - Oklahoma (46), 509
No. 2 - West Virginia (2), 432
No. 3 - TCU (1), 390
No. 4 - Texas (1), 370
No. 5 - Oklahoma State, 300
No. 6 - Kansas State (2), 283
No. 7 - Iowa State, 250
No. 8 - Texas Tech, 149
No. 9 - Baylor, 125
No. 10 - Kansas, 52