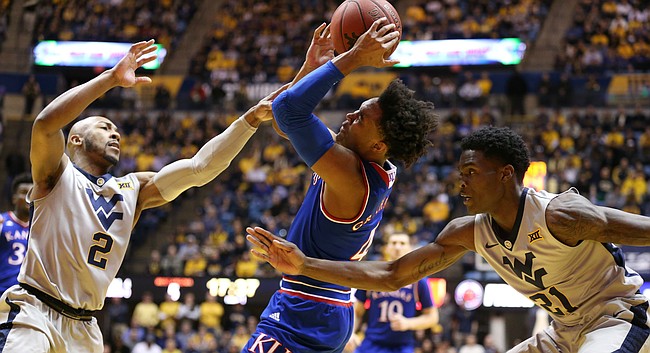 Recent Big 12 tradition be damned, the Kansas basketball team visited West Virginia and left without "Country Roads" resounding throughout WVU Coliseum and Mountaineers fans singing along blissfully.
West Virginia failed to defend its home court against the Jayhawks for the first time in five years, as KU rallied for a 71-66 road victory, in a Big Monday battle of top-10 teams.
Characteristically, No. 6 West Virginia made sure No. 10 Kansas felt uncomfortable early, forcing turnovers and swatting shots en route to a 16-point first-half lead.
The Mountaineers' advantage ballooned during a stretch when the Jayhawks missed nine of 10 shot attempts and their one make came on a goaltending call.
Photo Gallery
Kansas basketball v. West Virginia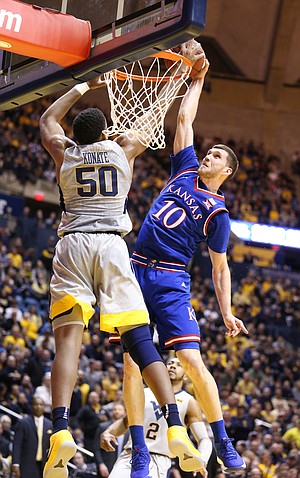 View a gallery of images from the Jayhawks' Big Monday matchup against the Mountaineers in Morgantown, West Virginia.
However, Kansas eventually rallied to tie the game late, when senior guard Devonte' Graham drained a 3-pointer with 4:54 to play, and the Jayhawks dominated the final five-plus minutes, holding the home team to six points in that stretch.
KU (15-3 overall, 5-1 Big 12) didn't have a player reach double digits in scoring until sophomore center Udoka Azubuike got there with 8:05 to play. At that point, WVU (15-3, 4-2) already had three players in double figures.
Senior guards Graham (16 points, six assists) and Svi Mykhailiuk (17 points, five assists) heated up late, though, fueling the Kansas comeback.
Azubuike finished with 10 points and nine rebounds in 20 minutes.
Sagaba Konate (16 points, 10 rebounds), Jevon Carter (14 points, four assists) and Esa Ahmad (15 points, five rebounds) led the way for West Virginia.
Here's a quick look back at some of the action:
• The game turned when: Kansas finally overcame the "Press Virginia" mystique and WVU's tough, defensive style of play in the game's final minutes.
Mykhailiuk nailed consecutive 3-pointers with less than 7:00 left, sparking the Jayhawks' turnaround. From there, Graham drained his game-tying 3 and KU scored six of its final 12 points at the free-throw line.
A Mitch Lightfoot put-back with 0:48 left answered a Daxter Miles Jr. go-ahead layup and KU never trailed again, thanks to two-for-four shooting on free throws from Malik Newman in the final 14 seconds.
• Offensive highlight: A struggling offense finally scored some easy points out in transition early in the second half, long before Kansas looked capable of a road win.
On a two-on-one fast break, Mykhailiuk attacked Konate, knowing the big man wanted nothing more than to swat a potential layup or dunk attempt above the rim.
Wisely, Mykhailiuk took off for the hoop and then lobbed a pass up high enough to to keep it away from the massive defender and leave it on the opposite side of the basket for KU center Azubuike.
The 7-footer from Nigeria caught the perfect dish on the way to one of his patented two-handed monster slams.
The easy basket was a rarity for Kansas, and it trimmed the Mountaineers' advantage to 45-33 a little more than three minutes into the second half.
• Defensive highlight: WVU big Sagaba Konate ate KU layups and dunks for dinner throughout the first half, as Jayhawk after Jayhawk challenged the shot-blocker at the rim and left stymied.
Konate blocked five shots in the first half, many of them in embarrassing fashion, before the Jayhawks stopped trying to dunk over him down the stretch.
Thanks to Konate's presence, KU was 5-for-16 on layups and 1-for-3 on dunks in the first half, setting up WVU's 41-28 lead at halftime.
• Key stat: Points off turnovers.
Kansas out-Mountaineered the home team, scoring 21 points off 16 WVU miscues.
West Virginia only scored 16 points off KU's 13 turnovers, as Kansas handled the defense in the second half, giving the ball away only four times.
• Up next: The Jayhawks head back to Lawrence for a Saturday matchup with Baylor (5 p.m., ESPN), and riding a four-game winning streak.
---
More news and notes from Kansas vs. West Virginia
---