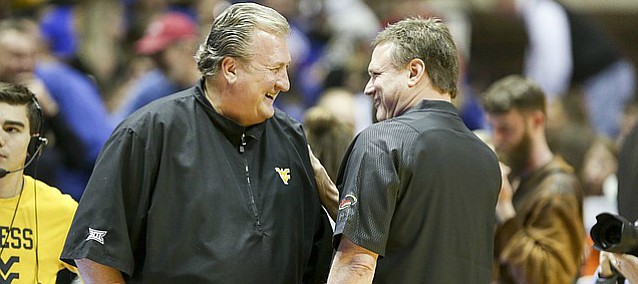 Morgantown, W.Va. — West Virginia forward Wesley Harris, who started all 17 games for the Mountaineers heading into Monday's showdown with 10th-ranked Kansas, was back in the starting lineup on Monday night despite some controversy swirling around him.
Several hours before KU's stunning, 71-66 come-from-behind win over the Mountaineers, the Big 12 Conference announced a public reprimand of Harris for his actions following the Mountaineers' loss to Texas Tech last Saturday in Lubbock, Texas, where the Tech fans stormed the floor to celebrate the victory over then-No. 2 West Virginia.
"We must ensure that a safe environment is provided for players, coaches, game officials and fans," Big 12 Commissioner Bob Bowlsby said via press release. "Although the post-game environment did not live up to our expectations, Mr. Harris intentionally striking a fan is contrary to the Conference's Sportsmanship standards."
Monday afternoon, West Virginia athletic director Shane Lyons attempted to put a bow on it.
"I want to thank the Big 12 Conference and Texas Tech for the positive and open dialogue all three parties engaged in during the last two days," Lyons said in a release. "As I said before, this situation involved court security, player safety and postgame emotions and all three had to be taken into account. We will revisit with our student-athletes to again reinforce our expectations regarding sportsmanship issues across all sports. The Big 12 has issued its reprimand. We accept it, and I consider the matter closed."
Photo Gallery
Kansas basketball v. West Virginia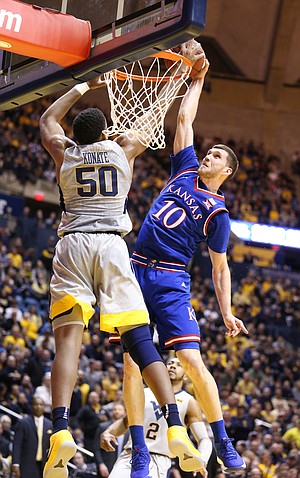 View a gallery of images from the Jayhawks' Big Monday matchup against the Mountaineers in Morgantown, West Virginia.
Although none of the various videos that captured the incident were crystal clear, Harris can be seen making some kind of contact with a fan making his way onto the court.
Lyons, in an interview with 247 Sports site EerSports.com over the weekend, said blame for the incident rested with both sides. To that end, the Big 12 on Monday also announced a $25,000 fine levied against Texas Tech for the incident.
"You want to control your emotions, but at the same time, it's tough when you're on the other side," Lyons told the site. "It's like, 'Wait a second, if they didn't rush the court, my player wouldn't be put in that position.' That's what's tough about it. Now, should you ever swing at somebody? Absolutely not. That's where you need to control your emotions."
After years of storming the floor after victories over Kansas on their home floor, the Mountaineer fans, as rabid and intense as any fan base in the Big 12, recently have curbed that behavior.
"We're at a point in our basketball tradition and history where we shouldn't be rushing the court," Lyons said. "We're at the top, so anybody we beat, why do we need to rush the court? We've been there and done that, and hopefully our fans and students realize that as well. We need to win with class. We expect to win, so these things aren't considered upsets, especially when we're at home. When we win, there are going to be celebrations and they'll play 'Country Roads,' but the other stuff, I hope we're done with that."
Teahan in a boot
Walk-on guard Chris Teahan wore a boot on his left foot during Monday's pregame shoot-around.
KU officials said the boot was mostly a precautionary measure for a stress fracture in Teahan's left foot and the freshman is expected to be back to full strength in a couple of days and ready for Saturday's home game against Baylor.
Self's wardrobe
Instead of his standard suit and tie, KU coach Bill Self on Monday night wore something that made him fit into the WVU Coliseum surroundings a little better. And it came from the man who made the look famous.
Before tip-off, WVU coach Bob Huggins handed a KU official a shirt of some kind to give to Self. As it turned out, the shirt was one of Huggins' signature pullovers, all black, half sleeve with a small Jayhawk on the left side of the chest.
Self slapped the garment on back in the KU locker room and took the floor looking a lot like his WVU counterpart. As the two met at mid-court for their pregame handshake, Huggins broke out in laughter and the two slapped hands before their teams got after it.
"Before the game, he came in the locker room and said, 'Guys don't laugh, but this is what I'm wearing tonight,'" Graham said of Self's attire. "I guess he said he would wear it if Huggins brought him something so he did."
Added Self, confirming his promise to Huggins: "He made me look like I was a NASCAR driver."
Back in the Top 10
After dropping to a season-low 14th in the Associated Press poll following December losses to Washington and Arizona State, the Jayhawks' slow and steady climb in the polls once again has reached the Top 10.
Kansas, which has won four straight and eight of its last nine, landed at No. 10, up two spots from last week, in the latest AP Top 25, released Monday.
Three other teams from the Big 12 remain ranked ahead of Kansas (15-3 overall, 5-1 Big 12): No. 4 Oklahoma (14-2, 4-1), No. 6 West Virginia (15-3, 4-2) and No. 8 Texas Tech (15-2, 4-1).
TCU, which fell from No. 16 to No. 24 and is off to a 1-4 start in Big 12 play, held on to its spot in the Top 25, comfortably ahead of Miami, Fla., and Creighton.
This and that...
The Jayhawks are now 15-3 or better for the fourth season in a row and 5-1 or better in conference play for the 12th consecutive season... KU is now 2-4 at WVU Coliseum, with its only other victory coming in 2013 and four consecutive losses sandwiched in between... Monday's game marked the eighth straight KU-WVU meeting in which both teams were ranked and KU is now 5-3 in those games... KU leads the all-time series with WVU, 8-4, and WVU coach Bob Huggins now owns a 4-12 record against Kansas, including a 4-8 mark while at West Virginia.
---
More news and notes from Kansas vs. West Virginia
---