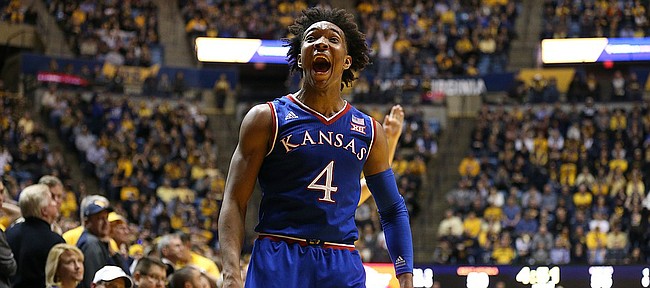 Morgantown, W.Va. — Of all of the talented teams and insanely skilled players that Kansas basketball coach Bill Self has taken to West Virginia during the past five years, it was a bunch of grinders and scrappers who finally came out of WVU Coliseum with a victory again.
Despite trailing by 16 points in the first half, 13 at the break and still by 12 midway through the second half, the 10th-ranked Jayhawks dug deep and stunned No. 6 West Virginia, 71-66 to move to 15-3 overall and 5-1 in Big 12 play.
But don't think for a second that Monday's come-from-behind victory on West Virginia's home floor quite compares with the epic comeback Kansas staged at Allen Fieldhouse last season to beat the Mountaineers in equally improbable fashion. At least not in senior Devonte' Graham's eyes.
"It's definitely up there," began Graham, recalling last season's 14-point comeback win over WVU in the final 2:58 in Lawrence, before interjecting. "Nah. That was one of the best ones. That was two minutes left. We had a whole half to come back in this one."
And, for a moment at least, it's the Jayhawks who are now back on top in the Big 12 Conference.
"It means a lot," said Graham after scoring 16 points and dishing six assists in 40 minutes. "I can't even describe it. When you don't win somewhere in your whole career and then you get the last one in here, it's just huge for us. I'm really excited and just happy for the team. We battled tonight."
Photo Gallery
Kansas basketball v. West Virginia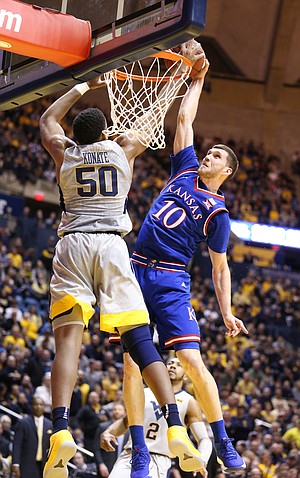 View a gallery of images from the Jayhawks' Big Monday matchup against the Mountaineers in Morgantown, West Virginia.
After a first half that featured some of KU's poorest play of the season, the Jayhawks fixed the mistakes in the second half and turned panic into poise, chaos into confidence and big deficits into tiny leads.
But even those facts did not really matter until the final few minutes.
After trailing 41-28 at the break — and probably feeling like it was a lot worse deficit than that — the Jayhawks opened the second half by trading baskets with the Mountaineers (15-3, 4-2) for the first 11 minutes of the second half. But then, with just under nine minutes to play, Kansas ripped off a 16-4 run that momentarily pulled the Jayhawks even at 59-all before a review of a Esa Ahmad jumper during a timeout actually revealed that WVU still held a 60-59 lead with 3:49 to play.
Didn't matter.
The Jayhawks, fueled by that run and a series of WVU mistakes, closed the game on a 12-6 run, with seniors Graham and Svi Mykhailiuk (17 points in 37 minutes) teaming with sophomores Malik Newman and Mitch Lightfoot to set the final margin and end KU's four-game losing streak in Morgantown.
Graham and Mykhailiuk each hit crucial 3-pointers and Newman and Mykhailiuk got to the free-throw line for some big points down the stretch, but Lightfoot's rebound and putback with 48 seconds to play pushed KU's lead to 69-66 and proved to be just enough for the Jayhawks to grab the win.
"We had four turnovers in the second half," said Graham, noting the marked improvement from KU's nine-turnover first half. "And in the huddle everybody was engaged. We just kept saying, 'Keep chipping away, keep chipping away.' And I told the guys that I felt like they had kind of relaxed and taken their foot off the pedal. So we attacked them."
KU outscored WVU 43-25 in the second half, shooting 51.9 percent from the floor during the final 20 minutes while limiting the Mountaineers to just 35.7 percent shooting during their forgettable half.
"Five of 27, that's not all defense," KU coach Bill Self of West Virginia's 3-point clip. "That's them missing some looks, too. But I was really proud of our guys because we won that by guarding."
There remains, of course, a long way to go in the Big 12 race, but there's no disputing the fact that Monday's victory was arguably the biggest of the season for any Big 12 team thus far.
Not only did KU exorcise its Morgantown demons, but it did so by picking up the kind of victory that Self and his players have been dying to grab all season long.
"It's just one game," Self said. "But we're happier that we're walking out of here with a W than an L. We've had some good teams, but they've had just as good of teams as we've had. It's hard to win games and it'll be just as hard to win at our place against them later on as it was tonight."
As for whether this was the kind of night KU needed to find its missing identity, Self sure sounded like he thought it could be during his closing remarks.
"I don't know if one game will do it," he said. "But I certainly think it can be a step. It's unbelievable. We've always thought, in order for us to win, we've got to make shots. And I've actually thought it too. Tonight that was not the case. So I'll leave out of here much happier with our performance because the way we did it was the way we need to learn how to do it."
Added Graham, when asked what message Monday's victory sent to the rest of the Big 12: "I don't really care what it tells them. It's just what we need to know about ourselves, that we play tough and grind and, even when we're not making shots, if we defend and rebound we can play with anybody anywhere."
---
More news and notes from Kansas vs. West Virginia
---