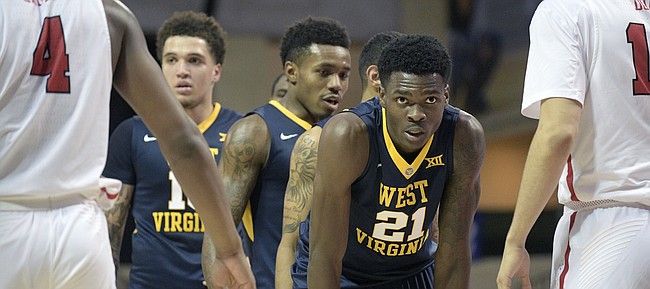 Morgantown, W.Va. — The Big 12 Conference on Monday announced a public reprimand of West Virginia forward Wesley Harris, who was involved in an altercation with a Texas Tech fan during a court-storming celebration last weekend in Lubbock, Texas, following the Red Raiders' victory over WVU.
Harris, who has started all 17 games for West Virginia this season, was shown via multiple camera angles to be hitting a Texas Tech fan with either his forearm or fist.
That inspired the reprimand from Big 12 commissioner Bob Bowlsby, who said via press release: "We must ensure that a safe environment is provided for players, coaches, game officials and fans. Although the post-game environment did not live up to our expectations, Mr. Harris intentionally striking a fan is contrary to the Conference's Sportsmanship standards."
As of 2 p.m. Monday there had been no word of any kind of suspension for Harris. And with the Big 12 essentially handing down a slap on the wrist, any such suspension now would have to come from WVU and/or head basketball coach Bob Huggins.
Asked after the incident about Harris' status, WVU athletic director Shane Lyons said the school was waiting for the Big 12 to make a ruling before proceeding.
"It's part of their jurisdiction — conference sportsmanship issues, rushing the court and all that," Lyons said. "And we'll let them weigh in on it."
The Big 12 does not have a specific policy against court-storming, like the SEC, for example, but has taken steps in recent years to prevent incidents of this nature, dating back to a similar issue when a Kansas State student made contact with former Jayhawk Jamari Traylor during a K-State victory celebration in Manhattan.
Each school has its own policies and procedures for keeping order in instances such as these, and, in the eyes of the Big 12 — which appears clear on various video replays — Texas Tech did not do enough to control the scene.
To that end, TTU also was fined $25,000 by Bowlsby, who reserves the right to punish universities for incidents such as these as he sees fit.
"We have a duty to provide a safe game environment," Bowlsby said in a separate release Monday. "The Texas Tech Department of Athletics has a written event management policy which was unsuccessful in ensuring the safety and security of the visiting team game participants. Although the Big 12 Conference does not currently have a policy prohibiting spectators from entering playing areas for post-game celebrations, it is of utmost importance that home game management provide adequate security measures for our student-athletes, coaches, game officials and spectators."
No. 10 Kansas and No. 6 West Virginia will square off at 8 p.m. tonight on Big Monday on ESPN at WVU Coliseum.
Stay tuned to KUsports.com for more on Harris' status, should anything change.