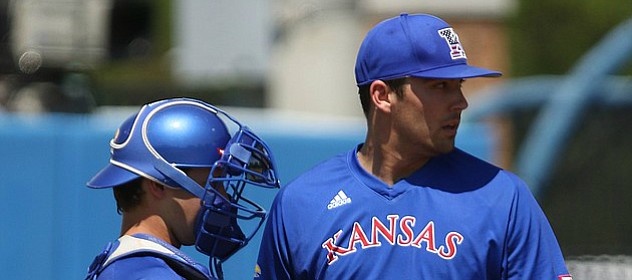 On the eve of last week's season-opening series against Murray State, 16th-year Kansas baseball coach Ritch Price said this had a chance to be the best pitching staff he has taken into a season.
His staff backed that up by striking out 40 batters in 27 innings and limiting the Racers to a .200 batting average in a series in which KU took 2 of 3 from the Racers.
Then Mother Nature dumped ice on the Hoglund Ballpark mound and the rest of Lawrence, cancelling a scheduled two-game series against Arkansas-Pine Bluff.
KU's season is scheduled to resume Friday with the first of a three-game home series against Northwestern.
KU returns all three weekend starters from last season. Jackson Goddard is back as the Friday starter. Taylor Turski is the Saturday starter and Ryan Zeferjahn starts Sunday games.
In its rankings of the junior class released last week, Baseball America had Goddard as the 48th best prospect in the junior class.
"He may be as good as anybody in America," Price said of Goddard.
Catcher Tanner Gragg called Goddard's stuff "insane."
"He's not only throwing low-to-mid 90s, his stuff's moving left and right, all over the place," Gragg said of Goddard's slider and sinking fastball. "And his changeup's one of his most improved pitches."
As a wild freshman, Goddard had more walks than strikeouts. He walked 31 and struck out 75 last season and in his debut last Friday, he walked three and struck out seven, picking up the win with a five-inning, two-run outing.
A senior lefty, Turski had a rough season debut in a loss to Murray State, but he is coming off a Big 12 season in which he had a 2.54 ERA and a .185 opponents batting average.
A hard-throwing sophomore right-hander from Topeka, Ryan Zeferjahn has a chance to become KU's most improved pitcher after a freshman season in which he went 4-4 with a 6.19 ERA.
"Zeferjahn has a tremendous arm," Price said. "Obviously, he had a disappointing freshman year, other than two or three starts. He had a good summer in the Cape (Cod League). His mechanics are finally better; I'm not embarrassed when I watch him pitch. It's nice to see him improve his mechanics. He's improved his breaking ball."
Price had a special guest speaker last week.
"Coach (Bill) Self gave our staff a great talk today about toughness and grit," Price said. "And if we could get him to be those two things, it would go a long way in his development, as well. He's almost too nice a kid, one of those 3.8 (GPA), small-town Kansas boys, as nice as anybody you've met. I'd like him to be more of a bulldog. He's had a good fall. I think you'll be impressed when you see him."
Zeferjahn impressed those in attendance at The Hog on Sunday, when in a five-inning start he allowed two hits, one walk, one unearned run and struck out eight. He also hit four batters, a surprising statistic for a power pitcher battling a reputation for being, "almost too nice a kid."
Junior closer Zack Leban picked up a pair of saves in his new role as closer, and right-handed reliever/midweek starter Ryan Cyr also created a buzz with his relief work.
Price recruited Cyr when he was at Blue Valley High, but the power pitcher decided to go to Mississippi State, where he went 1-1 with 1.04 ERA and had a 16-inning scoreless streak.
A redshirt sophomore transfer, Cyr allowed one run in 4-1/3 innings vs. Murray State, allowed two hits, walked three and struck out four.
"Cyr's got that kind of bulldog mentality, where nobody's really going to beat him," Gragg said. "He throws real hard and he's a really good addition to the staff."
The depth of power arms has had the effect of speeding up the hitters' bats, always a concern at the start of a baseball season.
"For the first time we're running seven, eight or nine guys in intrasquad games who are throwing 90, 94," Price said. "Our guys are on time and we're swinging the bats really good. It's really helped our hitters' preparation."
Price predicted KU could have "as many as five to seven pitchers drafted when the year is over."