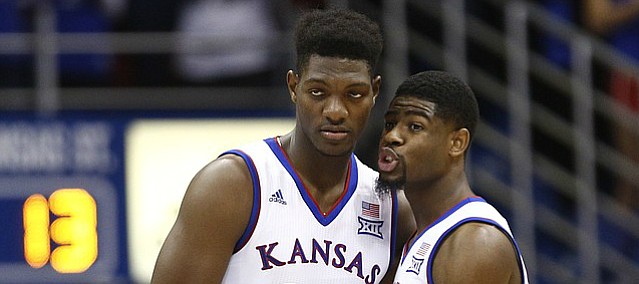 During every postgame press conference, three players from the Kansas basketball team sit at a table and take questions for three or four minutes and then head to separate spots in the room to discuss the game for two or three more minutes.
After the table session ended and the players were rising from their chairs, third-year sophomore guard Malik Newman imparted a simple message to freshman forward Silvio De Sousa after Kansas dominated Oklahoma, 104-74, Monday in Allen Fieldhouse: "I'm proud of you, young fella'."
Those words put a perfect cap on the night for De Sousa, who looked and felt very much a part of the team on game night for the first time. Newman could appreciate what De Sousa, a second-semester enrollee, was feeling because at times this season Newman didn't look as if he quite fit. Now he's playing more aggressively, more often, more like a Bill Self player.
Not to be overlooked, the resurrection of Lagerald Vick continued with his 17-point, six-rebound, four-assist night. In the past three games, Vick has averaged 15.3 points and five rebounds and has shot .471 on 3-pointers. During a 12-game stretch that preceded the three-game surge, he averaged 7.6 points and 3.7 rebounds and shot .227 from 3.
Svi Mykhailiuk also has shot .471 from 3 in the past three games, breaking from a three-game, 2-for-16 mini-slump.
Kansas has played three games and won them all since Self wondered last Thursday, "The reality is, I think there's potential to play a lot better than we have in the last two or three weeks, without question, if we can just get everybody playing well at the same time."
Self doesn't have to think about that anymore. He saw it happen Monday and even received a bonus, courtesy of De Sousa.
For the first time, De Sousa didn't look overwhelmed. Instead, he looked talented. A 6-foot-9, 245-pound native of Angola who spent his 3 1/2 years of high school at IMG Academy in Florida, De Sousa showed patient footwork in the post and aggressive rebounding at both ends, not to mention perfect form at the free-throw line.
In 13 minutes, De Sousa produced 10 points, six rebounds, an assist and just one turnover. In a perfect shooting night, he made all three field goals and all four free throws.
In nine games before Monday, De Sousa totaled 22 minutes, five points, seven rebounds, eight personal fouls, six turnovers and zero assists.
"Right now, I see things a lot slower," De Sousa said. "I remember the first day when I got here. I was just seeing the ball move around and everything and I didn't know what to do. Now I can control the ball. I can catch the passes from Devonte' (Graham). I'm getting used to it."
De Sousa's big night juiced the entire team.
"I'm happy for him," Graham said. "It's hard to come in as a freshman in the middle of the season and learn as much as he learned as fast as he learned it. I'm happy for him the way he played tonight."
Graham's an ideal teammate for someone feeling overwhelmed. He was there for Svi Mykhailiuk, who was 16 when he arrived at KU with Graham without much of a command of the English language. Graham and Svi quickly became best of friends. And Graham and others are there for De Sousa in the midst of an education that's almost the equivalent of cramming for a final on a daily basis.
"Coach said in the locker room he's never had a bad attitude," Graham said. "He messes up, coach takes him out, and he still has a good attitude, still cheering us on and all of that."
One blowout victory against an Oklahoma team that has lost six in a row doesn't mean everything is falling into place for the Jayhawks, but things do seem to be trending in the right direction and the circle seems to be drawing closer.
"It feels great," De Sousa said of succeeding in a game. "I just think what we do on the court is a result of who we are off the court. Ever since I came here, I'm just trying to build my confidence and do as much as I can to help them."
De Sousa gives Self another place to turn on those nights Lightfoot (just 15 defensive rebounds in 206 Big 12 minutes) is having trouble keeping opponents off the offensive glass.