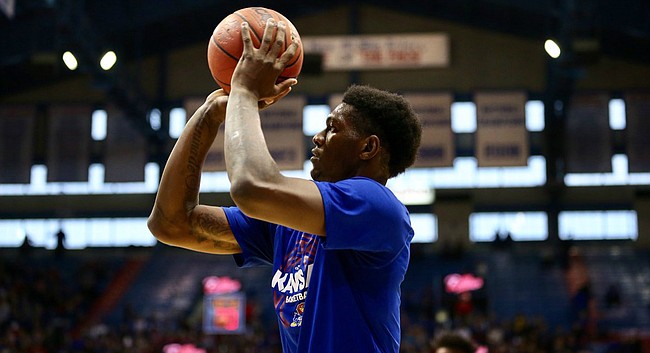 During his first two games in a Kansas uniform back in mid-January, KU freshman Silvio De Sousa played sparingly, logging 11 minutes in wins over Kansas State and West Virginia and scoring two points and snagging three rebounds.
That turned out to be high usage compared to the way De Sousa was used during the next three weeks.
During a nine-game stretch in which the Jayhawks went 4-3 in the games De Sousa played in, dealing with a variety of issues that impacted confidence, performance and chemistry, the 6-foot-9, 245-pound power forward who joined the Jayhawks this winter after graduating from IMG Academy a semester early, logged a total of 11 minutes and was virtually unusable.
He attempted just three shots, scored just three points and grabbed four rebounds during those seven games combined and continued to look a step behind every time he stepped on the floor.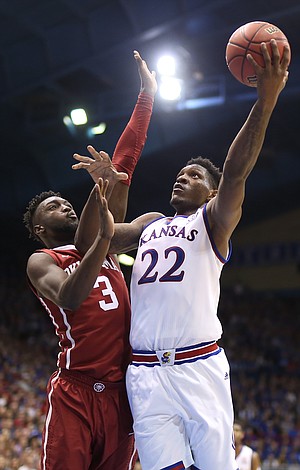 Those nights — five total points and six turnovers in 22 minutes during his first nine games — were what made De Sousa's 10-point, six-rebound, 13-minute explosion during Monday's 104-74 rout of Oklahoma by 8th-ranked Kansas seem as if the second coming of Joel Embiid had arrived — OK, not really — and the Jayhawks had found themselves a real contributor.
But while the big night by KU's newest big man seemed to come out of nowhere, the reality is actually much different.
Yes, the stats he put up on game night were new. But the effort was not. The attitude was not. The desire to work and deliver was not.
After Monday's victory, as a horde of reporters stood with De Sousa and asked him to talk about his big night, all the Angola native wanted to do was talk about his team and his teammates.
It's been that way from the beginning for De Sousa and that mindset has both helped him fit in and allowed him to progress at his own pace. Sure, he came along a little slower than KU coach Bill Self and the Kansas fan base would have liked. But if that extra couple of weeks was what it took to create a player who could have a lasting and meaningful impact on the rest of the season, won't that time be deemed worth it?
"I just think that what we do on the court is the result of who we are off the court," De Sousa said after Monday's victory.
With that as his primary goal, it has been next to impossible for his teammates to do anything but love and support him.
"I actually told him in the huddle, once Dok (Azubuike) got his third foul, 'We're going to need some big minutes out of you.' And he came out and he played hard," said senior point guard Devonte' Graham. "I'm happy for him. It's hard to come in as a freshman in the middle of the season and learn as much as he learned as fast as he learned it.
"The thing about it is, he's never had a bad attitude. If he messes up, coach will take him out, but he'll still have a good attitude, cheering us on and all that."
That, according to De Sousa, was exactly the plan all along.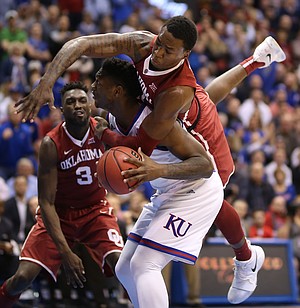 Focusing on being a good teammate and all of the positive things happening for others in front of him allowed De Sousa to forget about the three turnovers in 30 seconds at Oklahoma or the three fouls in two minutes against Baylor or the two nights when he did not check into the game at all.
"The key that I used to not lose my confidence on the bench was just, whenever my teammates made shots, I would get up and clap and stuff and that's how I got my motivation and my confidence up," he explained.
De Sousa's impact and emphasis during his first month as a Jayhawk went well beyond being a good cheerleader from the bench.
There were the bonding times off the floor, with roommate Marcus Garrett and other teammates, over dinner, TV, music and video games. And there also were countless hours working with Azubuike at the free throw line, not necessarily as a coach trying to help his technique, but as a crony trying to bring KU's 7-foot sophomore comfort and confidence.
"I knew Udoka when he was in high school," De Sousa explained. "And I think we've seen each other before and our friendship is a lot better. We're just good friends."
Those connections, which like De Sousa's understanding and command of Self's playbook, have come at him fast and furious, all led to Monday's perfect storm, when foul trouble and a little extra fire led to the biggest night of his young career.
Asked if he could see himself continuing to deliver the type of lift he provided on Monday in the event of future foul trouble for Azubuike or Mitch Lightfoot or, perhaps, even just as an energy spark off the bench.
"Of course," he said. "I'm just going to keep my pace up and just do everything I can."