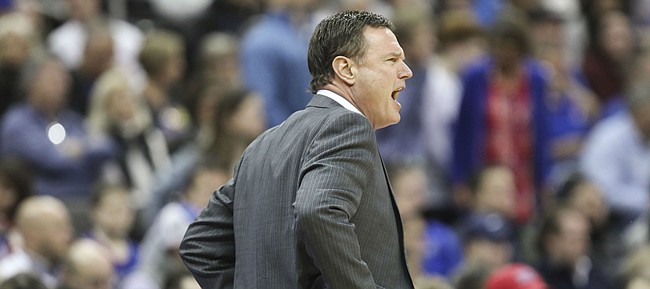 Kansas City, Mo. — The gauntlet of good resumes continued Saturday night for the second-ranked Kansas men's basketball team, which survived a scare from New Mexico State, 63-60, at Sprint Center.
The Aggies (7-2) were the sixth KU opponent already this season that ranked in the KenPom Top 100 (at No. 92), with only Vermont (114) and Louisiana (133) sitting outside of double digits in KenPom's rankings.
KU coach Bill Self has talked often this season — and plenty in years past, as well — about how the strength of KU's nonconference schedule, which this year features nothing but teams picked to either win or finish second in their conferences, can build both confidence and KU's case for a stronger seed come NCAA Tournament time.
"I think it is better for your team to play good teams in your nonconference," Self said. "But, the reality of what makes your schedule is your guaranteed games. Those games that you don't have to return (with a road game at the opponent's gym) and how good those teams are and what kind of year they are going to have. That is what makes your RPI, or NET moving forward, trying to get as many quality wins in there as possible."
Photo Gallery
Kansas basketball v. New Mexico State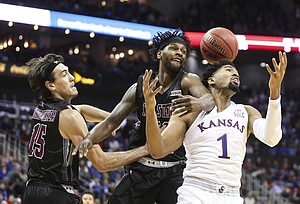 View a gallery of images from Saturday night's game between the Jayhawks and Aggies at Sprint Center.
Top 100 victories typically are considered to be exactly that, and things don't appear to be changing any time soon.
Two of KU's four remaining nonconference games before the start of Big 12 play are against KenPom No. 18 Villanova (Dec. 15) and at No. 45 Arizona State (Dec. 22).
"I do think that it prepares you for league without question," Self said. "But the other thing is, I do think it would be nice not to sweat every single moment. And that is not going to happen before Christmas for us, so it would be nice. And I am not saying it will happen after Christmas, but I am saying if you look at our immediate schedule and go two weeks at a time, there is not a lot time to breathe from a standpoint where you go in and say, 'If we just really try hard today, we are going to be OK.'"
Vick sits to start (again)
For the second consecutive game, Kansas senior Lagerald Vick was on the bench when the opening went up into the air.
Asked after the victory why he kept Vick out of the starting lineup, Self said simply, "He had a really bad Thursday. Let's just leave it at that. Hopefully those days are behind us."
Vick finished 2 of 8 from the floor for 5 points, six rebounds and five assists in 31 minutes off the bench.
Missed opportunity
Asked after the loss if the better team had won, New Mexico State big man Johnny McCants stopped just short of confirming the question.
But it was clear, based on the tears in his eyes and the words that came before it, that McCants believed the Aggies let one get away.
"This game should've been ours," he said at one point early in the postgame media session.
That came before McCants added, "We should've won this game. … I felt like we had it. … I felt like we had a lot of missed opportunities. We had the game plan down and we just didn't execute it."
NMSU coach Chris Jans seemed pleased with his team's fight from start to finish.
"I thought we had some chances and we just couldn't knock them out," Jans said. "Obviously, that's a hard team to knock out. … We didn't lose because of lack of effort."
Jayhawks at Sprint Center
Kansas is now 39-9 all-time inside Sprint Center, with the majority of those wins coming in postseason play, either the Big 12 tournament or NCAA Tournament.
Even though the Jayhawks have not always played their best games at Sprint Center, Self said earlier this week that he likes playing regular season games there for a number of reasons.
"Usually, it is a good crowd," Self began. "No students, not quite the same atmosphere as it is at home, but the value is I do think it is great to play in a place where you play in the tournament. I do. I actually like the game a lot."
KU's history in Kansas City, of course, goes back way beyond the 12-year history of Sprint Center. Kansas has now played at least one regular-season game in Kansas City in 30 of the past 33 seasons. The Jayhawks are 225-83 all-time in their unofficial home away from home, with 81 of those victories coming at Kemper Arena.
Aggies vs. ranked teams
New Mexico State missed its first opportunity this season to record a program-first win over an Associated Press Top 10 team in back-to-back seasons.
Last season, the Aggies defeated then-No. 6 Miami in the semifinals of the 2017 Hawaiian Airlines Diamond Head Classic. The last time New Mexico State defeated an AP Top 15 team in consecutive years came during the 1980-81 and 1981-82 campaigns, when the Aggies took down No. 14 Wichita State before defeating No. 10 Tulsa.
The rest of NMSU's schedule, at least as of today, is missing another Top 10 opponent, so the Aggies may have to make the NCAA Tournament to get another crack at it.
This and that ...
The Jayhawks now lead the all-time series with New Mexico State, 4-0 ... KU is off to an 8-0 start for the first time since the 2010-11 season ... Kansas has now won four consecutive games at Sprint Center and is 3-0 to open the month of December for the 11th time in Self's 16 seasons.