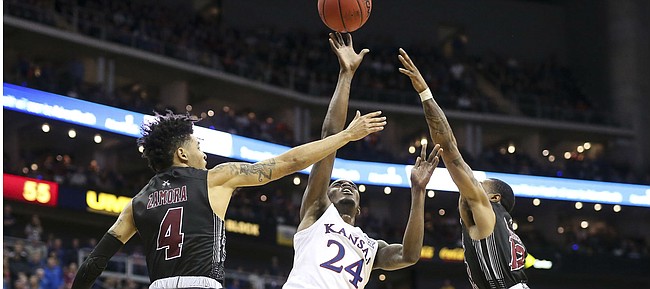 Kansas City, Mo. — This Kansas basketball team is undefeated. It's ranked No. 2 in the nation.
Yet its head coach, Bill Self, described the current state of the Jayhawks perfectly following Saturday night's latest near-loss, a 63-60 victory over New Mexico State at Sprint Center.
"We're not very good right now," Self said.
Although KU doesn't want to peak in December, either, the team could at least get started on its path to trending in the right direction with a locked-in Lagerald Vick.
During their 8-0 start to the season, the Jayhawks appear at their best and having the most fun when the senior guard from Memphis, Tenn., is knocking down 3-pointers, driving in for dunks and striking poses for the cameras and fans that can't take their lenses or eyes off of Vick in those moments.
Photo Gallery
Kansas basketball v. New Mexico State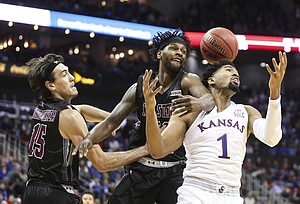 View a gallery of images from Saturday night's game between the Jayhawks and Aggies at Sprint Center.
That version of Vick hasn't been around this week. On Tuesday, he went scoreless inside Allen Fieldhouse against Wofford — a game in which he lost his starting spot because he showed up tardy to the team's game day shootaround.
Apparently it was his actions two days later that cost Vick his starting job once again Saturday against the Aggies (7-2).
"He had a really bad Thursday," Self revealed of what led KU to start Charlie Moore in Vick's place. "Let's just leave it at that. Hopefully those days are behind us."
No one is expecting Vick to score 30-plus points every single game, nor drain four or five 3-pointers.
What his teammates and coaches should demand of him, though, is a senior season of which Vick can be proud.
A couple off nights haven't derailed those chances. And Self and the players aren't anywhere close to giving up on Vick.
The wiry, explosive 6-foot-5 guard played 31 minutes against NMSU. His scoring wasn't there: 2-for-8 shooting, 1 for 3 on 3-pointers and 5 points.
Still, Vick found ways to impact the game and those contributions — five assists, six rebounds, one block, two steals — ultimately helped KU move to 8-0.
"He actually tried to drive it more," Self said of one example of Vick trying to make an impact. "He had two really good plays the first half where he just missed short jumpers, about four- or five-foot shots — those were good plays."
The man who has knocked down at least seven 3-pointers in three different games this season, though, couldn't get going outside.
"He only got one good look tonight," Self said. "He only got one. And we're not doing a good job of finding him. But he got the one good look and he made it and then he forced a couple that obviously wasn't there. But I thought he did some good things. He was about as good a rebounder as we had tonight and defensively. And he was obviously our leading assist man, so I thought he did some good things."
Vick can be great for this Kansas team, though. He already has proven as much. So the Jayhawks need him replicating that for stretches and moments at the very least.
Against NMSU, the offense clunked much of the night as it tried to play through Dedric Lawson, before he turned a corner in crunch time. KU needs Vick to be the man who carries the load when Lawson can't — particularly while Udoka Azubuike is out with his ankle injury.
How many times have you heard Self use the phrase "bad boy" to heap praise on one of his players? Vick needs to be that "bad boy" on the court when the Jayhawks are searching for solutions.
He won't ever be able to carry a team the way Frank Mason III or Devonte' Graham did the past few years. But when Lawson and the rest of the Jayhawks need a lift, Vick needs to be the senior scorer, defender, slasher, shooter, fill-in-the-blank in that moment.
If that happens, Vick can help this still developing team reach new heights.
This group of Jayhawks can't afford for Vick to have bad days.