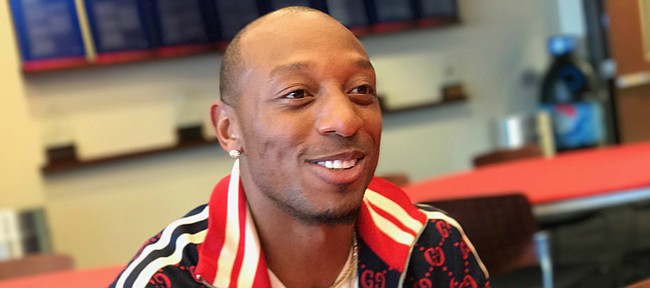 When Denver Broncos cornerback Chris Harris Jr.'s name is added to the Ring of Honor inside Kansas David Booth Memorial Stadium Saturday night, the former KU standout will be glad to see it so close to a pair of his one-time teammates.
When scanning the surnames plastered on the venue's walls, one won't be able to spot Harris' without also noticing two other 2008 Orange Bowl champions, Aqib Talib and Anthony Collins.
"Those two guys helped me out a lot coming in," Harris recalled during a media session Friday at KU's Anderson Family Football Complex. "Just giving me that confidence to come in and feel like you belong. They wanted me out there."
A KU defensive back from 2007-10, Harris started as a true freshman for arguably the greatest team in program history. By the time he completed his college career, Harris played in 50 games, totaling 290 tackles, including 198 solo stops, and recorded three interceptions — the last number impacted by opposing quarterbacks refusing to throw in his direction.
Even so, Harris described his surprise when KU head coach David Beaty called him up to inform him he would soon be joining the Ring of Honor.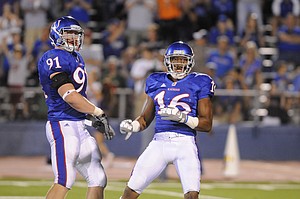 "I didn't see it happening this fast," the eighth-year NFL corner said. "Just humbled. Just to be getting this opportunity to be honored for my play and my hard work that I did, me being able to finish school, graduate here, it's just a great experience."
In part, Harris' astonishment came via conversations with a fellow Bronco Pro Bowler.
"Von Miller, he's one of my best friends on the team. He hasn't even been up at Texas A&M.; I'm like, 'Dude. What's going on?'" Harris joked. "It's a blessing to go in this early. For real."
Members of the 2008 Jayhawks, which went 8-5 and won the Insight Bowl, will be honored during the season opener (6 p.m. versus Nicholls State), as well. Harris said the head coach of that team, Mark Mangino, was one of several people to reach out and congratulate him regarding his personal distinction.
"He still messages me all the time. I still holler at him. He's a great support for me," Harris said of Mangino, adding the former KU coach was the "only person" to offer him a scholarship. "I'll always have big respect for him, for sure, because he's the one that opened the opportunity for me."
Beaty worked on Mangino's staff in 2008 and 2009, during Harris' sophomore and junior seasons. The cornerback said he maintains a "great" relationship with the fourth-year head coach, and he loves that Beaty wants former players around the football facility as much as possible.
"People give him a hard time, but I really count this as Year 1 for Beaty," Harris added, redirecting the conversation. "I really do, because of the scholarships that we haven't had. We pretty much had the death penalty. So this is kind of like Year 1 for me."
The NCAA allows a maximum of 85 scholarships for football. KU's numbers in that category suffered uncommon blows prior to Beaty's arrival, with players leaving for various reasons as the program transitioned from Mangino, to Turner Gill, to Charlie Weis to Beaty. Harris implied those low numbers — Beaty said earlier this summer the Jayhawks were down to 39 scholarship players when he took over in December of 2014 — inspired him to not judge too harshly Beaty's 3-33 record as KU's head coach.
"The scholarships are finally getting closer to being even compared to the other Big 12 schools," Harris said. "People don't realize how hard that is and how big of a disadvantage that is. Even five players less. It might be small to y'all, five people. But that's huge when it comes to scholarships."
Beaty stated recently he thought KU would have 70 true scholarship players this fall.
"Hopefully they'll succeed this year," Harris said, "and we'll see him being here for the long haul."
Harris joins Gilbert Brown, Collins, Nolan Cromwell, Bobby Douglass, Ray Evans, John Hadl, David Jaynes, Bruce Kallmeyer, Curtis McClinton, Mike McCormack, George Mrkonic, Willie Pless, Gil Reich, Gale Sayers, Otto Schnellbacher, Oliver Spencer, Talib, John Riggins and John Zook in Kansas football's Ring of Honor.
Later this season, the names of Todd Reesing (Sept. 15) and Larry Brown (Oct. 27) also will go up inside the stadium.