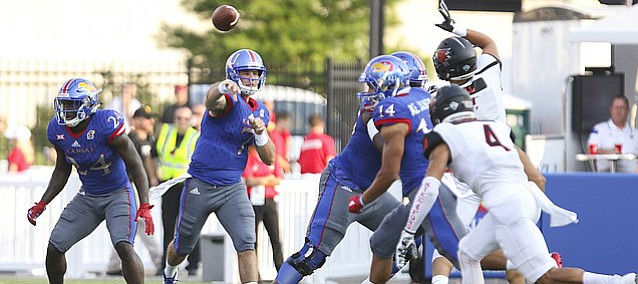 — Kansas vs. Nicholls State • 6 p.m. kickoff at Kansas David Booth Memorial Stadium • Game-time forecast: 90 degrees, mostly sunny, 7% chance of rain • TV: Jayhawk TV (KCMI: 38 the Spot, in Lawrence) • Radio: KLWN, FM 101.7 / AM 1320
— Log on to KUsports.com for our live game blog and follow our coverage team on Twitter: @KUSports, @BentonASmith, @TomKeeganLJW and @SJacksonLJW
Keys for Kansas
1. Start quickly
Nicholls State, ranked No. 17 in the preseason FCS Coaches Poll, has too many experienced, confident players for Kansas to give the Colonels a big head start and still get out of Week 1 with a victory.
With 18 starters returning from a team that went 8-4 in 2017 and reached the FCS Playoffs, Nicholls' players won't be intimidated by KU.
If two-year starting quarterback Chase Fourcade, his top two returning receivers, Damion Jeanpiere Jr. and Dai'Jean Dixon, and the team's two leading returning rushers, Kyran Irvin and Dontrell Taylor, are able to get out in front due to some early defensive breakdowns on KU's part, it's difficult to envision them letting up.
Podcast episode
KU football beat writer Benton Smith leads a discussion on the Jayhawks' upcoming 2018 debut against Nicholls State, with Tom Keeagn, Matt Tait and Shane Jackson. Topics include: how much backup quarterback Miles Kendrick will play and who among KU's projected starters will keep their jobs all season. Plus: the ...
The bulk of Nicholls' veterans played at Texas A&M; a year ago, and had the Aggies tied in the fourth quarter before losing, 24-14.
The Colonels' battle-tested talent is equipped to put KU away if the Jayhawks stumble on either side of the ball early.
2. Trust your new O-line
The Jayhawks have looked forward to debuting their reequipped offensive front since three transfers arrived on campus this summer, giving the unit needed enhancements in the categories of age, size, experience and depth.
With Alex Fontana (6-foot-2, 300 pounds), a graduate transfer from Houston, starting at center, and senior Dwayne Wallace (6-4, 325, from Cal) and junior Kevin Feder (6-9, 300, Ohio State) potentially playing alongside him on the right side, the Jayhawks' line, at the very least from a personnel standpoint, will not resemble the O-line from 2017.
KU's coaches and players seem to think that will be a very good thing, especially when combining Fontana, Wallace and Feder with returning starters Hakeem Adeniji and Andru Tovi on the left side of the line.
Because the Jayhawks seem so confident in the O-line it would be appropriate to empower them in the opener. Call the plays in which they have looked at their best during practices, let them develop a rhythm and hope your offense begins to take off with senior Peyton Bender at quarterback.
3. Stop the run
Nicholls did a lot of things well in 2017. But its rushing attack is what made the offense effective.
A year ago, the Colonels averaged 200.2 yards per game on the ground. Since then, they've added transfer Kendall Bussey from Texas A&M; — the man who broke a fourth-quarter tie between the Colonels and Aggies in College Station, Texas, in September of 2017.
With junior Irvin (764 rushing yards, eight TDs) and junior Taylor (464 rushing yards, 4 TDs) joining QB Fourcade (279 rushing yards, 1 TD) as threats to run, Nicholls has 89 percent of its ground game back.
It's not as if the Colonels are scrambling to find new offensive linemen, either. Four of their five starters up front are back, with senior center Ryan Hanley, senior left tackle Eddie Houston, redshirt sophomore right guard P.J. Burkhalter and senior right tackle Chandler Arceneaux, a preseason third-team All-American, poised to pick up this fall right where they left off.
If KU can't bottle up Nicholls' rushers near, at or behind the line of scrimmage it could be a long night for the home team.
Mega Matchup
KU run game vs. Nicholls defensive front
With an overhauled offensive line and three seasons' worth of proof that throwing the ball doesn't lead to victories, head coach David Beaty likely will ask more of his running backs this week and beyond than he has of their backfield predecessors.
With so much really unknown at this stage about which players will be able to take their preseason practice successes and replicate them in games, Beaty might have more trust in KU's running backs than he does in any other position group.
"I don't want to jinx anybody but I really like our running backs," Beaty said. "They do a terrific job."
With junior Khalil Herbert, sophomore Dom Williams and freshman Pooka Williams all in line to contribute at running back, the Jayhawks shouldn't have to inadvertently fatigue any one rusher by giving him the ball too much. All three are likely to rotate in and out of the lineup in order to maximize their potential behind KU's new O-line.
Of course, Nicholls has experienced players on defense, too, so KU is far from guaranteed to find success on the ground.
The Colonels landed six defenders on the preseason All-Southland Conference first team, and four of them play within the front six of Nicholls' 3-3-5 scheme: junior linebacker Allen Pittman, senior defensive end Kenny Dotson, junior defensive lineman Sully Laiche and senior linebacker Hezekiah White.
If KU's O-linemen and running backs are up for the challenge, the Jayhawks just might start the year 1-0.
Jayhawk Pulse
Among KU's 17 returning starters from 2017, none has experienced a victory in a year's time. How the Jayhawks respond to the first signs of adversity could foreshadow which direction this season is headed. Members of the coaching staff know how crucial shifting the program in the right direction will be this season, too. It's Year 4 of the Beaty era and so far the Jayhawks have only three wins to show for it.
Will all those losses turn out to be part of the groundwork for resurrecting KU football? Or will the next few months be more of the same? The answers to those questions could determine how long new athletic director Jeff Long decides to keep Beaty and his staff in place.
Tale of the Tape
KU ….. NSU
KU run D vs. NSU run game √
√ KU pass D vs. NSU pass game
√ KU run game vs. NSU run D
√ KU pass game vs. NSU pass D
Special teams √
Prediction
Kansas 24, Nicholls 20