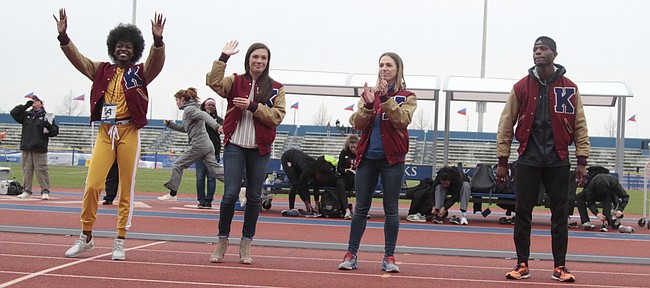 If an athlete could be inducted into a collegiate Hall of Fame twice, Diamond Dixon would have as good a shot as any:
Once for her athletic achievements. Once more for what her name has meant to the KU program.
A 2012 gold medalist, leader of an outdoor national championship team, 14-time All-American and holder of numerous additional honors, Dixon returned to Rock Chalk Park on Saturday to be honored during the final day of the Kansas Relays and get inducted into the Kansas Athletics Hall of Fame — alongside former Jayhawks Natalia Bartnovskaya (2013-14), Kyle Clemons (2010-13) and Andrea Geubelle (2010-13).
Although it may have been a while since her name was spoken over the loudspeaker at Rock Chalk Park, it's safe to assume plenty who stepped foot in the facility had the athlete on their minds.
Photo Gallery
KU Track and Field Hall of Fame Ceremony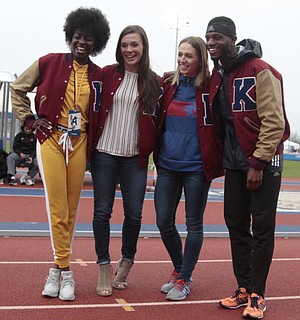 Diamond Dixon, Andrea Geubelle, Natalia Bartnovskaya and Kyle Clemons were recognized at the Kansas Relays prior to being inducted into the Kansas Athletics Hall of Fame on Saturday night.
Just ask Rhavean Anderson — Dixon's former roommate and teammate — about the first call she received from KU track coach Stanley Redwine when she was a high school athlete in Tennessee.
"It was like, 'Oh my God. University of Kansas. The Diamond Dixon goes to the University of Kansas,'" Anderson said. "Before Kansas even reached out to me, I knew who Diamond Dixon was. I wasn't stalking. I was stat-stalking."
Anderson, like several of Dixon's eventual teammates, got to see a different side of the sprinter after coming to KU. When the team competed at nationals, held in Eugene, Ore. in 2013, Anderson recalled an off day when Dixon essentially saved the team from a boring evening in the hotel.
Dixon brought her Xbox 360 on the trip and was quickly joined by the rest of the team, who squared off in a boxing game. Although Dixon even helped coach up some of her fellow teammates — "Sydney (Conley) couldn't beat a level, and so she's playing and me and Diamond are walking her through," Anderson recalled — it was far from the last time her track and gaming habits would be intertwined.
"I was actually just sitting at home, playing Fortnite," Dixon said of getting the call for the Hall of Fame news.
"I died. I died," she continued of the game. "Yeah, they got me."
Video games aside, Dixon, like the other competitors, was thrilled to receive the honor, especially as she tries to finish her degree and transition to competing in different events in her track career.
Her reaction, one of excitement that culminated in Dixon posting a video of herself moonwalking on social media, was similar to the elated surprise Clemons felt when he received the same call.
"I thought she called the wrong person. … I'm like, what? Don't they (have to) wait like eight years or something like that?" Clemons joked. "Don't you want to make sure I don't go to jail or get arrested or anything like that?"
Clemons, also a gold medalist, broke three school records while at KU. He followed up his collegiate success with a trip to the 2016 Summer Olympics, where he helped the USA 4x400-meter relay team clinch gold.
Bartnovskaya was the 2013 NCAA indoor women's pole vault national champion and was a part of the ensuing outdoor national championship team. Geubelle — who competed in the 2016 Olympics — was a 13-time All-American and set school records in both the indoor and outdoor triple jump, as well as the indoor long jump.
"It's great. I mean, they're blessed, and we're excited that they're here," Redwine said. "You get really good people. Sometimes you get lucky, but those guys are just hard workers and very determined."
And that determination didn't stop with the announcement.
Clemons, who returned to KU after winning the gold medal, said he instantly felt a rush of energy when his plane landed on his most recent voyage to KU.
"When they say there's no place like home, man, that's the truth," Clemons said. "Like the song, 'Sometimes you've got to go where everybody knows your name.' That's real."
As much he wanted to simply take it all in, though, his stay in Lawrence was as much of a business trip as it was for pleasure.
Following the announcement of the Hall of Fame honors, Clemons stood just off the track at Rock Chalk Park. He was asked about what was next in his career, to which he began to answer.
"The next goal for me is …" Clemons started, before hearing a shout from Redwine, who stood some 5 feet away.
Clemons looked back, paused and laughed.
"The next goal is to warm up," Clemons said with a big grin. "Yeah, that's the next goal."