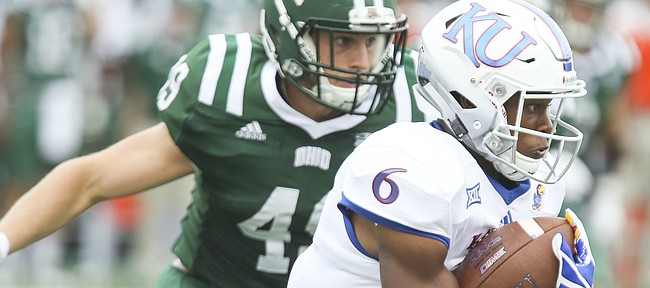 Two of the Kansas football team's top three pass-catchers from 2017, tight end Ben Johnson and receiver Chase Harrell, won't be around this fall to invigorate the passing game.
Johnson, who caught 30 passes for 363 yards and one touchdown, graduated, while Harrell, who made 25 receptions for 221 yards and three scores, decided to transfer in the midst of a troubling off-season.
While neither produced on the level of the Jayhawks' returning prime target, receiver Steven Sims Jr. (59 catches, 839 yards, six TDs), the 5-foot-10 senior from Houston could use some support.
That's why, Sims says, the work KU's receivers are putting in this spring feels so important.
"For our young guys, it's a learning experience for them. There's going to be a lot of things they've got to learn," Sims said. "A lot of things we're installing — not really new, but we're changing some things. Those new guys, they really need those mental reps and those reps to get so that going into the fall we're a step ahead."
According to Sims, ongoing offseason practices and the repetitions that come with them, have benefited two receivers both in their second year with the program, sophomore Quan Hampton and senior Kerr Johnson Jr., a junior college transfer.
"It's going to be fun to see those guys play," Sims said.
Injuries limited Hampton to six games as a true freshman. The 5-8 inside receiver from Texarkana, Texas, caught 21 passes for 145 yards. Kerr Johnson, formerly of Santa Rosa Junior College (Calif.), mainly served as a reserve in his first year at Kansas, and made eight receptions for 92 yards.
Other key returning receivers include junior Evan Fairs (24 receptions, 335 yards, TD) and seniors Jeremiah Booker (22 catches, 287 yards, two TDs) and Ryan Schadler (21 receptions, 181 yards).
State of the O-line
Decimated by injuries this off-season, KU's offensive line reached such a state of impoverishment that head coach David Beaty decided the program didn't have enough healthy O-linemen to play a spring game.
While the situation is far from ideal, Beaty remains optimistic both about the work being accomplished up front this spring, as well as the group's vitality for the upcoming regular season.
"One of the things that I am very pleased of is we've used some very creative practice methods this spring," the fourth-year KU coach said. "Just because we've had four guys have surgery doesn't mean they haven't been going through practice. We've been very creative how we've approached that."
For the linemen unable to go through contact drills, Beaty said they're more involved than just observing from the sidelines. Plus, they're becoming familiar with new offensive line coach A.J. Ricker's system.
"Just watching those guys understand the change in philosophy of what we're trying to get accomplished up front," Beaty said has encouraged him.
No D-line sidekick for Wise
It used to be difficult to bring up the name of defensive lineman Daniel Wise without also referencing his teammate and cohort up front, defensive end Dorance Armstrong Jr.
The duo were often together on and off the field the past three years and served as two of the team's captains in 2017.
But since Armstrong left early to enter the NFL Draft, Wise hasn't had to alter his role much, if at all.
"Maybe a little more vocal — maybe it'll change for the D-line. But from the team aspect we have more leaders stepping up other than me and Joe (Dineen)," Wise revealed. "We have guys being more vocal, like Mike Lee, Hasan Defense, Denzel Feaster, he's been a real improvement this spring for us."
Safeties appreciate Sendish
Numerous Jayhawks applauded the promotion of graduate assistant Cassius Sendish when Beaty put the former KU safety in charge of the position in March, ahead of spring practices.
The current safeties, junior Bryce Torneden related, respect Sendish's approach.
"Individually, he's a guy who's gonna tell us straight. He's gonna be truthful with us, because we have a great relationship with him," Torneden said, adding Sendish has helped the group "tremendously" with new drills, while bringing a fresh, young voice. "It's just exciting having somebody that we're so close to… He's our coach now and we just need to make sure we're stepping up and providing for him."