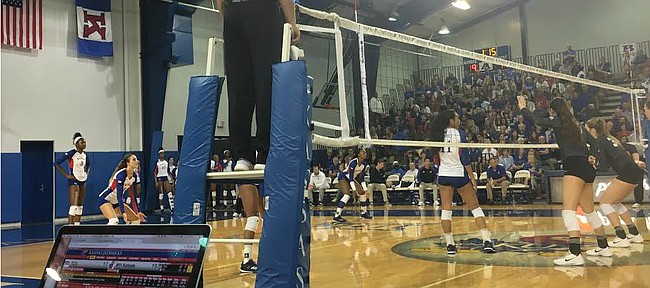 After a pair of intense, hard-fought matches to open Big 12 play, No. 11 Kansas volleyball wasn't letting this one go five sets — or four, for that matter.
Ahead by four points in what would be the final set, senior Ainise Havili tracked after a ball toward center court. Havili, who just three days earlier dove straight into one of the courtside tables while trying to make a play, put her body on the line again, crashing headfirst into the padded platform alongside the net.
"I should probably stop doing that," Havili joked following the sweep over TCU (25-22, 25-17, 25-21) on Saturday. "Yeah, that hurts."
And it was all for naught.
The ball ended up on the floor, and KU (14-2, 3-0 Big 12) surrendered the point. The near-capacity crowd at Horejsi Family Athletics Center applauded for the effort and presumably shared in a collective sigh of relief when Havili hopped back up no worse for the wear.
"I like her effort, but she needs to use some common sense too," joked KU coach Ray Bechard of Havili. "No, she only knows how to play one way, and that's all out."
It was that kind of effort from the Jayhawks that never let TCU back into the match.
Up 23-20, Havili made a long run toward the net and set a ball back to her left. Madison Rigdon, who tallied 10 kills and five digs, smashed it into the face of a TCU player to put KU up 24-20.
The two would link up again to finish the match, as KU recorded it's first sweep since September 8 against Belmont.
"It's a relief on our bodies, man," Havili said. "Like five sets at K-State was a long one. Wednesday (against Iowa State) was a long one. To just come in and out and be done … it's saving us, especially because next week we have two road games."
Havili finished the match with four kills, four digs and 39 assists, far from her most impressive numbers, though the length and margin of the match were mostly responsible.
That was pretty much the story across the board.
Kelsie Payne (11 kills) was solid. Jada Burse (nine kills) played well. Allie Nelson (13 digs) did her part. So did Zoe Hill and Kayla Cheadle, and the list went on and on.
Addison Barry, one of the team's premier servers, recorded an ace. Tori Miller and Jacqui Mostrom helped out defensively. Mmachi Nwoke recorded a pair of kills in the final set.
Just about the only regular who didn't appear was Taylor Alexander, who is still working back from a left ankle injury.
"It's really fun seeing the girls that don't really get a chance so often to come out there and score some points," Havili said. "It really gets the bench fired up, too.
"Just really happy for them because they work really hard in practice. You know?"