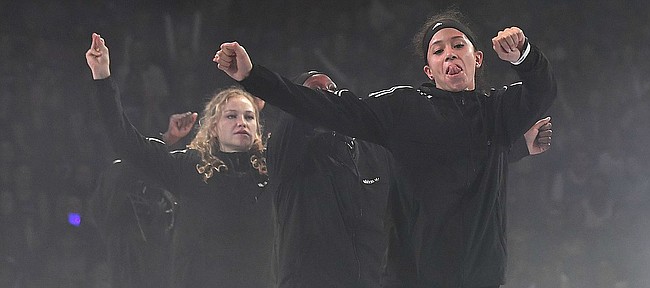 The first day of women's basketball practice isn't until Oct. 3, so the Kansas women's team didn't get to scrimmage as part of Late Night, but still participated.
The players were involved in dances and skits, and key recruits were in the stands watching.
"I think just from a recruiting perspective, we see this as our top weekend of the year," Kansas coach Brandon Schneider said. "We obviously use it for official visits, but also it enables us to attract some of the young talent from around the country because it's (experiencing Allen Fieldhouse) on a lot of people's bucket lists."
If recruits in attendance were impressed enough with KU to sign here and Schneider's goal of building a program that can win in the Big 12 succeeds, the transformation possibly could be traced to Saturday.
NCAA rules forbid coaches from discussing recruits or even confirming that they are making visits, but an impressive group of recruits from the classes of 2018, 2019 and 2020 either were spotted in the crowd or expected by recruiting analysts to attend Late Night, including:
Class of 2018: Zarielle Green (ranked No. 13 in nation by Dan Olson of Collegiate Girls Basketball Report) of Duncanville, Texas, Brooklyn Mitchell (No. 45) from New Orleans, Starr Jacobs (122) of Duncanville, and Aniya Thomas of Duncanville.
Class of 2019: Aisha Blackwell (No. 19) and Rickie Woltman (No. 34) from St. Louis, Chandler Prater (No. 65) of Kansas City.
Class of 2020: Sydney Parrish (No. 3) of Fishers, Indiana, and the sister of freshman KU swimmer Lauryn Parrish, and emerging star Emily Ryan of Claflin.
Schneider and former Kansas great Angel Goodrich addressed the crowd, receiving big ovations.
---
More news and notes from Kansas vs. West Virginia