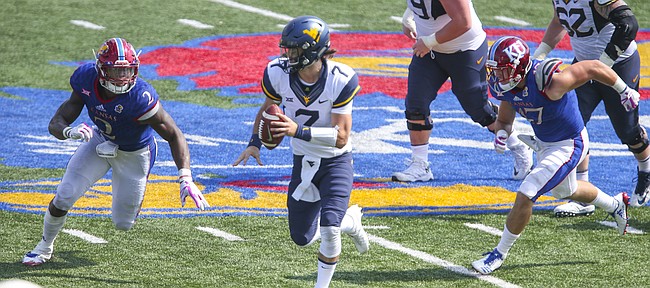 In three consecutive losses for the Kansas football team, a troublesome trend emerged.
First came an 18-point deficit against Central Michigan, then another on the road at Ohio. In Saturday's Big 12-opening defeat at the hands of West Virginia, the Jayhawks fared even worse, falling behind by 25.
All three of those substantial holes came before halftime, too.
The Mountaineers (3-1 overall, 1-0 Big 12) all but buried KU early with four touchdown drives of 80-plus yards just more than a quarter-and-a-half into the game.
Meanwhile, the Kansas offense, after opening conference play with a 14-play drive for 64 yards and a 28-yard Gabriel Rui field goal, followed its brief 3-0 lead with four straight punts and a pair of three-and-outs.
The Jayhawks (1-3, 0-1), for better or worse, seem resolute in downplaying their tendency to lag behind opponents.
Photo Gallery
Kansas football v. West Virginia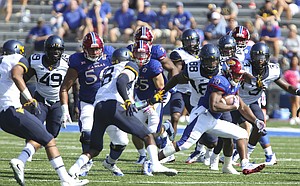 View a gallery of images from Saturday's game between the Jayhawks and Mountaineers at Memorial Stadium.
"I don't think there's a problem," sophomore running back Khalil Herbert said following a 56-34 loss to WVU. "We've just got to execute our assignments and plays that are called to fix that."
West Virginia averaged 10.3 yards per snap on offense during a four-drive span of the first and second quarters, paving the way for a 28-3 lead.
Perpetually upbeat third-year Kansas coach David Beaty liked the way KU responded. A 67-yard Herbert rushing TD rendered the 25-point, second-quarter disadvantage temporary. And KU's 41-yard Rui field goal as the first half came to a close was the first of three consecutive scores for the underdog Jayhawks, who out-scored West Virginia 14-0 in the third quarter.
"Well, you would think normally that's a pretty tough hole," Beaty said, "but we kind of dug out of it."
A pick-six on an off-target, deflected Peyton Bender pass for Steven Sims Jr. in the final minute of the second quarter prevented Kansas from testing WVU further, as Mike Daniels turned an interception into 35-10 advantage.
Beaty, though, loved how KU followed one deflating play with a 25-yard Herbert rush, and Bender completions to Herbert and Jeremiah Booker, setting up a Rui field goal before halftime.
"We didn't just sit there and go in at halftime. Instead of that being a seven-point turnaround, that was a four-point turnaround, and that's something to build on," Beaty asserted. "You know, same thing with us all over the field. We've got to keep fighting. We've got to keep fighting and keep improving. That's the thing is continuing to improve. As much as I know it may be difficult for just the average fan to see, I see the improvement. I see some improvement going on out there in all three phases. We've got to make a lot of progress quicker because this is a tough conference, but that's a good football team (WVU). That's a good football team out there, and they can put points on the board pretty quickly, which they did in the fourth quarter. I thought the second half was a tale of two quarters."
Beaty stated his disappointment in the fourth-quarter play, when the visitors out-scored Kansas 21-7. Considering KU cut the WVU lead to 35-27 late in the third, WVU coach Dana Holgorsen said he was glad the Mountaineers got out of Memorial Stadium with a win.
"We looked good at times and bad at times," Holgorsen said. "I think that anybody that was here and watched the game can probably figure that out. There were good things and bad things. We were either rolling on offense or we were not. I don't what it was. The second quarter was good, (and the) fourth quarter was good. I'd rather be second and fourth than first and third."
Kansas has a week off, without a game, to try and remedy its slow starts before playing host to Texas Tech on Oct. 7. Beaty said embracing the run game and eating up the clock could be beneficial for the Jayhawks going forward, after Herbert's massive,291-yard rushing outing.
"I think that's really kind of the story of the first quarter," Beaty said of a run-dominated opening drive that took more than six minutes off the game clock, "which was something we were hoping we could get done, which was chew up the first quarter with some drives running the football and trying to stick to it a little bit. Yeah, I mean, you'd like to be able to utilize that at times. Unfortunately we got behind again, and when you get behind, you've got to start throwing it a little bit. You've got to be a balanced football team, period, anyway, but I'll tell you this: We're improving, and we're going to continue to fight. We're getting better in a lot of areas. We're just not there yet, and I hate it for our fans, I hate it for our stakeholders, because they deserve better than that. But there's a lot of improvement in areas, just not enough yet, not enough to win that game today, and that's unfortunate, because I thought that was a really, really evenly matched game to be honest with you as we got into it. I felt like it should have been a lot closer than it turned out to be. That's disappointing."
---
More news and notes from Kansas vs. West Virginia