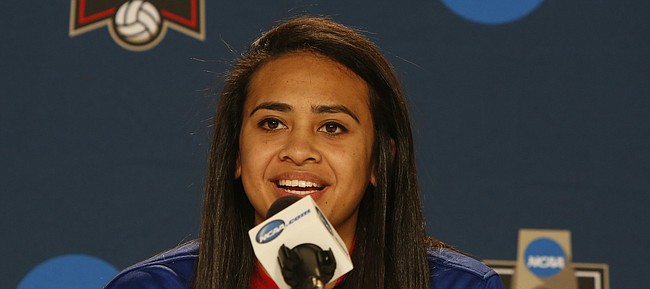 MANHATTAN — After setting up her teammates all day, Ainise Havili nearly took one out of the game. Or perhaps it was the other way around.
As the fourth set carried on in No. 12 Kansas' five-set win over Kansas State in Ahearn Field House (25-20, 21-25, 22-25, 25-15, 16-14), Havili and senior Kelsie Payne each tracked after a ball and the two collided.
Payne, who had already been in and out of the game due to the heat inside the older, non-air-conditioned venue, needed a moment to recover, as did Havili, who had momentarily lost use of her best asset.
"Aw yeah, that really hurt," Havili said. "I couldn't really see for a little bit."
Payne seemed to recover first, standing in front of Havili and waiting for a high five. The setter didn't acquiesce, presumably because she couldn't see the hand, but Payne slapped her in the stomach and the two connected.
From that point on, Havili looked — double entendre intended — like her normal self.
One after another, she set up Zoe Hill, Taylor Alexander and, yes, Payne for the final three points of the set. KU tied things up 2-2 and carried that momentum into the fifth, where Havili and Payne linked up four more times en route to a down-to-the-wire win.
"I think that's going to be life in the Big 12 this year," said coach Ray Bechard after the match. "Boy, K-State played hard. Kansas played hard. I think that's the best match we've had, just if you're a Kansas fan."
Havili finished the day with 55 assists, her second-highest total of the year. She also looked for her own offense more, tallying eight kills and participating in a couple jousts at the nets despite the toasty conditions inside the gym.
"Man it was really hot. I don't think I've ever sweat that bad," Havili said. "I sweat through my jersey and then I went to ask for another one and they were like, 'You're gonna have to keep that.' So every time I dove it was like, 'Somebody come wipe it up.' "
For Payne, it wasn't the same story.
The preseason Big 12 player of the year left the match in the middle of the third set and walked over to the sideline, putting both hands over her face and resting her elbows on her knees in an attempt to catch her breath.
A manager sprinted over and brought her a pair of cups to drink from, which she held while another draped an ice towel over the back of her neck. Payne would return to the match, but continued to put her hands on her head in discomfort as the afternoon progressed.
"Purdue last year, I think it was similar to this," Bechard said. "But it has been awhile since all of us dealt with heat like that."
Overall, it was the Jayhawks who dealt with it best.
Madison Rigdon was solid early on and continued to step up throughout the game, posting a team-high 18 kills. Payne chipped in with 14 kills and 12 digs, while Taylor Alexander tallied 11 kills on a solid hitting percentage of .588, though she suffered an injury to her left ankle on the final point of the match.
"I knew I had to like finish the play for her," said Rigdon, who tallied the decisive kill. "I was trying to yell (for the ball), but it was so loud in there."
Jada Burse and Hill rounded out KU's top performers with 10 and seven kills, respectively, while Allie Nelson posted a game-high 17 digs.
With the win, the defending Big 12 champions improved to 12-2 on the season and 1-0 in Big 12 play. They'll return to the court Wednesday to take on Iowa State at Horejsi Arena.