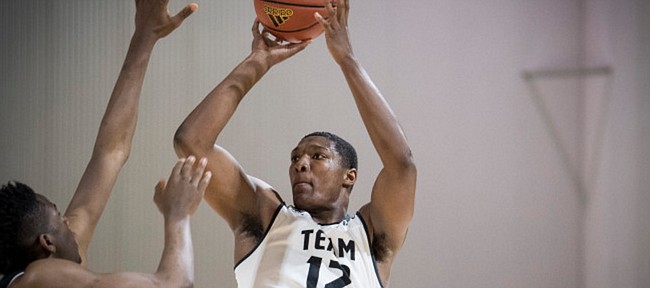 A little less than a month ago, the Kansas men's basketball team officially jumped into the Class of 2018 recruiting game by landing a commitment from five-star big man Silvio De Sousa, a 6-foot-9, 245-pound forward from IMG Academy by way of Angola.
On Sunday, the Jayhawks added even more size to the family when four-star center David McCormack, of Oak Hill Academy, orally committed to Kansas during a live segment on a local news station in Norfolk, Virginia.
McCormack, the No. 26-ranked player in the 2018 class, according to 247 Sports — and the No. 2-ranked center — said he picked Kansas because of the coaching, tradition and good vibes he felt during his unofficial visit this summer and throughout the recruiting process.

"Coach (Bill) Self is an amazing coach," McCormack said on the broadcast. "He's great as far as player development, relationships, he's a winning coach, there's a lot of history behind Kansas. … (I'm) looking forward to making more championships and more memories at Kansas."
McCormack, who played for the same AAU program as former KU standout Frank Mason III (Virginia-based Team Loaded), chose Kansas over finalists Duke, NC State, Oklahoma State, Xavier and UCLA. And he did it in a unique way.
With hats from three of his six finalists — UCLA, NC State and Duke — on the table in front of him, McCormack wasted no time in revealing that the three lids were nothing more than decoys.
"Next year, I decided I will attend Kansas University," he said as he unbuttoned his dress shirt to reveal a Kansas basketball T-Shirt underneath.
"This means the world to me," said McCormack's mother, Janine, who joined the broadcast's final 30 seconds. "I'm so proud of David and I support my son 100 percent. I think he made a wonderful decision."
McCormack said Kansas assistant Jerrance Howard was critical in helping him reach that decision.
"He was a great guy," McCormack said of Howard. "He made it an easy decision. He was very trustworthy."
In McCormack, the Jayhawks are getting a player described by many as an absolute monster down low.
After weighing nearly 300 pounds a year ago, McCormack, who teamed with current KU forward Billy Preston at Oak Hill last season, went to work on his body and his game, shedding massive amounts of weight and improving in nearly every area he went to work.
"He was about 295 last year, he's 255 now," Oak Hill head coach Jason Smith recently told Zagsblog.com. "He's got a great body now. That has helped him tremendously. He's more mobile now, he plays above the rim instead of below the rim. His shot has improved to 17 feet. He's an inside presence on both sides of the floor. He's going to be a really, really good college player. I gotta give him credit because he lost weight but he's the guy who changed his diet and lost the weight and it' changed him into a much better player."
Added Rivals.com recruiting analyst Eric Bossi: "McCormack is a kid who has spent the last couple of years transforming his body and his game. He's become a true low post power broker who holds space, plays with physicality and is a dangerous back to the basket scorer. He seems to be a great fit for Kansas and should be ready to play early in his Big 12 career."
The mere thought of pairing McCormack and De Sousa — a more athletic and explosive player with a never-ending motor — together in the Kansas front court puts the Jayhawks in terrific position for the coming seasons.
After being forced to play small the past couple of years, with long, athletic wings filling the four spot, Self, should he desire, now figures to be able to return to his favored two-big-man approach beginning in 2018-19.
Even if current Jayhawks Preston (6-10, 240) and Udoka Azubuike (7-0, 280) leave school after the upcoming season, Self's squad still would have Memphis transfers Dedric and K.J. Lawson, would-be-junior Mitch Lightfoot and De Sousa and McCormack to make up a deep, strong and talented rotation of big men.