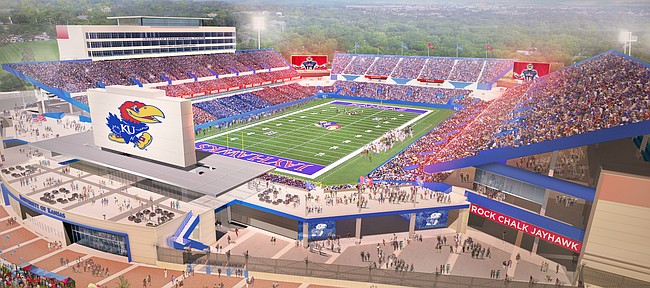 The future of Memorial Stadium now has a vivid picture to go with it — and some of the money required to eventually carry out that vision.
Kansas Athletics on Friday unveiled renderings for large-scale improvements to the football program's facilities, which were met with a $50 million pledge — the largest in the athletic department's history — from KU alumnus and benefactor David Booth.
The previously announced stadium fundraising campaign, University of Kansas Chancellor Douglas Girod and athletics director Sheahon Zenger shared, now includes upgrades to other athletics facilities, as well, including a new, larger arena for the volleyball program.
The KU-branded "Raise The Chant" strategy, focused primarily on football, aims to raise $350 million over the course of five years.
Girod emphasized that modern facilities for KU football, beginning with the construction of a new indoor facility at the completion of this season, allow the university to remain a "strong member" of the Big 12 Conference and provide KU with "the best advertising we could have."
The athletic department's place within a Power 5 football conference, the chancellor added, is critical to not only alumni engagement but also to student recruitment.
Photo Gallery
Future Memorial Stadium Renovations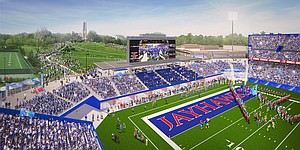 Renderings of what Memorial Stadium and other Kansas Athletics facilities will look like at the completion of KU's five-year, $350 million "Raise The Chant" fundraising campaign.
"Higher education is a highly competitive environment, particularly when you look at what's happening nationally, where we've seen decreasing students going into higher education every year since 2010 on the national front," Girod said. "So we know that we have to have our A-game when it comes to recruiting the best and brightest students, that that competition is there, will continue to be there, and those are really the students we want to make KU their home and want to be future Jayhawks. So this is such a key part, as I said, of making sure that we are a national presence."
Girod, who also provided a vote of confidence for both Zenger and football coach David Beaty, went as far to say KU is "playing a bit of catch-up" to its Big 12 peers on that front, because Kansas is the only football program in the league without its own indoor facility (the Jayhawks practice indoors at KU track's Anschutz Pavilion on occasion).
Zenger said he hired Beaty in late 2014, in part, because of his ability as a recruiter, and the athletic director anticipates Beaty growing the program further with the aid of forthcoming facilities improvements.
"Young people, they come at it differently than we did years ago. They don't want the pegs to hold their shoulder pads on anymore. They'll go other places and see other entities that are as good or better than we are," Zenger said of how modernized infrastructure will benefit the football program. "Quite frankly, when you talk about the indoor and some other things, these are facilities that could and maybe should've been done 20, 25 years ago. While we're very proud of everything we've done, it's time to turn our attention to this, and in the next three to five, to six years get done, what, 20 to 25 years worth of work."
Stadium enhancements
Renovations to Memorial Stadium, home to Kansas football since 1921, are scheduled to begin following the 2018 season, beginning with enhancements to the south end zone and west side of the venue.
The next stage of the project, with a to-be-determined start date, will address the north end zone and east side of the stadium.
The makeover is said to include a variety of premium seating options at "all price points," as well as enhanced fan amenities, such as suites, lounges, reserved chair-back seating, concourse viewing decks, expanded concourses and "premium concession" options.
Beaty said the unveiling of the plans made Friday "one of the coolest days in the history of KU," and described the imminent transformation as an "absolute necessity" to show the program's commitment to excellence.
"It's such an exciting day for all of us. It's something that I've been looking forward to personally for all Jayhawks since the day I stepped on campus here," said Beaty, who took over a long-struggling program before the 2015 season and has a 3-24 record so far as head coach. "They deserve so much in so many different ways because of all the different things that they've given before. And a great fan experience is one of those things."
New volleyball venue and more renovations
Girod and Zenger said Booth's massive pledge wasn't the only money coming in to open the "Raise The Chant" campaign.
They announced Stu Horejsi, a longtime KU benefactor, and his family pledged $10 million, which will allow Kansas Athletics to give the defending Big 12 champion volleyball program a new home.
The future 3,000-seat venue, to be called Horejsi Family Volleyball Arena, will replace the current 1,300-seat Horejsi Family Athletics Center.
Zenger said the razing of the old structure and construction of the new one would begin after this season.
A KU spokesperson said the goal is for the project to be completed before the start of the 2018 volleyball season. If it's determined that won't be possible at some point in the process, the athletics department will devise a backup plan, and neighboring Allen Fieldhouse would be an optional temporary home.
Girod and Zenger also announced "major gifts" to the overall campaign from Dana and Sue Anderson, of Lawrence, and the Mike Beatty family, of Salina.
According to Zenger, KU plans to finish renovations to Allen Fieldhouse, and the department has "conceptualizations" for doing the same with Hoglund Ballpark, home to Kansas baseball.
KU-adidas deal extended
Kansas Athletics also announced Friday an extension on its apparel rights agreement with adidas — a $191 million deal over the next 14 years.
Zenger said the contract would help KU achieve its renovation goals for both Memorial Stadium and Allen Fieldhouse.
After clarifying that he couldn't yet share all the official details of the adidas deal, Zenger said it "tweaks" the final two years of KU's current contract with the sports apparel company and takes the university into a new 12-year deal.