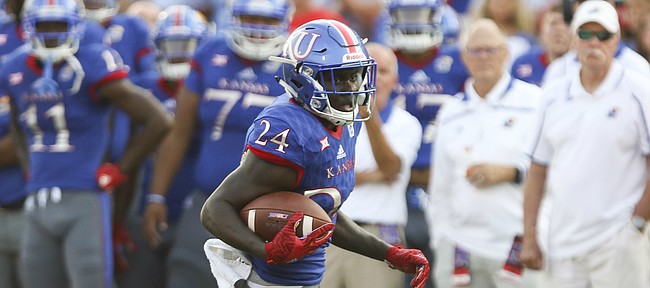 While first-year Kansas coordinator Doug Meacham never would claim his offense is anywhere near where he wants it to be three games into the season, he does think the Jayhawks are improving.
Headed into Saturday's Big 12 opener against West Virginia, Meacham feels even better about the offense, which is averaging 452.7 yards a game, because junior running back Taylor Martin will be back in the mix after missing two-plus games with an undisclosed injury.
"He's just different. He's different," Meacham said of Martin, who ran five times for just 17 yards in the first half of the season-opening win over Southeast Missouri State before getting hurt. "He's a good player. And I don't know how much we'll have him, but having him back is big."
Thus far, junior quarterback Peyton Bender and numerous receivers have accounted for the bulk of the offense. KU's 343.3 passing yards a game rank fifth in the Big 12. But Meacham said he would like to run the ball more often, which might be a good idea against the Mountaineers, who have allowed 179 yards a game (ninth in Big 12) on the ground.
No Kansas running back has looked better this fall in terms of in-game production than sophomore Khalil Herbert, who rushed 19 times for 137 yards and two touchdowns at Ohio. Meacham explained why Herbert only carried the ball three times for 10 yards in the first two games combined.
Podcast episode
On this episode of the KU Sports Hour, hosted by KU football beat writer Benton Smith, the KUsports.com staff discusses KU football's 42-30 loss to Ohio. Topics include: The turning point of KU-Ohio (1:45-7:20), the state of the KU football offense (7:20-24:00) and defense (24:00-32:10), the KUsports.com football mailbag — ...
"It kind of was on him because just practice habits doesn't make you want to — he doesn't blow your skirt up at practice," Meacham said. "Because he's a little timid at times. Then he played pretty well in that game (at Ohio)."
Now the Jayhawks (1-2) know Herbert, whom Meacham described as "kind of a third-team guy" in KU's stable of backs, can be effective in games.
"Glad to have him, because he's a bigger back. He should be able to do that sort of thing," the coordinator added of Herbert, the 5-foot-9, 200-pound back form Coral Springs, Fla. "I'm glad of that, but I'm just excited for 24 (Martin), to be honest with you, because he's just a whole other gear, a whole other level of shiftiness, make you miss and can finish runs."
True freshman Dom Williams is KU's second-leading rusher at this point, with 32 carries, 110 yards and a team-best three rushing touchdowns.
Stanley 'still not 100 percent'
KU showed at Ohio it doesn't mind using backup quarterback Carter Stanley in certain situations, and head coach David Beaty claimed the redshirt sophomore QB will feature more prominently into the game plan versus WVU (2-1) on Saturday at Memorial Stadium (11 a.m. kickoff, ESPNU).
Meacham explained "there's a place" for Stanley, a former starter, in KU's Air Raid offense. But the man in charge of play-calling also revealed Stanley is somewhat limited, because the QB is "still not 100 percent."
While KU hasn't commented on any Stanley injury, the Lawrence Journal-World's Tom Keegan previously reported the redshirt sophomore hurt his right throwing hand in August.
If and when Meacham is inspired to feature Stanley this week and beyond, the coach isn't worried about disrupting any rhythm for the starting QB, Bender.
"I think he goes in when you're not in rhythm," Meacham said of his approach to inserting Stanley. "Try to create some rhythm. And then in short-yardage and goal line, there's some things he can do. Because he gives you another number, because he can read a D-lineman and pull the ball and run. Or you can just design a quarterback run, which gives you numbers, you know?"
What's more, Meacham maintained there "may be" a time when KU gives Stanley a series to run the offense.
Bender's mental lapses
With each game comes new lessons for KU football players. The mistakes junior No. 1 quarterback Bender made at Ohio — namely surrendering five sacks — somewhat staggered Meacham.
"I think ESPN even had one where we cut block everybody and didn't block anybody and he just stood there," Meacham said, referring to a blunder that went viral.
"It was on him. We have a throw built in and the route is built for the coverage we saw," the coach added. "Two different times he stood there and held it and took a sack."
Meacham likened the correct response in those situations to a middle infielder in baseball turning a double play: catch, turn and throw.
"And he's sitting there and held it waiting on the wrong thing. So his eyes were in the wrong spot," Meacham said. "He had five plays, I think that were just like, 'What the hell?' You know, 'What are you doing? We don't do that. Never have done that. Never done it in practice. What are you doing?' So I think he's just trying to, honestly, trying to make something happen and is kind of doing the wrong thing. He did that a few times."
Bender completed 30 of 47 throws at Ohio, with two touchdowns and one interception. His 343.3 passing yards a game rank fourth in the Big 12, but six conference quarterbacks have more touchdown passes than Bender's six, and all of them have thrown fewer than his five interceptions. Bender leads the conference in pass attempts (146), with Iowa State's Jacob Park second (114).