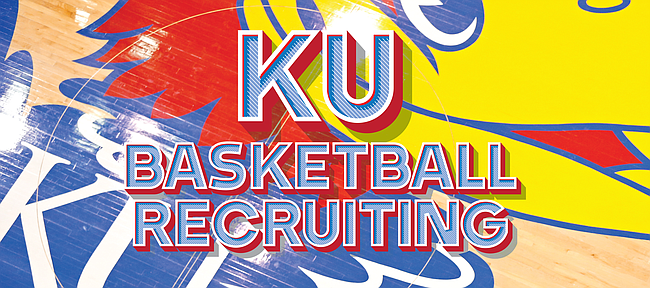 For the past couple of seasons, depth and available bodies in the Kansas front court have been tough to come by for Bill Self's basketball team.
But with Top 40 big man Silvio De Sousa, a 6-foot-9, five-star forward from IMG Academy by way of Angola, already committed in the Class of 2018, the Jayhawks are well on their way to addressing the issue.
And there may be more where that came from.
Jerry Meyer, of 247 Sports, recently updated the site's Crystal Ball prediction for 2018 big man, David McCormack, and Kansas currently leads at 73 percent. Georgetown sits second at 13 percent and fellow-Big 12 school Oklahoma State is third at 7 percent.
Adding to the notion that Kansas seems to be in good shape for the 6-foot-9, 290-pound center from Oak Hill Academy is the fact that McCormack is slated to make an official visit to Kansas for next week's Late Night in the Phog. McCormack already has visited Lawrence once and adding him to De Sousa would give the Jayhawks a couple of impressive big men as starters for an important recruiting class.
According to Matt Scott, of TheShiver.com, Kansas assistant Jerrance Howard was in Virginia on Wednesday to check in with McCormack, who is ranked No. 39 by 247 Sports in the 2018 class.
"A beast down low with a physically attacking post game, McCormack also has mobility, a mind for the game and a penchant for positional defense," Meyer wrote on Thursday.
Last year, McCormack was teammates with current KU freshman Billy Preston at Oak Hill.
Grimes update
After his mid-week trip to Virginia to see McCormack, Howard scheduled his return home through Texas, where he paid a visit to Class of 2018 point guard Quentin Grimes, a 6-4, 180-pound lead guard from The Woodlands, Texas.
Grimes, who has scheduled an official visit to Kansas for Oct. 13, is the No. 17-ranked player in the 2018 class. He also has visits set for Texas (this weekend), Kentucky (Sept. 29) and Marquette (Oct. 20).
The 247 Sports Crystal Ball predictions currently have the Jayhawks as the unanimous leader for Grimes, with 100 percent of the site's analyst predicting Grimes lands at Kansas.
KU's Quickley push
Despite the fact that Kentucky is listed as the clear favorite for Class of 2018 point guard Immanuel Quickley, Kansas assistant Norm Roberts made the trip to Baltimore on Thursday to pay Quickley a visit.
Ranked by 247 as the No. 2 point guard in the 2018 class, Quickley has long been considered a lock for Kentucky and Scott wrote Thursday that, "there hasn't been much evidence to suggest otherwise as of late," despite Kansas picking up a couple of Crystal Ball predictions during the past couple of weeks.
Quickley, a standout at John Carroll High in Bel Air, Maryland, visited Kansas earlier this month. Late Thursday night, the five-star point guard Tweeted out a message that said he would announce his college decision around 5 p.m. today at his high school. The announcement will be streamed live on www.uninterrupted.com.