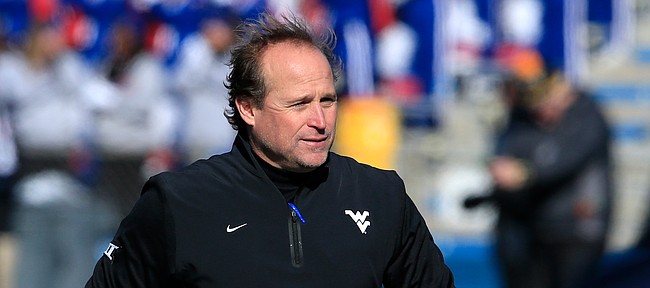 The question put to West Virginia football coach Dana Holgorsen made sense: "You said before going into that venue, you have to kind of warn your team (about) the crowd and kind of the lackadaisical atmosphere. Do you still worry about that?"
When the Mountaineers last came to Lawrence, Nov. 21, 2015, they left with a 49-0 victory. The temperature at kickoff was 36 degrees and 22 mph winds made the cold take root. Just 21,415 witnessed the game, the smallest crowd listed in the KU football media guide for a game in Memorial Stadium since Nov. 7, 1998, vs. North Texas.
"I don't think it will be like that this time," Holgorsen said.
Saturday's forecast calls for a high of 89 with zero percent chance of rain.
"It was a little bit of a windchill situation, which kind of shoves fans inside to watch basketball," Holgorsen said. "I think (the crowd) will be pretty good there, I do. They've been pumping this thing up, you know. I think there will be a lot of people there, which will be good. The more the better. I don't know how that's going to affect us one way or another."
Holgorsen doesn't get paid based on his accuracy in predicting crowd sizes. If he did, he would have to moonlight.
Consecutive losses to Central Michigan and Ohio took the air out of inflated preseason hopes for Kansas fans, so the issue isn't the weather as much as whether the optimism of even the diehards is dying.
"I know the last two games that they've lost have been really competitive, have been close games that they just didn't happen to win," Holgorsen said.
Sometimes I wonder if coaches surround themselves with so many yes men that they believe everything they say is believable.
Or maybe Holgorsen was using the press conference to talk directly to his players as coaches sometimes do, figuring they wouldn't have any way of knowing that Central Michigan led 24-6 at the half and Ohio led 18-0 seven seconds into the second quarter. He has to guard against his players thinking all they have to do to win this one is to remember to show up for the bus to the airport.
He can't possibly believe that KU was competitive, he just believes that because he said it, people will believe it.
A more interesting question is whether Holgorsen believed Beaty when the KU coach said at his weekly presser to expect to see more of Carter Stanley in the West Virginia game.
Stanley missed the final stages of fall camp and the first two games with a hand injury. Beaty went to great lengths to hide the injury, even to the extent of not naming a starting quarterback for the season-opener so that Southeast Missouri State would have to prepare for both quarterbacks.
Stanley made his 2017 debut at Ohio and ran the ball successfully twice in short-yardage situations. He hasn't thrown a pass since last season.
"We utilized him in that situation, but we liked him in all the situations," Beaty said. "We actually like him everywhere. We have an even bigger package for him this week."
Will Beaty use that package or does he just want Holgorsen thinking that so that he has to spend part of his prep time on Stanley, who gained his first significant playing time at West Virginia last season and played well?
Will Holgorsen fall for it or did Beaty overplay his hand? After all, why go to such great lengths to create the illusion Stanley would play when he couldn't, and then be so willing to share with the world that this will be the week he's going to run and, for the first time this season, pass, too?
Fun and games abound when coaches prepare for the games.
As for the crowd size, we'll set the over/under at 21,415. I'll take the under. You?