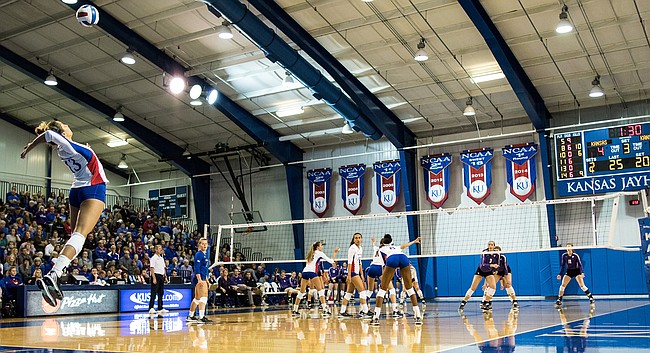 Topeka — The Kansas Board of Regents on Wednesday authorized the University of Kansas to spend $22 million, all from private donations and athletic funds, to upgrade its baseball stadium and volleyball center.
At its regular monthly meeting Wednesday, the Regents approved several capital projects on university campuses across the state, including two at the KU campus in Lawrence: a $10 million upgrade to the Horejsi Family Athletics Center and a $12 million upgrade for Hoglund Ballpark.
Horejsi Family Athletics Center, located between Wagnon Student Athlete Center and Hoglund Ballpark, has been the home of KU volleyball since 1999. It also serves as an additional practice area for the men's and women's basketball teams.
It is one of only five volleyball-only facilities in the Big 12, according to KU. It currently seats up to 1,300 spectators. But as the success of the Jayhawk volleyball team and the popularity of the sport have grown in recent years, KU officials said it is time for a major upgrade.
The plan calls for a 3,000-seat arena with new lighting, sound system, video display, remodeled locker rooms and other amenities comparable to what other schools in the Big 12 and other major conferences offer, KU said. Nearby Allen Fieldhouse will remain open during the construction.
The project will be funded with private donations, and annual maintenance will be funded through athletic fees, KU said.
Meanwhile, university officials said, Hoglund Ballpark faces similar challenges. Built in 1990, it currently seats about 2,500 spectators, mainly on general admission bleachers.
Plans for Hoglund call for replacing the existing grandstand with a new, 2,000-seat stadium that will include 80 field-level suite seats and eight press box-level suites, each accommodating 40 people.
The $12 million project also includes adding 1,000 bleacher seats along the left-field baseline, relocating the visitor bullpen to make room for the field-level bleacher seating, replacing the existing concessions and the north restroom with a new concourse that includes a field-level club and expanded concessions.
The project also involves upgrading restrooms, the visitor locker room and the umpire locker room, replacing the existing press box with a new one and adding new suites on the press box level.
KU officials have not yet announced construction schedules for the two projects. One official said both projects will have to be done in between playing seasons for each of the two sports.