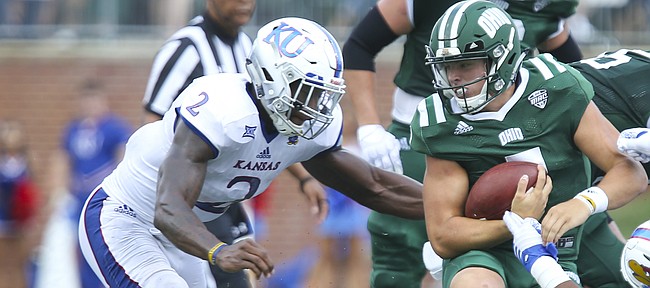 A little more than a year ago, two games into his breakout sophomore season, Dorance Armstrong Jr. hadn't recorded a sack.
As a result, few following the Kansas football program thought much about the starting defensive end's statistical production.
Armstrong, at the time, was coming off a minor anterior cruciate ligament tear in his right knee during the preseason and progressing his way back to peak form. What followed, beginning with a two-sack performance in Week 3, was a 10-sack tear through the rest of the season and a spot on the All-Big 12 first team.
With that status and Preseason Big 12 Defensive Player of the Year honors, Armstrong now plays with much larger expectations. And, much like the KU fan base, the standout D-lineman from Houston knows all too well he enters Week 4 behind last year's pace. Armstrong's 19 total tackles, four tackles for loss and three quarterback hurries through three nonconference games almost look naked thanks to the number zero next to his name in the sacks column.
A junior captain, Armstrong wants to accomplish much this season for the program. But if you can coerce him into discussing personal statistical production, he'll admit he values no number more than his sack total. The plan before the season began was to surpass his 2016 output of 10.
Podcast episode
On this episode of the KU Sports Hour, hosted by KU football beat writer Benton Smith, the KUsports.com staff discusses KU football's 42-30 loss to Ohio. Topics include: The turning point of KU-Ohio (1:45-7:20), the state of the KU football offense (7:20-24:00) and defense (24:00-32:10), the KUsports.com football mailbag — ...
So what does Armstrong think of that dearth of sacks?
"Not surprised, but more determined," the 6-foot-4, 246-pound team leader said ahead of KU (1-2) playing host to West Virginia (2-1) Saturday at Memorial Stadium (11 a.m. kickoff, ESPNU).
"It kind of reminded me of last year, because it was almost the same boat. But last year, I got the first two sacks of my season (in Week 3)," Armstrong easily recalled. "It's a little bit different this year, and I'm looking forward to this conference play."
Armstrong obviously isn't the only Jayhawk capable of taking down an opposing quarterback, but none of his teammates have found much success with that endeavor either. Fellow junior D-line captain Daniel Wise had a sack against FCS foe Southeast Missouri State in the opener, and junior transfer J.J. Holmes came away with KU's second sack of the year in a loss at Ohio. The Jayhawks enter Big 12 play ranked 122nd in FBS with 0.67 sacks a game. Correspondingly, giving up 297 passing yards a game, Kansas ranks 112th in that category.
Armstrong and Wise, the junior nose tackle who has totaled 14 tackles (six for loss), are the faces of the defense. Their head coach, David Beaty, was asked whether the most talented players on the line need to produce more sacks, hurries and tackles for loss.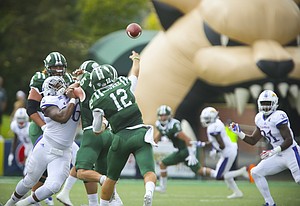 "It's obviously very important, particularly when you got two guys of that type of capability. But, hey, I mean, my mom knows that she's not going to just put one guy on Dorance Armstrong. She's 88 years old," Beaty said of his mother, Rachel, "and she's not going to block him with one guy. She's not going to do that. She calls me and tells me, 'They're not going to block him with one guy, you know that, right?' Yeah, mom, we know that."
So just how often do Armstrong and Wise see double-teams impeding their route to the backfield?
"It's been a lot," Armstrong said, smiling and shaking his head. "It's definitely been a lot more than I expected."
The KU staff knows opponents will game-plan to try and limit Armstrong and Wise. Beaty said that should benefit some of their teammates, but such an upshot has yet to materialize.
Still, at the crux of the matter for the Jayhawks is their pass coverage, defective so far against plausibly the three weakest teams on their schedule. Beaty said the defensive unit has to show more resistance to opposing route-runners on the second and third levels.
"I mean, if I'm a coach, watching our film, I'm looking at the air between the second and third level, and I'm like, 'Yeah, let me get in there,' because there's a lot of air in there," Beaty said. "So we know that. We're going to try to compress that so we can try to compress those routes and try to get balls knocked down and help our D-line get to the quarterback quicker."
In the meantime, Armstrong said he and Wise will continue holding themselves to a high standard in hopes of making more plays in the backfield.
"We watch a lot of film, watch a lot of things on the internet," Armstrong said of NFL footage of defensive linemen and their techniques. "Just trying to find ways to get better, try to compare ourselves to the guys in the league and just make it one picture."
That tormenting number zero, too, gives the defensive end extra incentive.
"It'll happen," Armstrong said of the sacks that have so far escaped him. "Just keep working."