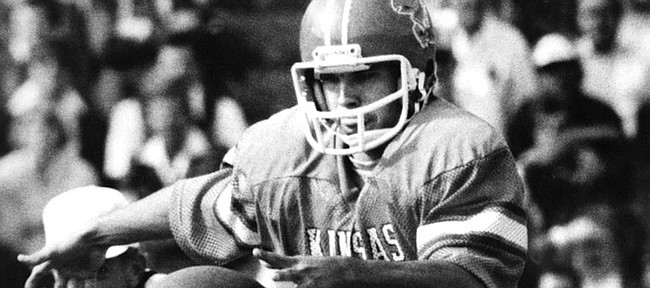 You have two seconds to answer this question: Is a punter an offensive or defensive player? One thousand one, one thousand two. Time's up. (Buzzer sound).
An argument could be made that he's both because the football is snapped to him when the play starts and he becomes one of 11 potential tacklers once it leaves his foot.
Technically, a punter is an offensive player. For proof of this, consider that, according to one of his assistant coaches at Pratt Community College in 1978, left-footed punter Bucky Scribner earned national offensive player of the year honors for giving Hutchinson CC bad field position all day in Pratt's 7-0 upset victory.
"Greatest game I ever saw a punter have," Lawrence High football coach Dirk Wedd said. "It was a very windy Western Kansas Saturday afternoon, 30 mph winds. He made some unbelievable kicks into the wind. Bucky must have punted 12, 13, maybe 14 times. Spirals, 50 yards, right into the teeth of that wind. We were underdogs, but we had Bucky."
Scribner, 57, died Saturday in hospice care in Kansas City, felled by cancer. A standout punter at Kansas and in the NFL, Scribner and wife Cindy had been living in Camdenton, Missouri. Stories of the strength of his character and his left foot endure.
Free State High coach Bob Lisher started for that Hutch team that Scribner beat with his foot and teamed with Scribner at Lawrence High.
"Bucky was tough and a great teammate," Lisher said. "He was a good offensive lineman in high school. And the guy had a leg. He could boom a kick. That left-footed spiral was beautiful."
Hank Booth called Scribner's high school games on radio.
"The thing he liked better than anything was to have a bad snap so he could take off and run," Booth said. "He was famous for saying, 'Give me the damn ball. I'm going to take it and see what I can do with it. You guys couldn't do anything with it or we wouldn't be punting.' ''
Booth recalled stories of Scribner as a little boy kicking "four or five footballs all over his grandfather Doc Wempe's farm."
After earning juco All-American honors as a punter and playing linebacker at Pratt for a season, Scribner was recruited to Kansas, sat out a year per the transfer rules of that time, and then rewrote the Kansas record books.
KU's punter from 1980-82, Scribner still holds the record for career average (44.6 yards) and single-season average (45.8 in 1982), dropping the great John Hadl to second (45.6 in 1959).
Chuck Sinks was among a group of players who went from Lawrence High to Pratt with Scribner.
"We were all excited that he got to go to KU and bummed that we didn't get to go with him," said Sinks, who spent time with Scribner as recently as Wednesday. "He was just a sincere person, a good friend to a lot of people. Happy, always happy, always had that Bucky smile. He always had that infectious smile, all the way to the end. Just an all-around great guy."
Scribner worked much of his life for his father-in-law, late LHS and KU football player Doyle Schick, in his cement business and then retired to the Lake of the Ozarks region.
Scribner was diagnosed with glioblastoma in July of 2016, received treatment and recovered well enough to return to "playing golf and enjoying himself," Sinks said, only to have the cancer resurface.
As did everyone else, when Sinks talked of his friend's punting prowess, the word "spiral" quickly entered the conversation.
"Great punter," Sinks said. "He could make it spiral, make it spiral better than our quarterbacks could."
Mark Parker teamed with Scribner and Sinks at Lawrence High and Pratt.
"We played for Bill Freeman and he was a special-teams nut," Parker said of his high school coach. "He made sure we were all dialed in. The punt coverage was one thing you didn't want to do because he would kick the ball 60 yards, nobody would catch it, and it would roll another 20 yards after that. After sprinting four or five times down the field you're like, 'What the hell?' I dreaded punt-team coverage. I'll never forget it. I loved football, but I dreaded punt-team coverage."
Forty years later, Parker said, he still carries that with him.
"If someone didn't hustle, we'd have to do it again," Parker said. "Bucky never got tired. He just stood there and watched it. It sounded like a bomb went off every time that foot hit the ball. It was like a mild explosion. It was crazy. Had a lot of fun with him. Great, great guy."
Parker laughed at the memory of high school opponents trying to field his high, booming kicks: "At practice I felt like saying, 'Coach, why are we doing this? They aren't going to return them anyway.' He kicked with his left foot, so it had a different spin, a different rotation. And the lighting back then at some of those high school stadiums, I might be exaggerating a little, but could swear the ball would be above the lights in those stadiums."
Scribner earned first-team All-Big Eight honors as a sophomore at KU and the Green Bay Packers drafted him after his senior season in the 11th round in 1983. He was named all-NFC in 1984.
The Milwaukee Journal-Sentinel in 2011 retold the story of Scribner's reaction when Packers coach Forrest Gregg released him five days before the 1985 season-opener to sign free agent Joe Prokop.
"Forrest couldn't have (expletive) me more," Scribner said. "They really snookered me."
Scribner had the last laugh. Prokop was cut after nine games and Scribner eventually resurfaced elsewhere in the Packers' division, playing for the Minnesota Vikings from 1987-89.
A visitation will be held Thursday for William Charles "Bucky" Scribner from 1-2 p.m., with a memorial service at 2 p.m. at Johnson County Funeral Chapel, 11200 Metcalfe Ave. in Overland Park.
"There are a lot of teammates coming to his funeral because everybody loved the guy," Sinks said.