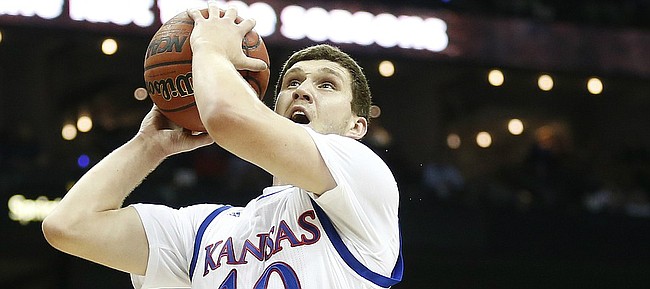 The one and only message uttered by Kansas senior Svi Mykhailiuk and the rest of the KU upperclassmen to a handful of first-year Jayhawks before the opening day of KU's annual boot camp on Monday morning was simple — be on time.
"That's the main thing. We can't be late," said Mykhailiuk in a 4:30 p.m. Monday debriefing with reporters outside the Kansas locker room, a little more than 12 hours after he answered the call of his alarm clock. "Anywhere we go we gotta be early, like 10 minutes. So we told all the newcomers get there early and just be ready."
For Mykhailiuk, who flirted with entering the NBA Draft this summer but elected to return to Kansas for his senior season, Monday's boot camp opener marked the final such session of his career.
So after three boot camps as an underclassman, was going through the choreographed conditioning finally easier as a senior?
"Not really," he joked. "Boot camp is hard every year. It was my fourth one. It's always hard, but it's just all about mental toughness. You've gotta be mentally strong to know what you're doing and do everything right."
Mykhailiuk said first-timers Sam Cunliffe, Marcus Garrett, Dedric Lawson, K.J. Lawson, Charlie Moore, Billy Preston and Chris Teahan handled themselves well during Monday's session, which featured all kinds of conditioning drills and opportunities to exhibit toughness but, by design, no basketballs.
"It's hard," Mykhailiuk said. "But everybody's helping everybody to make it easier for each other. It's getting us better, though. So it doesn't matter what we're doing. In the long run, it's going to help us win a national championship, the Big 12, anything we're gonna win if we want to win."
At least a portion of Monday morning was easier for Mykhailiuk because of the work he has put in during the past couple of months.
After weighing in at 227 pounds at the end of the 2016-17 season, Mykhailiuk went to work on his diet and dropped 20 pounds over the summer. Today he weighs 207 and he's hoping to stay right there for the upcoming season.
"I feel like I'm faster with the light weight," Mykhailiuk said. "And I'm more athletic. It'll just help me overall in the game."
So how did the noticeably leaner senior drop the weight? It wasn't by cutting out McDonald's and pizza. He never really ate much of that anyway.
"Not really," he said. "But, for example, I didn't eat a lot of salads and green stuff, vegetables, (before) so I think that's the main thing that's gonna help me a lot. Look out what you eat, just be professional, work out every day, take care of your body and know what you're eating and drinking. No soda, just straight water every day."
While his body transformation is an individual accomplishment — when asked if he could tell the lighter weight was working, Mykhailiuk said, "Yeah, definitely." — the senior's mind seems firmly fixed on the team heading into the 2017-18 season.
Mykhailiuk knows that, as a senior, his role will expand beyond basketball and he said he was ready and willing to do his part to lead the 2017-18 Jayhawks.
"All of the seniors have to be louder, more vocal and just help the younger guys learn quicker," he said. "If we help them, they're gonna help us."
Asked who spoke up the most during Day 1 of boot camp 2017, Mykhailiuk provided a quick response.
"I would say it was Lagerald (Vick)," he said. "Devonte' (Graham) was pretty loud. Everybody was trying to be loud to help each other."