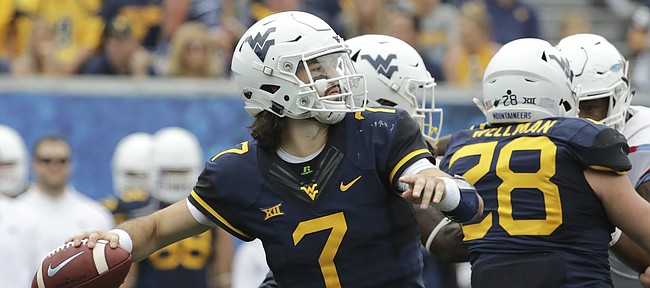 The non-conference portion of the Kansas football schedule didn't exactly go to plan. Now, Saturdays turn even more demanding for the Jayhawks, with West Virginia's upcoming trip to Lawrence marking the opening of Big 12 play.
The Mountaineers, with victories over East Carolina and Delaware State, and a season-opening loss to Virginia Tech, are averaging 46.3 points per game, bolstered by the conference's top two touchdown-scoring skill players, junior receiver David Sills V and senior running back Justin Crawford (five touchdowns apiece).
"Very talented. Very explosive," KU head coach David Beaty said Monday on the Big 12 media teleconference, when asked for his initial thoughts on WVU. "Always, offensively, it's going to be a very big chore playing against a Dana Holgorsen offense. He does such a good job offensively."
This season, former Florida quarterback Will Grier ignites Holgorsen's attack. Grier's 11 TD throws tie Oklahoma State's Mason Rudolph for the league lead.
Podcast episode
On this episode of the KU Sports Hour, hosted by KU football beat writer Benton Smith, the KUsports.com staff discusses KU football's 42-30 loss to Ohio. Topics include: The turning point of KU-Ohio (1:45-7:20), the state of the KU football offense (7:20-24:00) and defense (24:00-32:10), the KUsports.com football mailbag — ...
Kansas (1-2) has allowed quarterbacks from Southeast Missouri State, Central Michigan and Ohio to combine for a 67.6 completion-percentage and a 297 yards-per-game average, with 10 touchdowns and one interception.
WVU's pool of offensive talent doesn't dry up with Grier, Sills and Crawford, though. Beaty said junior receiver Gary Jennings (23 receptions, 363 yards) is "terrific," too.
"He makes them go in a lot of ways," KU's coach said of Jennings, before adding senior receiver Ka'Raun White (14 catches, two TDs) "can run as fast as a dag-gum Ferrari" and sophomore receiver Marcus Simms (five receptions, 143 yards, three touchdowns) "can absolutely fly."
Beaty's praise continued as he shifted focus to the other side of the ball. He said defensive coordinator Tony Gibson's 3-3-5 alignment brings another obstacle to preparing for West Virginia.
Redshirt senior linebacker Al-Rasheed Benton leads WVU with 24 total tackles (five for loss). Senior safety Kyzir White has two interceptions, two quarterback hurries, one pass breakup and 18 total tackles through three games.
"What they do with their three-stack stuff is built for this league," Beaty said. "(Gibson's) one of the better guys in this league when it comes to adjusting, and obviously it's a great challenge, but it's one that we're looking forward to Saturday back here at home (11 a.m. kickoff, ESPNU)."
WVU finished one spot out of the Associated Press top 25 this week.
Dineen productive for KU
After three weeks, Kansas junior linebacker Joe Dineen leads the Big 12 in both total tackles (12.7 a game) and tackles for loss (2.3 a game).
After making 11 stops at Ohio, though, the defensive captain felt responsible for much of the Bobcats' offensive success in a 42-30 KU loss.
"Personally, I didn't play well enough for us to win," Dineen said. "I missed a bunch of tackles on the perimeter — tackles I normally make. I over-ran them (Saturday) and that hurt us big-time. A lot of third downs got outside and converted on third-and-long."
Areas to address
Kansas thus far is is worst in the Big 12 in points allowed (34.3 a game) and passing yards surrendered (297 a game).
Beaty said Monday issues on offense, defense and special teams have to be addressed on a week-by-week basis, lose or win.
"As you look at the tape it's never as good as you think it is and never as bad as you think it is. There's a lot of times where you're a lot closer than you thought you were, and that was true with us defensively," Beaty maintained. "Just a few technique things here, a few technique things there. Our coaches are doing a good job of continuing to rolodex and continue to find schemes that fit our guys the best they can. We do have some young guys in that back end. We have a bunch of new guys back there (in the secondary). And those guys are learning to play together and mesh together. And our guys are working really hard to get that thing solved and fixed, and we've got to do it pretty quickly, because we've got a great opponent coming in here this week."